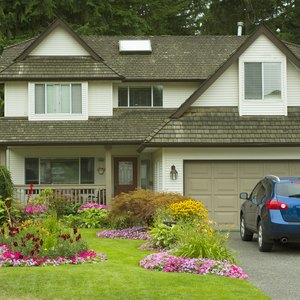 •••
can72/iStock/GettyImages
From the time you start driving a car, you know that car insurance is an unavoidable expense. But your home has to be insured, as well, whether you're a renter or a homeowner. By bundling your car and home insurance, you can save money each month while also ensuring you're covered if something happens.
What Is an Insurance Bundle?
Any business stands to gain from bundling its offerings. Retailers do "buy one, get one half price" discounts on a regular basis. By bundling insurance policies, the insurer gets the extra money you'll spend on the second policy, which is an incentive for insurers to give you a discount.
Sometimes phrased as a multi-policy discount, bundling involves grouping more than one policy together to make things easier for everyone. In addition to having it all under one policy, though, you'll also get insurance discounts, similar to the "buy one, get one" types of discounts offered by retailers.
Types of Home Insurance
If the place you live is affected by a natural disaster, you'll want to make sure your investment is covered. Home insurance protects the dwelling and the internal contents against events like a fire, tornado or just wind and hail damage. It may also cover your belongings against burglary.
But renters need insurance, too. Renters insurance covers the internal contents of your home if something happens. Your furniture, jewelry, clothing and everything else in your house, condo or apartment will be assigned a monetary value and you'll be compensated for them. Some landlords require you to have renters insurance as a condition of becoming a tenant.
Things get a little trickier if you own a condo. With a condo, you share walls and a ceiling with other condo owners, so if a fire or natural disaster happens, part of the responsibility will fall on your insurance. There are two policies with condo insurance: the master policy, held by the condo association, covers shared structures like walls, floors and ceilings, while your policy as the owner will cover built-in units like kitchen counters, appliances and plumbing.
Why Bundle Insurance?
When you sign up for an insurance policy, you're agreeing to pay a monthly premium for the term of the policy. Even saving $10 a month can add up over the course of multiple months and years. Insurers offer discounts for a variety of things, including having multiple policies under the same umbrella.
But cost isn't the only incentive for bundling home and auto insurance. Keeping up with policies with multiple insurers can be challenging. By having everything with one company, you'll have one monthly payment. If you ever want to shop around, you can shift the entire bundle to another provider at once and benefit from that provider's multi-policy discounts.
Bundling Insurance Options
When you price a policy with an insurance company, you'll be asked a series of questions that will help them quote a rate. One of those questions will typically be whether you need home, auto, renters or a combination of two or more types. But you should also consider whether you need one or more of the following types of insurance and find an insurer that offers bundling that includes it:
Motorcycle – If you own a motorcycle, you'll need specialized coverage, even if you only take your bike out occasionally.
Off-road – Vehicles that are used for high-risk activities like off-roading might need special insurance.
Life – Life insurance policies often require a health exam, but there are some insurers who will bundle life with home, auto and other coverage types.
Boats and RVs – Recreational crafts and vehicles need special insurance. It can be a huge relief to lump it in with your vehicle insurance.
Pet – If you have a young pet, check into pet insurance coverage. Make sure you look closely at what's covered, though, and compare your insurer's offer with other options.
If you run a business or own rental property, there may also be liability or landlord insurance to consider. Before you sign up for a separate policy, check to see if you can save by having one provider handle all your personal and professional insurance needs.
Pricing for Bundling Insurance
Bundling isn't guaranteed to save you money. It's just one of many things to consider as you're shopping around. The best way to save money is to get multiple quotes, taking advantage of any discounts offered, and choose the best coverage you can get for the price.
Insurers will typically feature bundling discounts prominently on their websites, if they offer them. Allstate, for instance, promises up to 25 percent off if you bundle, while Travelers promotes that you can save up to 10 percent. But make sure you compare those quotes against what you can get with the same coverage and deductibles if you go with a competitor.
How to Qualify for Bundling
You don't need special qualifications to apply for an insurance bundle. If you're applying for one type of insurance, it's just as easy to quote another policy while you're going through the process.
Whether you're going for a bundling discount or pricing insurance separately, you'll need to gather information on everything that can affect your rates before starting. Note any safety features on your vehicle, the value of all of the assets you're insuring and features that can make your home safer, such as proximity to the fire department and nearby fire hydrants.
Disadvantages of Bundling Insurance
While you can save money when you bundle home and auto, that isn't always guaranteed. It's important to price multiple insurers, including those that only offer one or the other type of insurance, and compare rates. One disadvantage of bundling is that it might lead you to skip shopping around, potentially costing you more than necessary.
When reviewing coverage options, also keep in mind that bundling puts all your eggs in one basket. The problem with that is that an insurance company can cancel you if you have too many claims. If you have a series of pricey auto accidents and your provider cancels you, you'll find yourself shopping for a new insurer for all the policies you have bundled together.
However, keep in mind that as a multiple policyholder, you're a higher-value customer than if you just had one policy. So if you have a bad accident and you're found at fault, your insurer may see that you have a homeowners policy, as well, and think twice about canceling your policy.
Where To Get Bundled Insurance
Bundling home and auto is easier than ever, thanks to the internet connecting you with quotes in minutes. Big companies like Progressive, State Farm and Allstate offer home and auto policies with a discount for bundling. If you're in the military, USAA offers competitive pricing for bundling home and auto.
One of the easiest ways to price insurance is to use an online service that lets you shop multiple insurers at once. You'll be able to easily compare prices after inputting a minimal amount of information. Some insurers will also make comparison shopping easy by letting you link to your current insurer or upload a copy of your policy document. Your quote will be based on the coverages you already have.
What Is Covered Under Bundling?
With most insurers, there's no difference between the policy you're quoted separately and those that are bundled. However, it's important to note that your insurance quotes are based on the coverages you choose. For auto insurance, you'll need to decide whether you want to cover only damage to other property, known as liability insurance, or cover your vehicle, too, which is collision and comprehensive insurance.
For home insurance, pay close attention to what's covered, whether you're bundling or not. You'll want to look into whether any exterior dwellings like sheds and detached garages are part of the coverage. Also periodically review your policy to ensure that the coverage you've chosen adequately represents the belongings you have, since over time you might upgrade your furnishings and electronics.
Lastly, there are special items you'll want to have covered specifically. Jewelry and other valuables will be limited under standard homeowners insurance, but you can purchase something called a floater policy to take care of it.
Revisiting Your Policies Often
Even the best home and auto insurance bundle can become a bad deal over time. Insurers count on you going with a "set it and forget" model. Switching insurers can feel like a hassle, so you may prefer to continue to let the policy renew year after year.
But insurance prices can fluctuate from one year to the next. Auto insurance prices dropped ​1.7 percent​ in ​2021​, for instance, but those rates are expected to rise as the pandemic comes to an end and consumers resume their pre-COVID driving habits. As those prices rise and fall, the great deal you were offered a couple of years ago might not be the best available insurance deal anymore.
Bundling and Claims
One of the best things about bundling your insurance policies is that if you have an incident that affects more than one asset, you might be able to file your claim in one go. Say a tornado hits your home and vehicles. Instead of filing separate claims with your home and auto insurers, you just go into the app and upload all the information at once.
But even having your auto and home insurance in one place is no guarantee. Some insurers use something called affiliated carriers, which means that you pay and source your policy through the primary insurer, but your claims will go through the secondary insurer. This may mean you're still taking some extra steps.
Special Types of Insurance
As you're bundling insurance, there are some things that simply will not be covered. Your vehicle should be covered against all types of disasters if you have comprehensive insurance, but homeowners insurance isn't quite as extensive. If you suffer damage that is due to perceived negligence on your part, such as a sewer backup, mold or termites, your insurance might not cover it.
There are also some disasters that aren't covered under your homeowners policy. Earthquakes and floods aren't covered, although internal flooding due to an appliance malfunction typically is. Sinkholes also aren't covered under standard insurance. Check with an insurance expert to see if your home is in a high-risk area for one of these types of disasters.
Canceling Bundled Insurance
Having your home and car insurance tied together does complicate things in one instance. If you ever need to cancel it, you'll have to make the decision as to whether to move one or both policies to the new provider. You might find you can get auto insurance cheaper elsewhere, but if you move it, you could lose the discount you're getting on homeowners insurance because of the bundle.
Before moving the policy over, contact your insurer and find out what the cost will be to remove one item from your policy and leave the other. You can then compare the money you'll save by moving it to the cheaper option against the savings you'll lose when you give up your multipolicy discount.
Who Benefits from Insurance Bundling
Obviously, the insurance company is the real winner when you source all your policies through one provider. But some customers find that they can benefit more from bundling than others will. If your budget is tight, you might see the benefits more than someone else, because even saving $20 a month can be a huge relief.
But another demographic that stands to benefit from bundling is those who have high-dollar items. If your home insurance covers a million-dollar house and a luxury car, for instance, the cost savings of putting it all in one place can be well worth it. But high-dollar items can also drive up premiums, so shopping around may be even more important.
Insurance can be a costly monthly expense. But bundling can cut that cost significantly while also giving you the convenience of having everything with the same insurance company. As long as you comparison shop before committing to a policy, you can make insurance bundling work for you.
References
Resources
Writer Bio
Stephanie Faris has written about finance for entrepreneurs and marketing firms since 2013. She spent nearly a year as a ghostwriter for a credit card processing service and has ghostwritten about finance for numerous marketing firms and entrepreneurs. Her work has appeared on The Motley Fool, MoneyGeek, Ecommerce Insiders, GoBankingRates, and ThriveBy30.