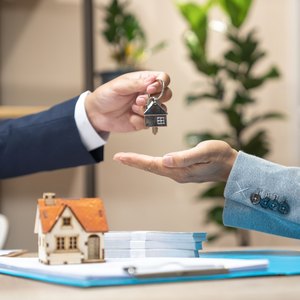 •••
Witthaya Prasongsin/Moment/GettyImages
Your landlord's property insurance protects your rented dwelling, but it doesn't protect you. Your personal belongings and your liability in certain matters depend on a renters insurance policy that you carry personally. The good news is that you shouldn't have to dig too deeply into your finances to pay for monthly premiums, but they can vary somewhat significantly between insurers, even for the same type and level of coverage.
What Is Renters Insurance?
Renters insurance policies cover loss of or damage to your personal property. Your landlord's property insurance will pay for the roof to be repaired if a tree falls on your rented home, but the cost of replacement will fall to you if that tree plunges right on through to damage or destroy your furniture and television. Your renters insurance policy would cover that, as well as the cost of you having to live somewhere else, maybe in a motel, while the roof is repaired. The liability portion of your coverage would protect you up to a certain extent if the tree fell because of some action you took personally.
Factors That Influence Premiums
Comparing renters insurance policies can be a little like comparing apples to oranges. The factor that most influences the cost of your premiums is your zip code, and there are approximately 42,000 zip codes in the U.S. You could amass as many as 42,000 slightly different quotes for the exact same renters insurance coverage if you assigned a hypothetical renter a different zip code for each one.
This makes sense because some areas are riskier than others when it comes to weather conditions and crime rates, and your insurance will cover you in the event that your property is stolen. Carrying the same policy would cost you ​$99 a month​ or ​$1,188 a year​ in Detroit, but only about ​$31​ or ​$370 a year​ if you rent in Ann Arbor, Michigan.
Another factor that will influence your premium is the coverage limits you choose. Do you own $10,000 in property that you want to cover, or $40,000? Each additional ​$10,000 in coverage​ will typically cost you up to ​$20 more a year​.
Do you want liability insurance to cover you if you're sued for $400,000 because you've cause damage to property or another person through your own wrongdoing, or do you feel pretty comfortable with $100,000 in coverage because you don't earn or own a lot? Higher coverage levels equal higher premiums.
Your credit history will also affect your premiums, as will the amount of the deductible you're willing to pay in the event that you have to make a claim. Higher deductibles equal lower premiums.
A Hypothetical Renter
We created a hypothetical renter to compare various insurer's rates as fairly as possible, using the same criteria for each company. He lives in a suburban area, not a crime-prone large city. It's not in a hurricane zone. He lives in an apartment building, not a single-family home or duplex, with a brick exterior. His unit has deadbolt locks and a building-wide fire alarm that alerts both the local fire department as well as the renters. There's a smoke alarm in his unit, but no fire extinguisher or burglar alarm. He made one previous renters insurance claim five years ago. He does not own a dog – bites and attacks might be covered by the liability portion of his policy if he did.
These are the premium quotes he received from each of five insurers, from highest to lowest:
| ​**Insurer**​ | ​**Annual Premium**​ | ​**Monthly Premium**​ |
| --- | --- | --- |
| Progressive | $270 | $22.50 |
| Allstate | $160 | $13 |
| State Farm | $130 | $11 |
| GEICO | $89 | $7.50 |
| Liberty Mutual | $84 | $7 |
There were some variables here, even with the extensive tenant information most of these insurers required. Liberty Mutual didn't ask about liability coverage limits, and Allstate didn't request any coverage limits at all, but it factored in age, gender and marital status.
The renter additionally tried to get information from USAA Insurance Company, but quotes from this insurer are available only to members and they require a member log-in. This is reported to be the best renters insurance available, but only veterans, military service members and their immediate families qualify.
The hypothetical renter's quote was based on these coverage limits:
Progressive Renters Insurance
Progressive might have given us the most expensive quote, but it indicates that you're eligible for a discount if you "bundle" your auto and renters insurance with them. In other words, you carry two policies. This policy includes ​$1,000​ for medical payments to others who are injured on your property.
| ​**Property Coverage Limit**​ | ​**Liability Coverage Limit**​ | ​**Deductible**​ | ​**Discounts Available**​ |
| --- | --- | --- | --- |
| $20,000 | $100,000 | $1,000 | Yes |
Allstate Renters Insurance
Allstate says you "might" be able to slash your premiums from the $13 a month this hypothetical renter was quoted to just ​$4 a month​ if you bundle your renters insurance policy with your auto insurance policy. You'll also get a price break if you're over ​age 55​ and retired. This insurer says that its average monthly premium across all zip codes is ​$16​.
| ​**Property Coverage Limit**​ | ​**Liability Coverage Limit**​ | ​**Deductible**​ | ​**Discounts Available**​ |
| --- | --- | --- | --- |
| Not factored in | Not factored in | Not factored in | Yes |
State Farm Renters Insurance
State Farm indicates that its average monthly premium for a policy covering ​$30,000​ in property value is just ​$12 a month​. The hypothetical renter was quoted just one dollar less a month for ​$20,000​ in coverage. This insurer's quote gave weight to the property's proximity to the nearest fire station, its age and construction, and the availability of smoke detectors and fire extinguishers. Bundling your renters policy with another policy will save you about ​$5 a year.​
| ​**Property Coverage Limit**​ | ​**Liability Coverage Limit**​ | ​**Deductible**​ | ​**Discounts Available**​ |
| --- | --- | --- | --- |
| $20,000 | $100,000 | $1,000 | Yes |
Geico Renters Insurance
Geico's average premium is almost ​$5 more a month​ than the hypothetical renter was quoted when he elected lesser coverage limits. Geico offers discounts as well, and as well as a nice tool on its website to help you calculate the value of your personal property so you can get an idea of how much coverage you need.
| ​**Property Coverage Limit**​ | ​**Liability Coverage Limit**​ | ​**Deductible**​ | ​**Discounts Available**​ |
| --- | --- | --- | --- |
| $20,000 | $100,000 | $1,000 | Yes |
Liberty Mutual Renters Insurance
Liberty Mutual indicates that it offers a low-ball basic policy for just ​$5 a month​, $2 less than what our renter was quoted. You'll pay more for this policy if you elect replacement cost of your property rather than just fair market value in its current age and condition at the time calamity strikes. A bundling discount is available, as well as a discount for buying your policy online.
| ​**Property Coverage Limit**​ | ​**Liability Coverage Limit**​ | ​**Deductible**​ | ​**Discounts Available**​ |
| --- | --- | --- | --- |
| $20,000 | Not factored in | $1,000 | Yes |
The Bottom Line
These coverage limits are very basic. You'll need more if the estimated value of your personal property is $40,000, or if you have significant savings, assets or income – more than $100,000 worth – that could be vulnerable in the event of a lawsuit. But you can increase your limits at any time if you decide that it's necessary.
References
Writer Bio
Beverly Bird has been writing professionally for over 30 years. She is also a paralegal, specializing in areas of personal finance, bankruptcy and estate law. She writes as the tax expert for The Balance.