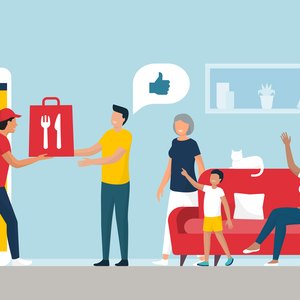 •••
elenabs/iStock/GettyImages
If you've ever been too tired to go out or not in the mood to whip up something for dinner, then chances are you have used a food delivery app. Food delivery apps make ordering your favorite foods easy and convenient, but this convenience also typically comes with costs like delivery fees and service charges. Ordering with a food delivery app can save you time, but armed with a few food app delivery hacks, you can save some money, too.
Take Advantage of Sign-Up Bonuses
Nearly every food delivery app will offer some sort of incentive for signing up to use its services. These sign-up bonuses apply to first-time users and can range from free delivery to money off your first order. At time of publication, food delivery giant, Grubhub, offers new users free delivery on their first order, while using a Postmates referral code brings first-timers into the fold with a generous $100 in free delivery credits good for seven days after signing up.
These sign-up bonuses can come in handy when you're a little short on cash, but want something delivered. If you tend to use the same app to order food, try looking at a few you haven't used yet. You can search around for the best new user sign-up deal and save yourself some money on your first order when you're a little strapped for cash.
Refer Your Friends
Another way to keep more of your dollars in your wallet when ordering via food delivery apps is to refer as many of your friends as the app will allow. Grubhub referral policy, for instance, allows current users to refer up to 20 of their friends in exchange for discount codes.
With these referrals, you're able to earn points, promo codes and, in the case of UberEats, even free food. There's even a way to take advantage of an UberEats promo code for existing users (see below). In order to take advantage of these deals, the friend you referred must sign up with your referral code or link and place an order. Then, you just sit back and watch those promo codes hit your account.
In the UberEats app, find your personal promo code by tapping on the profile icon at the bottom of the main screen and then tapping "Get $5 off your order." After sharing your referral code, when a friend uses your code to place their first UberEats order, you'll get a promo code automatically applied to your current or next order. However, it expires after three months if you don't use it.
Find Promo Codes for Existing Users
One of the most-Googled searches related to food delivery apps is "(service name) promo codes for existing users." While the major food delivery services like UberEats and Postmates typically offer promo codes only for signing up and for referring friends, occasionally, deal and coupon websites like SlickDeals.com will list verified promo codes for a limited time.
For example, at the time of publication, SlickDeals lists more than one Postmates code for existing users. These codes are temporary, often changing and not always available, but the site is worth checking out as one of the few places to advertise legitimate codes for existing users. Restrictions may apply.
Follow the App on Social Media
Following your favorite fast food delivery app on social media platforms, like Facebook and Twitter, has its benefits. Not only is social media a great way to get ahold of customer service directly, but also a way to keep yourself in the know when new promotions drop.
Food Delivery apps will often post special deals and coupon codes or discounts to their followers to entice them to place orders. One popular food delivery app, DoorDash (@DoorDash on Twitter) will often tweet savings like $5 off a Baskin Robbins order more than $10, or $10 off your Panera Bread order totaling more than $20.
Use Lesser-Known Apps
There are a lot of apps out there to choose from, and it's easy to stick with ordering from those you are familiar with. However, some lesser-known apps, like Delivery.com, have points programs that reward users with points that can be redeemed for credits on the app.
Delivery.com, for example, awards its users 20 points for every $1 spent and you can start to redeem the points at 5,000 for $5 in Delivery.com credit. What sets Delivery.com apart from other food delivery apps is that the platform also lets users redeem credits for electronics like iPads or Roku devices.
GoPuff is another lesser-known food delivery app that's available in over 80 cities. This app delivers food and convenience store items as well. There is no middleman with GoPuff so they're able to cap the delivery fees at $1.95 for orders under $49.
Get the Subscription
If your food delivery app offers a monthly subscription, then you may look into signing up if you order on that platform often. On DoorDash and Postmates, you can get free delivery and reduced fees by signing up for their subscription services. These services aren't free, but if you order from a particular app often enough, it could be worth looking into.
So, What's the Best Food Delivery App?
There really isn't a best app. While some people might find themselves using only the most popular food delivery app, they all have different deals and ways to save money. With a strategy of using more than one app, referring friends, following food delivery services on social media and finding legitimate promo codes, you can end up spending more wisely than if you stick to using one service. Variety is the spice of life, and it's the spice of saving, too.
References
Writer Bio
Tara Thomas is a Los Angeles-based writer and avid world traveler. Her articles appear in various online publications, including Sapling, PocketSense, Zacks, Livestrong, Modern Mom and SF Gate. Thomas has a Bachelor of Science in marine biology from California State University, Long Beach and spent 10 years as a mortgage consultant.