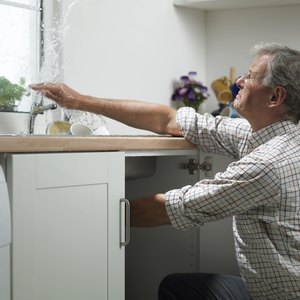 •••
Michael Blann/Digital Vision/Getty Images
It's every renter's worst nightmare: You come home to find the contents of your home missing or damaged due to burglary or a natural disaster. You call your landlord, only to find he isn't responsible. While he will have to pay to repair the physical structure of the building, your belongings are your responsibility. Fortunately, you have renter's insurance, so you pick up the phone to start the claim process, then wonder if skyrocketing premiums will be the price of replacing your stolen or damaged belongings. Although your insurance company may raise your rates if you make a claim, policies differ by insurance company and your individual situation.
Determining Your Rates
Insurance companies rely primarily on your location when determining your renter's insurance rates. If you live in a high-crime or severe weather area, you'll pay more because you represent a higher risk, though most renter's insurance policies are only between $15 to $30 per month, according to the National Association of Insurance Commissioners. If you file a claim on your policy, your insurer may raise your rates because statistics suggest that people who file one insurance claim are likely to file more, according to renter's insurance provider McClain Insurance.
Increased Rates on Your Current Policy
Whether your insurer raises your rates after a claim depends on its regulations and your individual policy. Some renter's insurance companies state that they will not raise your rates after you file a claim. Other companies don't advertise one way or the other. To determine how a claim will affect your policy, call your insurance company and ask an agent to explain their policies and procedures.
Rate Hikes on New Policies
People occasionally avoid making renter's insurance claims because they suspect their insurers will report these claims to Claims Loss Underwriting Exchange, a national database that insurance companies often use to determine new applicants' rates or insurance eligibility. According to Bankrate, renter's insurance companies don't report to CLUE, which tracks only claims made on homeowner's and automobile policies, so you don't have to worry about your CLUE report being affected if you report a renter's insurance claim.
Offsetting Rate Hikes
If your renter's insurance rates do rise as the result of a claim, you may be able to offset the rate hike by qualifying for a discount. According to the Rocky Mountain Insurance Information Institute, buying renters and auto insurance from the same insurer could result in savings on both policies. The Ohio State Bar Association notes that many renter's policies offer discounts if your home has security features, such as an alarm system, deadbolts or fire extinguishers.
References
Writer Bio
Miranda Morley is an educator, business consultant and owner of a copywriting/social-media management company. Her work has been featured in the "Boston Literary Magazine," "Subversify Magazine" and "American Builder's Quarterly." Morley has a B.A. in English, political science and international relations. She is completing her M.A. in rhetoric and composition from Purdue University Calumet.