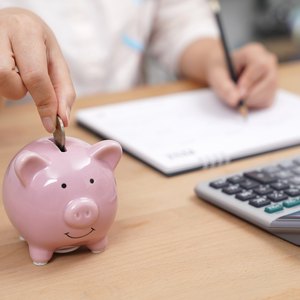 •••
wera Rodsawang/Moment/GettyImages
If you've thought about buying your dream home and found that the real estate listings didn't offer what you wanted, then you might consider building a new house instead of purchasing an existing one. When building a house, you have options during the home building process ranging from having it all built according to your plan by a custom home builder to opting for a model home that allows for certain modifications and upgrades. In either case, the different types of costs involved with the building process for your own home are often similar. Take a look at what you should know about the costs involved when building a house.
Understanding General Home Price Factors
Whether the home you plan to buy already exists or will be custom-built to meet your preferences, various factors go into determining the value of the property and the land that it sits on. Some of these directly relate to the home's characteristics and location while others deal with the overall housing market and economy. The house's value, usually calculated by cost per square foot, will not only affect how much you pay for the property itself, but it comes into importance later on with ongoing costs like homeowner's insurance and property taxes.
For example, your home costs will depend on how many rooms the house has, what the lot size measures, which types of flooring and amenities it has and whether the house is new or used. Other characteristics include the types of appliances the home comes with, what kind of curb appeal it has and even what type of driveway comes with it. The location will matter since people usually will pay more for a place in a safe neighborhood with great schools.
On the other hand, the home's pricing depends also on the price range for the housing market and how many people demand homes and how many homes the location currently has to offer. For example, you can find housing prices rise in a high-demand market with low availability since people feel more willing to pay more for the properties.
Costs Buying Existing Homes
When buying an existing home, you'll usually pay a lower purchase price since the properties are used and will thus have the usual resulting wear-and-tear. They may not have the latest appliances and systems, and the architecture and interior design could look dated compared to new house builds you see. Existing homes may need renovations, repairs or upgrades, and this can add to the cost of homeownership later. The U.S. Department of Housing and Urban Development (HUD) reported that the median existing home sale price in 2019 was ​$296,700​.
The sales price of an existing home typically will include the land, house, any accessory buildings like garages and sheds and extras like swimming pools on the property. Systems and appliances attached to the house such as HVAC systems, water heaters and electrical systems come with the home, while kitchen and laundry appliances may or may not be included in the price depending on whether the seller wants to keep them.
Costs Building a New Home
Building a home can offer you the most flexibility when you want a property that you can customize to your needs as well as have something brand new that can have lower maintenance costs early on. When you buy new construction, such homes usually include new appliances, the latest architecture and interior design, warranties and innovations like an energy-efficient design that can help lower utility costs. If you build from scratch, you can often get full control and can add anything that fits your needs.
The HUD reported a ​$321,500​ median new home price in 2019, and this was almost ​$25,000​ more than the median existing home price. With the median size of the homes being ​2,322 square feet​, this worked out to a median price of ​$138.46​ per square foot. The average cost of a new home was ​$383,900​, which worked out to ​$165.33 per square foot​.
Keep in mind that the actual cost will depend on everything from the building method (such as a customized model home vs. home from scratch) and location to all the interior and exterior options you choose for the property. In some cases, the new home building price you're quoted won't include the land, permits, foundation work and inspections needed, so you'll need to budget for those as well.
Purchasing a Newly-Built Home
If you'd rather not worry about having to work on obtaining building materials and hiring various contractors and subcontractors to build a home from scratch, you can purchase a home model through a maker such as Ryan Homes or M/I Homes. These builders provide options for pre-built homes that are ready for you to move in as well as semi-custom builds where you can choose to add things like extra rooms, basements and various interior and exterior finishes. The homes are built in special communities.
You'll usually find multiple floor plans to choose from, and the home price you see will reflect the base model but not include any options or upgrades you decide to go with for a custom home. The costs that usually are included in the sales price of a newly-built home include the following:
​Land and preparation​: While other home building options usually require buying the land separately to build on, new construction homes in communities created by building companies will provide the land where the home gets constructed into the price. This also includes preparing the land for the building process and having inspections done.

​Labor and construction costs​: All the labor costs and materials costs usually get included in the new home build price so you don't have to shop around for a general contractor for each task. The building company does the hiring for you.
​Framing​: Often making up a significant portion of a new home's price, this cost includes everything for the home's framing from the wood and nails that make up the walls, floor and roofing to any trusses used for roof support.
​Foundation​: This cost includes all the work and supplies involved with laying the foundation on which your home's framing and everything else relies. It can involve laying concrete, using steel reinforcing rods and putting in some initial insulation.
​Utility systems​: You'll incur a significant cost to have all the utility systems needed for your electrical, HVAC and plumbing systems so that you can use appliances such as lights, sinks and air conditioners. However, the actual appliances and fixtures usually involve extra costs, so you can think of this cost as some basic preparation to put in things like lines, wires, pipes and duct work.
​Exterior finishes​: This home building cost will include whatever you use to cover the outside of your home, whether you opt for brick, siding, stone or some other material. This category will cover making openings for windows and doors too.
​Interior finishes​: This category covers the rest of the work done inside the home to add things like the drywall, paint, flooring, sinks, floors, lights, doors and counters. It's usually a very costly category, especially if you opt for upgrades like granite countertops or high-end flooring.

​Extra costs​: You can expect your home purchase price to include a lot of extras that can range from general construction fees to costs for things like marketing, overhead and commissions. This is why the sales price will differ from the actual building cost.
Building an Entirely Custom Home
If you want full control over the location and type of home, then you could opt to have it built from scratch. This requires far more work than buying a home from a model in an existing community since you'll need to find an appropriate building company (or do it all yourself), arrange for permits, find and purchase land and navigate the entire building process. The good news is you can shop around for different builders that offer the best building costs for materials and labor so that you can make your home construction project better fit your budget.
Like with buying an existing home, costs can widely vary depending on the home's size, location, options and interior and exterior features, and you'll also need to factor in the piece of land you buy separately. Besides the land, the main costs you'll need to consider are much the same and include the framing, foundation, utility systems and exterior and interior finishes. Out of all these costs, the lender Rocket Mortgage mentions that the land, interior finishes, major systems and exterior finishes can come with the highest price tags.
With this option, you also have to consider the money required for developing the floorplan of the home, getting permits through all the authorities, having inspections done, preparing the land, adding a driveway, hiring any workers needed for the project, doing the landscaping and installing any amenities you want. Also, you'll need to purchase the appliances and other items to go inside the house as the builders usually don't include these as standard. You'll also probably deal with hookup fees to get connected to the area's utilities.
Buying a Modular Home
Another option for building a home involves purchasing a modular home and land and can be a cheaper option than the two alternatives if you can find affordable land. Similar to buying a newly-built home, going with a modular home allows you to choose from premade floor plans and have the modular home company build the home with some options and upgrades you prefer. However, the building process usually starts at the factory, and parts of the home are transported to your location where the final assembly takes place.
The modular home seller Green Valley Homes explains that the actual price for the home itself will depend on your floor plan, upgrades, delivery cost, setup process and taxes involved. Then, you can expect to purchase land and have a foundation prepared for the home installation, have the utility systems installed and hooked up, add a driveway and possibly a garage to your land and have a crawl space or basement added.
Considering Down Payments and Deposits
When building a home and using financing, you can come across a variety of deposits in the form of earnest money or down payments. They'll depend on the type of financing you had to use as well as any upgrades you decide to add during the building phase.
If you need to take out a separate construction loan for the project, then you can face a hefty down payment of around ​20 percent​ to get approved due to the higher risk involved, and then you can face another down payment on a mortgage upon completion. For new construction homes that go through the traditional mortgage process, you might have no down payment for a Veterans Affairs or U.S. Department of Agriculture loan, a ​3.5 to 10 percent​ down payment for a Federal Housing Administration loan or a ​3 to 20 percent​ down payment for a conventional mortgage.
Regardless of the type of home you buy, you can also expect an earnest money deposit that the builder's contract will specify. While this is usually ​1 to 2 percent​ of the home's price for existing homes, the builder might request ​5 percent​ or more, but this gets applied toward the money due at closing. If you decide to later add new features or upgrades during the building process, the builder might request substantial deposits for this.
Planning for Closing Costs
Depending on whether you take out one mortgage or need both a construction loan and a mortgage, you might need to pay closing costs once or twice. Closing costs generally run from ​2 to 5 percent​ of the loan amount but may sometimes get paid through assistance from the seller or a state program or rolled into your mortgage. Here are some of the costs you might pay in this category:
Title policy
Lender fees (origination, credit check, broker fee, underwriting fee, application fee, mortgage points)

Home inspection
Home appraisal
Prepaid interest, taxes and insurance
Upfront homeowner's association fee (if applicable)
Notary, escrow, survey and legal fees
Recording and transfer fees and taxes
References
Writer Bio
Ashley Donohoe has written about business and technology topics since 2010. Having a Master of Business Administration degree, bookkeeping certification and experience running a small business and doing tax returns, she is knowledgeable about the tax issues individuals and businesses face. Other places featuring her business writing include Zacks, JobHero, LoveToKnow, Bizfluent, Chron and Study.com.