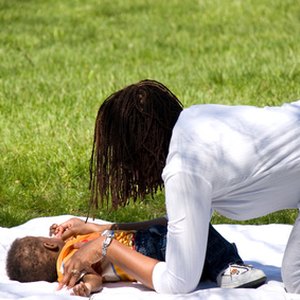 •••
mom and baby together image by studio vision1 from Fotolia.com
Being a single mother can be tough. Single mothers are at a higher risk of burnout. According to ivillage.com, the only thing harder then being a parent, is parenting alone. Costs can quickly accumulate and the thought of owning a home can seem impossible. There are a few grants available to assist you (as a single mother) in the building of a home. The programs are generally geared towards low, to very low-income families. Some programs are geared to mothers living in rural areas.
Habitat for Humanity is a non-profit organization that offers grants to single mothers. The USDA offers various grants to single mothers as well. There are several government programs and non-profit programs that allocate funds.
Habitat for Humanity
Habitat for Humanity offer an amazing service. They help build your home at the lowest cost possible. With Habitat for Humanity you will not build the house by yourself, but with the help of volunteers. They also use a lot of donated materials which keeps the cost even lower. If you want assistance from Habitat For Humanity, you will be expected help with the work. As a single mother you will join in the building process. The house is then sold to you at zero profit to the Habitat. You will also be able to get a low mortgage.
USDA Single Family Housing
The USDA offers grants for single-family housing. They offer low-interest loans to low and extremely low-income families in rural communities.You are eligible if your family does not currently have proper housing or if you cannot get credit. These rural housing direct loans can be used to cover the cost of construction, the land, and the purchase of a new home. The money can also be used for repairs. To find out what rural areas are eligible, contact the USDA.
Mutual Self-Help Program
The mutual self-help program allows you to help yourself. You help other people build homes in order to build up equity. This is called "sweat equity". It makes the cost of a home significantly less. All members of the group build homes for each other and no one is allowed to move into any of the homes until all the homes are built. It's a matter of everyone helping each other. You must complete 65 percent of each house. The building must be under the aid of qualified supervision and the mortgage is for up to 38 years. Usually mortgages are only up to 32 years, but exceptions are made for very low-income families.
HUD Programs
There are two types of HUD programs to assist single mothers in the building of their homes. The Home Ownership voucher can help you pay your mortgage when the house is built. If you participate in the Housing Choice Voucher program, you are also eligible for the Home Ownership voucher. Their programs are only for very low-income families. The wait time for a homeownership voucher varies and you may not have owned a home in at least 3 years. It is intended for first-time homeowners.
References
Resources
Writer Bio
This article was written by PocketSense staff. If you have any questions, please reach out to us on our contact us page.