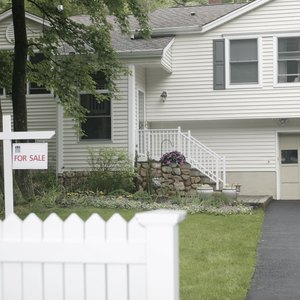 •••
Comstock/Comstock/Getty Images
Although many factors such as a home's size, amenities and condition go into determining its actual market value, you can use a free online home value estimator to find out how much comparable homes in a particular zip code area have recently sold for. This is a helpful tool if you are planning to sell your current home or apply for a refinance or home improvement loan. If you are in the market for a home, knowing what comparable homes have sold for in your desired neighborhood is a good starting point for making an offer.
Log on to the website of an online home value estimator such as Zillow.com or Trulia.com. The websites of many lenders also offer free home value estimators you can use to get a home's value.
Enter the street address, city and state or zip code to get your free report within minutes. How much a home is worth varies depending on the particular zip code or neighborhood it is located in. For example, homes in certain geographic locations are in greater demand because of area economics. In addition, low housing inventories and homes located near schools and shopping affect home values.
An online estimator will give you a home value estimate based on recent sales of homes in the same area. Some estimators provide a range of home values since the estimator does not consider a home's unique features as well as a margin of error.
Similar information on home values by zip code can be obtained from real estate agents or by accessing the county records.
References
Resources
Writer Bio
Amber Keefer has more than 25 years of experience working in the fields of human services and health care administration. Writing professionally since 1997, she has written articles covering business and finance, health, fitness, parenting and senior living issues for both print and online publications. Keefer holds a B.A. from Bloomsburg University of Pennsylvania and an M.B.A. in health care management from Baker College.