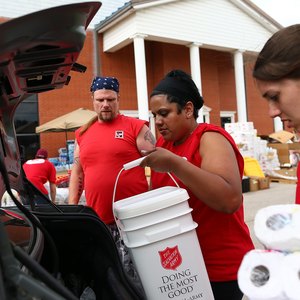 •••
Tom Pennington/Getty Images News/Getty Images
The Salvation Army directly assists families in many ways, including camps and recreation programs, food assistance, holiday programs, housing aid and activity centers. Other services such as adult rehabilitation and worldwide disaster relief also help families directly or indirectly. According to Forbes, the Salvation Army is both a church and one of the country's top charities. Helping families is one of the major focuses of the Salvation Army's benevolent work.
Camps and Recreation
Youth camps from the Salvation Army provide opportunities for children in low-income households to learn swimming, crafts, sports and music in a wholesome camp environment. Through the work of experienced counselors, the children receive the emotional support they need.
The Army also provides after-school programs in lower-income and modest-income communities nationwide. These programs offer a safe place to play and extracurricular activities, such as instruction in the arts and sports.
Food and Nutrition Programs
The Salvation Army provides food and meals to anyone in need through its hunger relief programs. The available services depend on what's best for the neighborhood, but the Army sponsors community gardens, meal delivery, food pantries and soup kitchens. These programs feed the homeless and families and singles who need a helping hand.
Housing Assistance Programs
The organization sponsors transitional homes, group homes and emergency centers for needy individuals and families. These programs provide food and shelter for variable periods of time, depending on the need. Families, the homeless, the destitute and young people without a stable family receive counseling and educational services.
Emergency assistance with lodging, utility and food costs is also available to families and singles who need help.
Holiday Assistance for the Needy
The red kettle is the familiar sign of the Salvation Army's annual Christmas drive. The Army uses these donations to fund holiday meals and gifts of toys and clothing to needy families. The organization also provides sit-down dinners in its homeless shelters and sends gifts to people in hospitals and nursing homes. Families going through a difficult patch receive help for months after the holidays.
Kroc Activity Centers
The Salvation Army operates the Ray and Joan Kroc Corps Community Centers, originally funded by Mrs. Kroc, widow of the founder of McDonald's restaurants. The San Diego center opened in 2001, and 26 Kroc centers have been completed as of publication.
The activities and amenities available to families in the San Diego Center, for instance, include rock climbing, visual and performing arts instruction, a computer lab and computer library, an ice rink and a gym. The Kroc center focuses on providing positive experiences for children, families and adults through the various activities.
Assistance to Various Programs
Some Salvation Army programs focus on individuals rather than on families, but they typically impact the relatives of those receiving help. For example, the Army provides veterans affairs services, help for the elderly, efforts to combat human trafficking, missing persons services, prison ministries and adult rehabilitation.
Internationally, the Army's U.S. Overseas Child Sponsorship program gives emotional support, food and housing to needy children both individually and in group homes. Americans can sponsor a child or group facility through a regular monthly donation.
The Army also provides help to families during and after emergencies and disasters through its world service offices and emergency disaster services. For example, it provides help with clean-up and food after tornadoes and earthquakes.