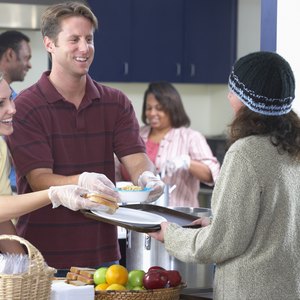 •••
Brand X Pictures/Brand X Pictures/Getty Images
The Salvation Army provides food for the homeless as well as for individuals and families during emergency situations or because of unexpected hardships that bring about a temporary need for assistance with food and shelter. Meals are provided through soup kitchens, food banks and other service programs, depending on locations where the Salvation Army has chapters and centers.
Meals and Other Services
The programs vary in each community and may include meals served at certain hours of the day, in emergency shelters or during overnight lodgings. Aside from food for the hungry, the Salvation Army reaches out for relief to disaster victims and assistance for the disabled, elderly and ill. The charity also addresses the needs of underprivileged children, youth issues, education, health care and counseling.
Workers and Volunteers
Salvation Army centers served more than 57 million meals throughout the country in 2012, according to the organization's service statistics. Free meals for the needy are usually offered all year long at various locations. Local Salvation Army units schedule specific times and locations for food availability. The organization has more than 64,000 employees and more than 3 million volunteers nationwide to help with food drives, meals on location and other programs.
Food Banks
Food pantries from the Salvation Army provide free groceries for families and people in need. Some walk-in locations allow people to select various products from food shelves on a first-come, first-served basis, and other centers require appointments for people to pick up food items. Meal deliveries are often made for those unable to get out of the home. The food programs rely on financial contributions from local residents to pay for food and meals offered in those particular communities.
Holiday and Fellowship
Holidays become a busy time for Salvation Army workers and volunteers. Volunteers with the Salvation Army are widely seen throughout the Christmas holiday season, ringing bells and raising money during the organization's traditional red kettle drives. Donations for the drives go to providing food for the needy and other services. Programs also offer fellowship during the serving of meals at holidays. For example, people who long to share Thanksgiving with others, but lack a family or companionship, may take advantage of turkey dinners dished up at locations in many areas to enjoy the holiday in a family-like or community atmosphere. The Salvation Army often welcomes the homeless, people living alone or those struggling with financial issues to enjoy the group setting of a dinner.
Accredited Charity
The Salvation Army is included among the top-rated charities for human services by the American Institute of Philanthropy, receiving A or A-minus grades for its various territories throughout the United States. The organization meets the standards as an accredited charity by the Better Business Bureau Wise Giving Alliance for administration and communication concerning funds that provide meals and other services.
References
Writer Bio
Jerry Shaw writes for Spice Marketing and LinkBlaze Marketing. His articles have appeared in Gannett and American Media Inc. publications. He is the author of "The Complete Guide to Trust and Estate Management" from Atlantic Publishing.