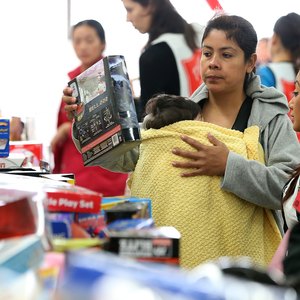 •••
Justin Sullivan/Getty Images News/Getty Images
Locating and contacting your local Salvation Army Community Center is your first step in receiving assistance. Assistance programs differ between community centers, as does the intake and qualification process. The Salvation Army website provides a searchable listing of all Salvation Army locations and the services they provide. Using the site simplifies the process of finding and accessing the programs that can help you.
Search for a Local Salvation Army
Visit www.salvationarmyusa.org to search for the Community Center in your area by ZIP code or city name. The Salvation Army search engine calls up a list of local Salvation Army Centers, social service agencies, churches and thrift stores, along with a Google map show their locations. In some communities, particularly larger cities, the Salvation Army may operate in several locations. Check the map to see which centers are closest to you.
Research Assistance Offerings
The list of centers includes details on the services offered at each location. Check these listings to find the center that provides the type of aid you need. For example, if you are looking for help paying your gas bill, look for a Salvation Army Center that offers "utility assistance."
Review Assistance Qualifications
Once you find a Salvation Army Community Center that provides the assistance you need, visit that center's website. Local Salvation Army websites often include information on program offerings and how to qualify for them. If you can't find this information or have questions about eligibility, call the center and ask for clarification.
Gather Documentation
Depending on your circumstances and the type of aid you apply for, you may need to bring documentation to the Salvation Army when you apply for help. Examples of the kind of documentation you'll need include:
Photo identification
Proof of residence, such as your lease
A doctor's note verifying a medical condition
Utility bills or a shut-off notice
An eviction notice
If you can't find a list of necessary documents on the website, call the Salvation Army Center and ask what you need to bring to your appointment.
Set an Appointment or Visit a Center
The application process varies by program and Salvation Army Community Center. Some programs require you to set up an appointment to for an in-person or phone meeting with a caseworker. You may also have to complete and submit an application form before you can request an appointment. In other cases, the center may offer services on a drop-in basis at specific days and times. If you aren't sure about what you need to do, call the center and ask.
References
Writer Bio
Lainie Petersen writes about business, real estate and personal finance, drawing on 25 years experience in publishing and education. Petersen's work appears in Money Crashers, Selling to the Masses, and in Walmart News Now, a blog for Walmart suppliers. She holds a master's degree in library science from Dominican University.