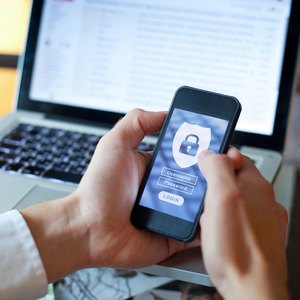 •••
anyaberkut/iStock/GettyImages
With the Federal Trade Commission reporting ​3.2 million​ fraud reports in 2019 with many involving identity theft, taking measures to protect yourself from this common problem has become increasingly important. Identity theft can happen from issues such as getting an account hacked, having mail stolen, losing your bank card or falling for impersonation scams. Minimizing damage requires keeping your credit and identity secure and knowing how to respond if you do become a victim. Take some time to learn more about identity theft protection services and some other measures you can start taking today.
Basics of Identity Theft Protection
While there are plenty of steps you can take on your own to guard your information, identity theft protection primarily refers to paid online services you can subscribe to that will monitor your credit and identity continuously. They will alert you when certain events occur with your personal or financial information so that you can contact your bank or another relevant party about potential fraud. Such services usually provide an insurance policy and personal assistance that can help you financially recover from an identity theft event that does occur.
Identity theft protection services often give you a place to view your credit reports for changes, find out if your personal information shows up in a data leak or public record and let you know if a high-risk transaction has occurred with your credit or debit card. You may also view warnings about popular scams and get a personal risk management report that offers security tips. Some providers include additional services like monitoring for changes to your home address, criminal record and home title to spot further identity theft issues.
Why You Need Identity Theft Protection
Identity theft can come in many forms that not only cause headaches when you're handling the situation but also lasting effects that hurt you in the future. Dealing with issues like stolen credit cards and bank accounts can lead to inconveniences filing reports with the bank and police and trying to get charges reversed. However, a stolen Social Security number or driver's license number could allow identity thieves to open accounts in your name or even commit crimes.
Not only can identity theft hurt your credit report and cause numerous stresses, but it can tarnish your reputation and even lead to legal issues. The damage to your credit could prevent you from getting a mortgage or affordable car insurance, while reputational issues could come back to hurt you when you apply for a job.
But if you use identity theft protection, you can help prevent the theft from happening in the first place and spend less time needing to monitor all your information personally. You'll often also have financial help that reimburses losses and fraud resolution professionals to handle the most time-consuming identity theft recovery tasks.
Using LifeLock to Protect Yourself
Owned by the Symantec company, LifeLock offers its identity theft protection service with or without the Norton 360 device security software. All users get 24/7 support, financial coverage for stolen funds, legal fees and personal expenses, and identity and credit file monitoring. LifeLock helps its customers deal with a stolen wallet and get their cards replaced to help prevent misuse. Those with the Norton 360 plans also get additional benefits like cloud storage, virus protection and secure browsing for their devices.
As of publication, you can choose from these four plans with special pricing for the first year and higher pricing thereafter:
​LifeLock Standard​ ($95.88 for the year or $9.99 per month): This basic plan has ​$25,000​ in identity theft insurance and includes basic identity monitoring with credit monitoring through one bureau. It doesn't include the Norton 360 software or associated device protection benefits.

​Norton 360 with LifeLock Select​ ($95.88 for the year or $9.99 per month): You get the same credit and identity monitoring benefits plus the ​$25,000​ in identity theft insurance as the LifeLock Standard plan, except that you get Norton 360 as well for as many as five devices.

​Norton 360 with LifeLock Advantage​ ($179.88 for the year or $17.99 per month): This plan increases the identity theft insurance to ​$100,000​, has a fictitious identity monitoring feature and offers additional alerts for activity on your criminal record, credit cards and bank accounts. You also get an annual credit report and score from one bureau, a TransUnion credit file lock service and Norton 360 coverage for as many as 10 devices.

​Norton 360 with LifeLock Ultimate​ ($251.88 for the year or $25.99 per month): With ​$1 million​ in insurance and perks from the other plans, you get unlimited credit monitoring from the three bureaus alongside annual credit reports and scores, home title monitoring, retirement account monitoring and access to Norton 360 on all devices.

Exploring IdentityGuard Protection
Known for using the IBM Watson system for enhancing its monitoring capabilities, IdentityGuard provides all customers with ​$1 million​ in identity theft insurance and constantly checks for data breaches and high-risk transactions. While it doesn't offer full web security products, IdentityGuard provides customers with a privacy and security extension for their web browsers for all plans.
As of publication, here are the plans and pricing available:
​IdentityGuard Value​ ($89.99 yearly or $8.99 monthly): This basic plan will notify you about data breaches and high-risk transactions but lacks bank account, credit report and credit score monitoring.

​IdentityGuard Total​ ($199.99 yearly or $19.99 monthly): You get bank account monitoring along with access to one bureau's credit score monthly and credit monitoring for all three bureaus with this plan.

​IdentityGuard Ultra​ ($299.99 yearly or $29.99 monthly): This premium plan offers a concierge to handle any identity theft issues along with social media, debit and credit card, criminal record, address change, home title and retirement account monitoring. You get an annual credit report from all three bureaus alongside comprehensive credit monitoring and a monthly credit score from one bureau.

Considering IdentityIQ Products
Offering identity theft protection services that range from basic credit report monitoring to fully-featured monitoring options that can even offer advice on improving your credit score, IdentityIQ focuses on both identity theft prevention and restoration. All the comprehensive plans available give users ​$1 million​ in identity theft insurance alongside credit reports and 24/7 monitoring. However, the company also has an option for people who get their credit scores and reports elsewhere and just want the monitoring and insurance benefits.
​Identity IQ Secure​ ($6.99 monthly): You get no credit scores and reports with this plan, but you do get daily monitoring from one credit bureau alongside lost wallet assistance, a report of your checking account and alerts about network searches and your Social Security number.

​Identity IQ Secure Plus​ ($9.99 monthly): Along with the Secure plan features, this plan adds annual reports and credit scores from all three bureaus, application monitoring and change of address alerts.

​Identity IQ Secure Pro​ ($19.99 monthly): This plan extends Secure Plus benefits to give you credit scores and reports twice a year from all bureaus. It also notifies you about credit score and criminal record changes and offers enhanced credit monitoring.

​Identity IQ Secure Max​ ($29.99 monthly): You'll get more perks like fraud restoration, identity theft protection for your whole family, credit score simulation tools and monthly credit scores and reports from all bureaus with this top plan.

More Identity Theft Protection Tips
Alongside taking advantage of identity theft protection services, you can use these tips to help prevent and handle identity theft:
Secure your bank, insurance and credit accounts with strong passwords and secondary authentication and keep your details private.
Phone scams are on the rise, so don't provide personal or financial information to people who claim to call or text from places like the IRS or your bank.
Have your credit card and account numbers kept in a secure place in case you lose your wallet and need to report them as stolen.
Use security software on your computer that can warn you of viruses and fake websites.
Watch your credit report regularly and monitor your accounts for suspicious transactions. Better yet, set up alerts for large transactions or account changes too.

Report suspected identity theft to the FTC as well as law enforcement.
Only carry essential cards and documents on you to minimize the impact of a lost wallet.

References
Writer Bio
Ashley Donohoe has written about business and technology topics since 2010. Having a Master of Business Administration degree, bookkeeping certification and experience running a small business and doing tax returns, she is knowledgeable about the tax issues individuals and businesses face. Other places featuring her business writing include Zacks, JobHero, LoveToKnow, Bizfluent, Chron and Study.com.