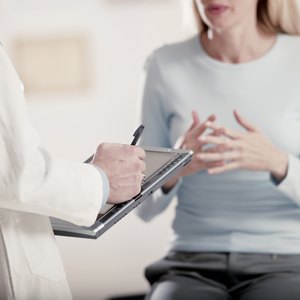 •••
Comstock/Comstock/Getty Images
Health insurance coverage policies are one of those things in life that tend to defy a single, firm definition. Insurance companies can have policies that claim to cover the same issues but differ significantly when it comes to actual coverages and costs. You and your neighbor might both carry medical insurance but one policy might provide medical coverage of some health issues to a very different extent than the other.
Comprehensive medical insurance is a bit easier to define, although there's no universal, legally binding meaning for the term so insurers can toss it about a bit freely. It covers many more services that other types of medical insurance plans – thus, the name. It's also sometimes referred to as major medical health insurance. Comprehensive medical insurance is the most common type of health insurance coverage in 2021.
What Is Comprehensive Coverage?
The Affordable Care Act has its own criteria as to what constitutes a major medical plan. All policies sold after Jan. 1, 2014 must cover 10 "essential health benefits" to qualify as comprehensive, at least where the ACA is concerned. They also can have no annual or lifetime caps or limits on health care services.
Beyond the terms of the ACA, these policies usually have smaller and more manageable deductibles – your out-of-pocket costs for care before your insurance benefits kick in. Some policies make you pay deductibles each and every time you seek treatment, but comprehensive plans generally do not. This doesn't mean you'll pay one deductible in 2021 and never have to pay a deductible again for as long as you have coverage, however. This perk is usually per year.
You might be limited as to what healthcare providers you use, meaning that they must be "in network" for you to receive full coverage. This isn't to say that you're prohibited from seeking care from a physician or facility outside of your PPO network, but you'll most likely pay more if you do.
What Does a Comprehensive Health Insurance Policy Cover?
Comprehensive coverage is designed to cover at least 60 percent of the medical costs that an average American might be expected to incur in a year. You don't have to be sick or injured. Preventive care is covered, too. These health insurance plans typically cover hospitalization, emergency room visits, outpatient care and doctor appointments, as well as expenses incurred within ​60 days​ before or after hospitalization. You can be admitted to a hospital without making any cash payment at the time. Treatments for critical illness, such as for cancer, are covered as well, and the ACA requires coverage for pre-existing conditions.
The ACA's 10 essential benefits include:
Prescription drugs
Pediatric care
Emergency services
Hospitalization
Pregnancy, maternity and newborn care
Lab services and x-rays
Treatment for chronic diseases as well as preventive and wellness care
Mental health and addiction services
Ambulatory services
Rehabilitative services and equipment
All health plans have been required to cover COVID-19 vaccines since Dec. 13, 2020.
What's Not Covered?
Limited coverage for acupuncture, physiotherapy, osteopathy and homeopathy is provided by some insurers, but not all, so be sure to check their FAQs or ask if you're unsure. You'll probably be hard-pressed to find a plan that covers oral surgery, although your dental insurance plan should cover that if you have one, and you might be able to add dental coverage to your major medical insurance. Private ambulances and the cost of in-home nursing services are rarely covered.
Finding a Comprehensive Medical Insurance Policy
Most health-care plans provided by employers are comprehensive. Otherwise, you can easily purchase this type of coverage on your state's ACA Exchange/Marketplace, or you can purchase a private policy on your own. You can also visit healthcare.gov to get up to speed. Medicaid, Medicare and CHIP policies are considered to be comprehensive, although you'll have to combine your Medicare policy with Medigap and Plan D coverage to achieve this.
The ACA has clamped down on the bogus "comprehensive" policies that were somewhat rampant before 2014. Read the fine print if you bought your policy before this time and have rarely used it, because you might find that you're not covered for much at all. Healthinsurance.org indicates that some of these policies are still being offered in a few states, so you might do best to stick with the ACA Marketplace when you're looking for coverage. Marketplace policies are guaranteed to be comprehensive.
How Much Does This Coverage Cost?
Comprehensive medical insurance tends to cost more based on the old adage that you get what you pay for. These policies offer extensive coverage, so they don't come cheap, at least not if you buy a private plan.
You'll probably receive a nice price break on premiums if you have coverage through your employer because businesses often pay for a portion of these premiums on behalf of their workers. The Kaiser Family Foundation has indicated that the average employee paid ​$1,243 in premiums per year​ in 2020 with this type of arrangement, or about ​$103 a month​. This is single coverage, not coverage for a family.
You might qualify for a premium subsidy from the federal government if you purchase a comprehensive policy through the Marketplace. Your age, income and location all factor in to qualifying, but you might even get free coverage if all three of these stars align. At worst, you should get at least some price break on premiums based on a graduating scale that corresponds with these factors. The average 2020 subsidy worked out to about ​$491 per month​ in 2020. Subsidies are generally paid directly to the insurer by the federal government.
The Kaiser Family Foundation put Marketplace premiums at about ​$328 a month​ for a Bronze plan for an individual in 2020 ­– before any subsidies. Silver plans ran about ​$470 a month​, and Gold plans were ​$501 a month​, again for single individuals. Coverage increases with each "metal" plan increment.
Deductibles and Coinsurance
Unfortunately, you're not done after you pay those monthly premiums that keep your comprehensive medical insurance policy in place. Virtually all plans will nickel-and-dime you in other areas as well. Annual deductibles were in the area of ​$1,644​ for employer-sponsored coverage for a single individual in 2020, and the deductibles for Gold Marketplace policies were in the same range at about significantly more: ​$1,641​ for Gold plans, ​$4,816​ for Silver plans and ​$6,921​ for Bronze plans.
As for coinsurance, even a comprehensive plan isn't going to pay for 100% of your medical bills. Most cover about ​75 percent​. You're responsible for paying the remaining ​25 percent​ on the balance that remains ​after​ paying your deductible.
Other Medical Insurance Options
Comprehensive medical insurance clearly provides the greatest safety net in the event of injury or illness, but you might want to roll the dice a little and pay for a policy with less sweeping coverages. Many states offer plans that will cover you only for catastrophic illness or for injuries sustained in an accident. The cost of preventative care doctor visits is typically on you.
There are also non-comprehensive plans out there that put dollar caps on the amount of coverage you can receive, but these don't meet the ACA mandate for minimum essential coverage. The IRS no longer imposes that ACA tax penalty if you don't carry minimum essential coverage, however.
References
Resources
Writer Bio
Beverly Bird has been writing professionally for over 30 years. She is also a paralegal, specializing in areas of personal finance, bankruptcy and estate law. She writes as the tax expert for The Balance.