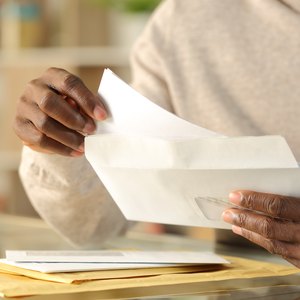 •••
Pheelings Media/iStock/GettyImages
With over 11,368 outlets worldwide, Walmart has brought convenience to the masses. Not only can you buy groceries, apparel, toys, and electronics at Walmart, but you can even send money orders if you want to pay someone or send someone money but don't want to give them cash or write a personal check. Similar to a cashier's check, a money order is considered a safer and more secure form of payment than using a personal check. While a cashier's check is even more secure than a money order, money orders are generally more convenient and available in more locations, including the U.S. Post Office and grocery stores, including Walmart. If you live near a Walmart, sending a money order is easy.
How Do Money Orders Work?
You can purchase a money order from a financial institution such as a bank or credit union, or through an issuer provided at certain locations like the U.S. Post Office or grocery stores. Most money orders have a limit of $1,000, so if you need to send more money than that, you'd have to purchase multiple money orders. Bank-issued money orders also tend to be more expensive.
The authorized body or financial institution issuing the money order needs the payee's name, sender's name, and amount of money that can be cashed. A money order is not the same as a check, and therefore, they can be harder to trace. However, one upside is less personal information is required in order to send one. You should keep the receipt that comes with your money order until you're certain that the money order has cleared.
Purchasing a Walmart Money Order
At any Walmart Supercenter or Neighborhood Market, you can purchase a money order from the Customer Service Desk. The money order requirements and format may differ slightly depending on which issuer you use, but whether you're using the U.S. Postal Service (USPS), Western Union, MoneyGram, or another service, the process is similar to that of writing a check. Walmart happens to issue and cash MoneyGram money orders. Here's what you'll need to have ready:
The payee's name
The payment amount
The payee's address
Other details, such as the payee's account number
A valid form of payment – cash, traveler's checks or debit cards (credit cards may be accepted, but will incur an extra fee or interest)
Sending a Walmart Money Order
After purchasing, if you find out that you no longer need the money order, you can get a full refund by showing your original sales receipt at the customer service desk. However, your money order will need to be unaltered and undamaged. Fortunately, money orders are inexpensive. Otherwise, follow these steps to fill out and send your Walmart money order:
Write the Payee Name. Write the name of the person or business to whom you are sending the money order in the "PAY TO THE ORDER OF" field. Make sure to double-check for correct spelling and information, because you can't change anything once the money order has been processed.
Fill out Your Own Info. You are the purchaser, so fill in your own information in the field that says "Purchaser," "Sender," "Remitter" or "From." Some issuers, like Western Union, may require your full name and address, but others may only require your name. You should use your full legal name and current mailing address to fill out this section.
Sign the Front. Sign the front of the money order, but leave the back blank, because this is where the recipient will need to sign. Some money orders may provide space for a memo or note to denote the payment purpose, so it couldn't hurt to fill that out, if it's there. Double-check everything for accuracy, and then send the money order as you would a check.
Keep the Money Order Receipt. Keep the detachable receipt that provides your proof of purchase and tracking information so you can monitor your money order and confirm if and when it's been deposited.
Tracing a Walmart Money Order
If your money order is lost or stolen, visit MoneyGram to find out how to cancel. Their page includes tips for how to locate important details on your money order for tracking purposes, such as your Serial Number, as well as a "Check Status" function. If your money order is lost, you can request a replacement and also check the status of your replacement.
Cashing a Walmart Money Order
You can cash a money order at a number of locations, such as banks, credit unions and check-cashing services. If you received a Walmart-issued money order, you can conveniently cash your money order at your local Walmart. However, Walmart will only cash Walmart-issued money orders, so if yours has been issued by another provider, such as Western Union, you'll need to find another location.
Cashing a money order does bring some fees, however, but the good news is they aren't that much. You can expect to pay $3 for amounts up to $1,000 and $6 for amounts above $1,000. When you cash your money order, you'll need to bring your ID. Your details need to match the recipient information on the money order as it was sent, so you must cash it yourself (i.e. you can't get a friend or family member to do it for you).
Walmart offers two options for cashing out your money order. claim the amount in cash, or ask for it to be loaded onto a Walmart MoneyCard. The card will cost you around $3, but money uploads after the initial one are free.