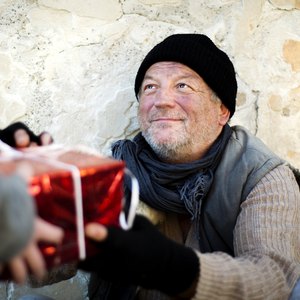 •••
pojoslaw/iStock/Getty Images
During the holiday season, charitable organizations, church groups, food banks and clubs create programs that supply food baskets, clothes, household goods and toys for low-income families during the holiday season. Your children's school counselor should have links and contact information for Christmas charities, food banks and any other places that provide benefits your children may be entitled to receiving.
Nonprofit, Charitable Organizations
The Salvation Army is vital for families in need at Christmas time. It provides holiday meals, toys and other assistance, with registration usually beginning in early October. Contact your local Salvation Army for application acceptance dates and locations. Qualification requirements include proof of government assistance, proof of identification, birth certificates for all children, income verification for each household member and proof of expenses. Toys for Tots is a U.S. Marine Corps Reserve program that gives toys to children in need at Christmas, which are distributed through nonprofit organizations, church groups or local police services. Visit the website to locate distribution centers. Qualification requirements include proof of identification for each family member, proof of income, updated bank statements, mortgage or rent receipts and proof of monthly bills.
Church Groups
Contact your church or churches within your area to find out if they support programs for low-income families during Christmas. Speak with the pastor; chances are the religious institution has programs in place for families who qualify. The application is processed on site and requires proof of identification for each family member, proof of income, proof of expenses and a list of your families Christmas needs and wants. It usually does not matter whether or not you go to church. Church groups often adopt low-income families over the holiday season and provide a few items they need and want such as household goods, clothing and toys.
Food Banks and Pantries
Most food banks and pantries supply food baskets during the Christmas holiday for low-income families. Feeding America storehouses millions of pounds of food and annually provides food to 46.5 million people in communities throughout the United States. Apply online or call your local Supplemental Nutrition Assistance Program (SNAP) office. Proof of identification; birth certificates; proof of income such as pay stubs or Social Security; mortgage or rental statement; utility bills; canceled daycare or child-support checks; and medical bills are required. Food pantries, sometimes mistakenly called food banks, are sponsored by local churches and community coalitions. Pantries self-govern and distribute food on a once-a-month basis to low-income families.
Local Clubs and Organizations
Most towns and cities in North America have a surplus of clubs such as the Lions, Kiwanis and Rotary that sponsor low-income families during the Christmas season. The focus of clubs such as these often is to serve the needs of the community with Christmas parties, dinners, hampers and toys for those in need. Hampers are designated through on-site application and screening processes, which require family size and income levels plus any other information that impacts your need. Search for local clubs via the Internet. Also check your newspaper and visit your library for information pertaining to existing clubs in your locale.
References
Resources
Writer Bio
Katherine Macropoulos has authored two books; a fictional, young reader and a spiritual autobiography. Her areas of expertise include food, beauty and style, travel, culture and society, business and spirituality. Macropoulos holds a Bachelor of Arts in English, a diploma in photography, graphic design and marketing and certification in esthetics.