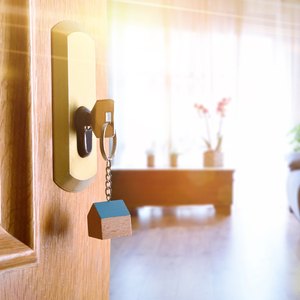 •••
Davizro/iStock/GettyImages
Selling a home can be an involved process, with months of last-minute showings and negotiated offers. But often a house is sold on a good first impression, which means most of the work of selling your home happens before the first showing. By decluttering your home, touching things up with a fresh coat of paint, laying out a welcome mat and even doing some landscaping work, you can boost your chances of selling quickly.
1. Research the Market
Timing is everything when it comes to selling a house. If the real estate market is thriving in your area, it may be a great time to sell. Look at how quickly homes are selling, what prices they're fetching and how many other homes are for sale in the same area.
Luckily, most of the information you need can be found online. You can easily pull up lists of houses that have sold recently on sites like REALTOR.com. You might even decide to get some inspiration on how other homeowners are staging their homes by attending an open house or two.
In some cases, you may find that it's simply not the best time to sell. If that happens, there's nothing wrong with sitting on your house a little longer, especially if it means you'll get much more by waiting. Unless you have an urgent need to move, you may find that waiting until the market improves is the best course of action.
2. Get a Real Estate Agent
One of the best resources for a home seller is a real estate agent, but it's important that you choose the right one. Get a feel for what homebuyers are looking for in your area and find a real estate agent currently selling homes in your neighborhood. The right agent will also have a list of potential buyers looking for a place like yours.
When it comes to tracking down a real estate agent, referrals are great, but make sure the agent being referred is the right person to sell your home. Local real estate agent sites will often show current listings for their agents, as well as recently sold homes, in some cases. An agent who has current listings in your part of town is likely to be bringing buyers to those homes, which means plenty of buyers to look at your home, as well.
3. Get a Pre-Sale Home Inspection
Home inspections are an essential part of selling a home. The buyer's lender will want a professional inspector to walk through your home and inspect everything from the plumbing and electrical to the stability of your staircase railings. Even if your home has all the curb appeal in the world, you could have a deal fall through if your home has problems that can't be fixed in a few days.
A presale home inspection can identify those issues from the start. You can then line up the professionals to fix them. When someone does put a contract on your house, that person will still have an inspection, but this will reduce the number of things you're scrambling to fix before closing.
4. Be Objective About Pricing
It's tough to depersonalize your home, looking at it as a product rather than a part of yourself and your family. But just because you think your house is worth top dollar doesn't mean buyers will agree. The Federal Housing Finance Agency has a house price calculator that will show you the estimated value of your house based on your state, what you paid for it when bought and how many years you've been there.
A professional real estate agent can pull something called "comps" that will give an even better picture of what your home is worth. "Comps" is short for comparables. Your agent will simply be pulling information on recent listings in your area that are comparable to yours to see what they sold for and determine what you can reasonably expect to get.
Of course, you can also order a home property appraisal, which lets you get an idea of this before you even talk to a real estate agent. The lender will likely still require the buyer to get an appraisal before closing, but this will at least give you an idea of what your home will appraise for once an offer is put on it.
You may love your framed family photos and wall hangings that proclaim your personal mantras. But when someone is looking at a house, that person is trying to envision his or her own personal belongings in that space. Your personal items just get in the way of that.
5. Declutter and Stage
Before you put your home on the market, take a look at some online real estate listings. You'll likely notice the ones that are most attractive are furnished but free of junk. It's important, before the real estate agent comes to take photos of your house for the listing, that you remove knickknacks, games, holiday decorations and all the other items you won't need for a while.
You don't have to pay a professional stager to make your home appealing. Invest in a storage unit where you can store items until you're ready to move them into your new place. You may even want to remove extra furnishings like end tables and entertainment centers to give a cleaner look.
6. Remove Personal Items
You may love your framed family photos and wall hangings that proclaim your personal mantras. But when someone is looking at a house, that person is trying to envision his or her own personal belongings in that space. Your personal items just get in the way of that.
It's especially important when you're working to depersonalize that you remove potentially controversial items. Religious items, hunting memorabilia and other items could scare off potential buyers. You'll want to attract the widest pool of buyers possible to maximize the money you'll get for your sale.
7. Thorough Cleaning
That first impression won't mean much if a homebuyer pulls back your shower curtain to discover a filthy tub. If you're a renter, you're likely familiar with the extensive cleaning you'll need to do before you move out. When you're selling, though, you'll need to do this cleaning before people start touring your house.
Once you've finished decluttering your spaces, go over every inch of your home. Clean baseboards, the inside of your oven, windowsills and more. All the areas you skip when you're doing your regular housecleaning will need to be covered on this run-through.
Don't forget your closets and cabinets, either. Remove items you won't need in the coming weeks and replace shelf liners and clean shelves as needed. Look at these spaces as though you're a prospective buyer, thinking about placing an offer. This will likely help you identify areas where you need to clean.
8. Touch Up and Repair
Before your real estate agent takes pictures of the home, go through your house and touch up anything that needs it. If the paint is scratched or there are marks on the walls, repaint those areas. You may even need to repaint rooms if your colors are too bold or off-putting, since neutral colors will typically go best with a wider range of buyers.
But it's especially important that you take a close look at the very things that are most important to homebuyers. Spend extra time in the kitchen, making sure all your appliances are in working order. Check every light switch and replace any burned-out lightbulbs. These smaller things can make a big difference in whether a buyer makes an offer or not.
9. Conduct a Smell Test
Your sense of smell eventually will adapt to your surroundings. If you've ever gone on vacation for a while, then noticed your home's scent when you walked through the front door, you've experienced that in action. But the problem is, you may not know if your house smells when you put it on the market, but homebuyers will.
If you have pets, it's highly likely your home has an odor. Open all the windows to air things out and thoroughly clean. If you have carpet, use baking soda on the carpet before you vacuum. Make sure you get out-of-the-way areas like closets and underneath beds.
10. Help with Promotion and Marketing
Your real estate agent will use his or her resources to promote your home, but there are things you can do, too. Your agent will make sure your home is listed on the most popular real estate sites so buyers looking online will see it. There may also be open houses, as well as the people your agent brings by to see the house.
But you can promote your home within your own friends and family. Share your real estate agent's listings on your social media platforms and ask your friends to let anyone looking for a house know. Also post the listing in local social media groups since your agent may not have access to do that kind of outreach.
Negotiate Incoming Offers
Selling real estate can be tricky. Buyers want to get a good deal, but you also want to land top dollar for your property. Chances are, you're going to end up negotiating at least one offer during your home sale. Your real estate agent can help with that, but ultimately the decision is up to you.
The key to successful negotiation starts when you set your sale price. Keep in mind that buyers will often make an offer below what you're asking and give yourself a little extra wiggle room. But also remember that buyers offer low with the expectation that you're going to counter between your asking price and their offer and don't accept that first offer.
If you're lucky, you'll face a situation where multiple buyers place offers at the same time. This allows you to review the offers and choose the one that's best. All other things being equal, you may choose to accept a cash offer over one that requires the buyer to get financing since cash closings are easier.
Fix Any Identified Issues
Beyond the curb appeal and general aesthetics of your home, there will likely be at least one issue that needs to be fixed. You may have a loose board on your deck, for instance, or questionable wiring in a utility room. These issues will be identified during the home inspection and it will fall on you, the seller, to make sure they're fixed before closing.
Before you put your house on the market, make sure you have someone who can make those repairs on short notice. You may need a plumber, electrician, handyman or painter. If you can't make the repairs, be prepared to offer to take care of the closing costs or reduce the price slightly so that the new homebuyer can make the fixes after move-in.
Selling a home can seem daunting, but with a little preparation, you can get top dollar for your house. You'll need to do some serious cleaning and decluttering before your real estate agent takes photos, but the extra work will be well worth it in the end.
References
Resources
Writer Bio
Stephanie Faris has written about finance for entrepreneurs and marketing firms since 2013. She spent nearly a year as a ghostwriter for a credit card processing service and has ghostwritten about finance for numerous marketing firms and entrepreneurs. Her work has appeared on The Motley Fool, MoneyGeek, Ecommerce Insiders, GoBankingRates, and ThriveBy30.