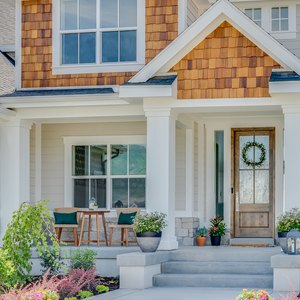 •••
PC Photography/iStock/GettyImages
The term "curb appeal" is reported to have been coined sometime around 1960, and the concept grew in importance when the real estate market ramped up before imploding during the subprime mortgage crisis. Technically, it more or less means just what it sounds like: how a home's exterior appears if you're looking at it from the street. Merriam-Webster defines it this way: "the visual attractiveness of a house as seen from the street."
But curb appeal has evolved over the years to encompass more than just that from-a-distance view. What do you see when you're standing on the porch and look at your house? How about when you're checking out the backyard?
What Is Curb Appeal?
Your home's curb appeal is a prospective buyer's first impression – and maybe second, third and fourth impression, too – of your property. It's their introduction to what you're hoping to sell. It includes your front yard and the entire exterior of your home. The buyer will want to have a look inside if your house's curb appeal passes muster. Or they might be inspired to note that phone number on the sale sign on your lawn.
HomeLight indicates that curb appeal "sets the stage" for a healthy purchase price, according to ​99 percent​ of the REALTORS they surveyed. The flip side is that would-be buyers might well take a pass and drive on if your home's curb appeal is bleak and in need of maintenance or repair.
Effect of Curb Appeal on Home Value
HomeLight also reports that simply landscaping your lawn can increase your eventual purchase price anywhere from ​5.5 to 12.7 percent​ more than homes with little or no landscaping at all. The National Association of REALTORS quotes a study by the University of Alabama and the University of Texas at Arlington which puts the increase a little higher at about ​7​ ​to​ ​14 percent​, depending on the market. Bob Villa, the television home renovation guru, puts it at closer to ​20 percent​.
And then there's the U.S. Department of Housing and Urban Development. Granted, their attention is focused on public housing rather than single-family homes, but HUD found that superior curb appeal prompts residents to work a little harder at upkeep and that they're less likely to pull up stakes and move somewhere else. They've even launched a project in some states to increase curb appeal for these residences.
Unfortunately, your home's curb appeal might not be entirely within your control. The condition of your neighbors' properties can factor in as well, according to the National Association of REALTORS®.
How Do You Get Curb Appeal?
A qualified real estate agent can give you some curb appeal ideas based on your neighborhood and the current market, but your landscaping, front porch, roof and siding are usually an excellent place to start.
Landscaping
Your lawn and landscaping are often the first things a potential buyer notices, but the finer details can depend on where you're located. You might get away with lava rock instead of a grass lawn in Phoenix, but this is much less likely in Miami.
Your lawn should be regularly maintained and a healthy green at a minimum, assuming your climate and the season allow for it. A layer of snow can cover a multitude of sins, but you might not be able to count on it covering up your grass consistently from December through February. Make sure bushes and shrubs are nicely trimmed and the sidewalks are edged. Uproot and toss anything that's clearly seen better days, and don't neglect to fill in the holes with fresh soil or sod. Get rid of those fallen tree leaves blanketing your lawn when you get into autumn.
Now add the finishing touches. Plant some flowers if the season allows for it, preferably in bright, cheerful colors. Remember, you're trying to make a great first impression and elicit a smile from folks here. Consider some potted plants in strategic places, maybe bracketing the porch or your entryway, and sweep the porch while you're at it. Drag your kids' toys into the garage and out of sight, and make sure your car is tucked away as well.
Your Porch and Entry
Your porch can be pivotal as well. Your potential buyer is most likely going to be standing there, looking around, for at least a short time while they wait for you to answer your door. Adding a nice, cheery new welcome mat can go a long way.
Repair any weak railings. Make sure your windows are clean. Consider putting a fresh coat of paint on their trim, as well as on the railings and maybe the door. Replace any light fixtures that are showing their age, and make sure their lightbulbs are fresh and healthy, not likely to blink out at an inopportune time.
If your front door looks worn, add a coat of paint. And don't overlook the mailbox, whether it's there by your door or out on the street. Replace that, too, if it's seen better days.
Take a look around while you're on the porch. How does your landscaping look from that angle?
Your Roof and Siding
Next comes the heavy lifting. Take a look at your home's siding. You might want to consider replacing it if it's seen better days, or at least have it power washed. Replace any broken shutters and clean out your gutters.
Now stand on your curb lift your line of vision to your roof. Do you see any warped or missing tiles or shingles up there? It's time to have them repaired. Hopefully, your roof isn't on its last leg, because this can be a major detriment to your home's sale. It will almost certainly turn up on an appraisal if it's damaged or faulty, and a buyer's lender typically orders an appraisal. A roof problem is much more than a cosmetic issue, and it's better to find out now that it's in disrepair, not days before closing.
How Much Will This Cost?
The good news here is that you can probably take care of a good many of these things yourself. They won't cost you much more than the expense of cleaning supplies, gardening supplies, and your time. You can do the painting, rent a power washer, and ride or push a lawnmower.
But remember that a lot of this must be accomplished on a regular, ongoing basis. Consider hiring out the jobs if the idea of ongoing responsibility feels a bit overwhelming, or if you're just not the handy type. You might be able to pay a local teen to regularly mow your lawn. And the National Association of REALTORS has indicated that you might recoup as much as ​267 percent​ of the cost if you hire a professional lawn maintenance service at a healthier price. A little investment can go a very long way here – anywhere from a ​5.5 percent to 20 percent​ increase in purchase price.
Of course, all this presumes that your home is structurally sound. You almost certainly need a professional to repair your roof if it's in disrepair, or to replace the siding if it's in poor shape. But this is one of those areas of home selling where you pretty much get back whatever you put into it.
References
Writer Bio
Beverly Bird has been writing professionally for over 30 years. She is also a paralegal, specializing in areas of personal finance, bankruptcy and estate law. She writes as the tax expert for The Balance.