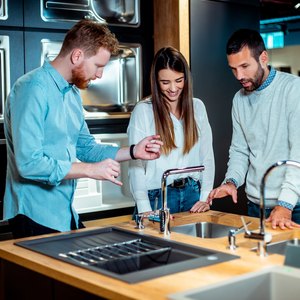 •••
Extreme Media/iStock/GettyImages
Your kitchen might be the most critical room in your home if you're thinking of selling. Prospective homebuyers want to be able to move in and feed themselves and their families without much, if any work or fuss. This is particularly true when they're paying top dollar for your property. And you'll want your kitchen to be as perfect as possible if you're planning to stay put for a while, too.
In either case, your kitchen appliances can make or break the room.
The Kitchen Versus Other Rooms
Consumer Reports indicates that a modern kitchen was the most sought-after feature among millennial homebuyers back in 2016, and it was the second most frequently staged room among home sellers in 2020, according to Dave Ramsey: ​85 percent​ put the bulk of their time, money and energy to their kitchens, right behind living rooms at ​93 percent​.
Appliance Upgrades: Stainless Steel
Numerous experts suggest that when it comes to your appliances, their look matters as much as functional bells and whistles. It all comes down to two words: stainless steel. It's moved out of restaurants and commercial kitchens over the last couple of decades and into private homes.
HGTV says that white appliances are yawn-worthy and so '70s, and you can forget about all those avocado or gold finishes. About ​75% of homebuyers​ demand stainless steel, according to a ​2020 survey​ of real estate agents by HomeLight. Shipments of stainless steel dishwashers and ranges hiked up ​23 percent​ from 2010 to 2015.
It's durable, it's shiny, has a fingerprint resistant finish and it looks clean. It doesn't begin showing its age after a few years of wear and tear, and it's rust-resistant. You'll want it on your range and cooktop, dishwasher, refrigerator, and even your microwave. You might want to replace all your appliances for utmost uniformity and eye appeal with a kitchen appliance package. And some experts recommend that all your appliances be the same brand.
Your stainless steel can be the traditional shiny silver kind, but it comes in black, too, although black might not be ideal for a small space. Recommended brands for a small kitchen that are available in black include Samsung, LG and KitchenAid. Otherwise, high-end homebuyers tend to zero in on Sub-Zero, Viking and Thermador products.
Other Appliance Considerations
You'll want to move beyond just the surface finishes of your appliances to their functionality. Check out their handles - not just for accessibility but because these should match, too. These should match, too. As for your microwave oven, you might want to think about replacing that one over your range with one that's built-in elsewhere. Tucking it in there with your range hood looks dated.
Dave Ramsey indicates that it's not just about aesthetics. Energy efficiency was a top sought-after appliance feature for ​21 percent​ of homebuyers in 2020. HGTV suggests Energy Star products.
Don't Stop With the Appliances
Depending on your budget, you might want to move beyond your kitchen appliances and consider upgrading to a large capacity washer and matching dryer. Consumer Reports suggests quartz countertops, indicating that they've gained in popularity among high-end homebuyers. HGTV says that marble stains too easily, and they recommend adding an island work station as well, something that would be valued among serious cooks and families who like to gather while cooking.
Give your cabinetry a fresh coat of paint if you can't swing replacing them entirely, and don't forget the little things, like modern backsplashes and that sink faucet.
How Much Will This Cost You?
Stainless steel appliances tend to be pricey. HomeLight reports that a Frigidaire 20.4 cubic foot refrigerator was selling for about ​$100​ more than a white model at Home Depot in 2020, and that increased to about ​$150​ for Whirlpool's fingerprint-resistant model over their corresponding white model.
Homelight put an average estimated cost for updating and replacing all your appliances at ​$4,229​ in that same year, and ​$75 to $250 per square foot​ if you want to upgrade the entire kitchen. Dave Ramsey puts it much higher for a total kitchen overhaul: about ​$23,000​ in 2020, although that estimate includes things like flooring. And don't forget that you'll probably have to pay someone to cart off all those old appliances as well.
Your overall cost can depend on the brand of appliance you choose. You might want to consult with one or more appliance specialists and installers – not just retail employees – about the best values at the time you're thinking of upgrading. They might have relationships with manufacturers that can provide you with discounts as well.
You might want to go with commercial-grade if your home is on the expensive side overall, and going for a few extras, such as a convection oven, a warming drawer or a built-in indoor grill with a topnotch cooking surface.
How to Cut Costs
Your pockets don't necessarily have to be super-deep to swing at least some of these upgrades. Many manufacturers, including GE, Jenn-Air, Bosch and Samsung, offer "package deals" if you purchase more than one appliance from them. These packages might save you anywhere from ​$1,000 to $6,000​, depending on the size of your kitchen, the number of appliances you're replacing and how high-grade you want to go. You might also find rebates on side-by-side refrigerators or that French door refrigerator you've had your eye on.
And you can simply replace one appliance, like a stovetop, rather than all or several of them if your budget is particularly tight. Swapping out the range for a gas cooktop might provide the best bang for your buck for luring in homebuyers who are serious cooks and like to entertain.
HGTV indicates that the end of the year is the best time to buy appliances at a discounted price, and that you might be able to simply swap out the doors and panels if going stainless steel is your primary goal, assuming the appliances themselves are still in good condition. You might even be able to cover those old-fashioned surfaces with stainless steel peel-and-stick sheets, but it's a safe guess that you'll have an unhappy buyer if they discover this later.
How Much Will Your Home Value Increase?
The increase in your home's value can come down to several interlocking factors: how much you can or are willing to spend, the market, your region, and the price range of your home. Upgraded appliances won't radically increase the value of lower- or mid-priced homes, although having appliances under warranty might. These buyers typically aren't willing to spend more for the best-of-the-best in just one room. On the other hand, high-end buyers will want to see a top-notch kitchen, maybe even a touchscreen refrigerator with WIFI, before they consider making an offer.
The HomeLight survey found that ​50% of prospective buyers​ said they were more likely to make an offer on a home that offered those stainless steel appliances, and that the average return on investment was in the neighborhood of ​41.5 percent​ for sellers who upgraded ​all​ their appliances. Dave Ramsey puts it at an increase of about ​$18,000​ if you make that ​$23,000​ total upgrade, or about ​80 percent​ of what you spent.
Consumer Reports indicates that replacing your countertops with quartz can push your sales price up from ​three to seven percent​ all by itself. You wouldn't even have to trouble yourself with swapping out appliances if they already show well and they're in good condition.
Talk to a real estate agent before you dive in, so you have some idea of what your local market will bear.
References
Writer Bio
Beverly Bird has been writing professionally for over 30 years. She is also a paralegal, specializing in areas of personal finance, bankruptcy and estate law. She writes as the tax expert for The Balance.