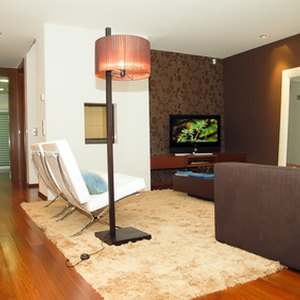 •••
house interior, the room image by Ricardo Verde Costa from Fotolia.com
You may be agonizing over what method to use if you're planning to sell your house. With the reams of books and articles that have been written on the subject, all claiming to know when, how and why to go about it, it's little wonder that house sellers become confused. The question of whether the house should be empty or full is one of the more common queries in this field.
Clutter
Whatever you decide to do with the furniture before putting your house on the market, you definitely want to get rid of the clutter. Clutter makes a house feel crowded and disorganized, and even though any intelligent buyer will realize that clutter has no effect on the quality of the house, it will have an effect on their viewing experience, and may make them question how well you've been maintaining the home. Pick up toys, clothing, stacks of magazines, tools and anything else that's making the house or yard look disorganized, and put them away.
Emptiness
At the other extreme is a vacant house that has everything taken out of it. While some people believe that an empty house gives a buyer the chance to envision living there on her own terms, experts generally advise that some well-placed furniture makes a house more inviting. The Royal Lepage website advises against leaving a house totally empty, because it makes it more difficult for potential buyers to envision how they might arrange their things in the rooms. A few well-placed pieces of quality furniture can help connect viewers to the living space.
Staging
Staging is the process of decorating and arranging a house to make it as attractive as possible to buyers. It's called staging because it really is a theatrical process. Both buyers and sellers realize that a house doesn't really look this perfect when people are living in it, but the furniture, plants, and strategically placed books can help to sell a house despite this knowledge. Give the rooms an open feel by including a small number of high quality furniture pieces. Soften the corners of a room with large, leafy house plants, and add a dramatic splash of color with a bright carpet at the center of the room. If your house has beautiful hardwood floors, be sure that the rug complements rather than hides them. Professional real estate staging agencies will come to your house and do all of this for you, if you're willing to pay their somewhat steep fees. Alternatively, you can learn about the process of optimal staging yourself and arrange your own home for sale.
Neutrality
Because you can't predict who'll view your house, your goal in staging your house is to make it as attractive as possible to the greatest number of people. To do this, you're aiming for a welcoming, but neutral effect. You don't want an empty house, and you don't want a house that's cluttered with your personal belongings. If you're moving out before the sale occurs, use this as an opportunity to take all your personal belongings, but leave your best furniture and rugs and a few houseplants, and arrange them to create a look that maximizes the space. Remove any belongings that are particularly unusual -- for example, a bizarre piece of art that you love -- but that might alienate an average buyer.
References
Writer Bio
Jagg Xaxx has been writing since 1983. His primary areas of writing include surrealism, Buddhist iconography and environmental issues. Xaxx worked as a cabinetmaker for 12 years, as well as building and renovating several houses. Xaxx holds a Doctor of Philosophy in art history from the University of Manchester in the U.K.