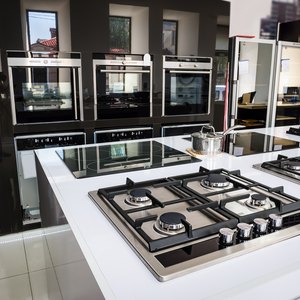 •••
starush/iStock/GettyImages
When you own a place, even if you have a mortgage on it, you have the right to do any home upgrades you deem necessary. But if you're putting money into upgrading your home, you'll want to make sure that when you sell your house, you'll get that money back. Some upgrades, such as to kitchens and bathrooms, pay off more than others.
What Is a Home Upgrade?
There are multiple things you can do to improve your home. You can remodel your kitchen, for instance, or paint your bedroom walls. But a "home upgrade" refers to changes you make that boost the overall market value of your home.
Whether a project improves your home's value or not depends on a variety of factors, including the local market and the cost of the changes. If your remodel is a DIY project, you'll be able to do it for a fraction of what you'd pay a professional contractor to take care of it. It also depends on how long you plan to stay in the home after you've completed the remodel.
Determining Your Home's Market Value
Before you can make sure your changes will add value to your home, you'll first need to determine what the current market value is. The value placed on your home by the local tax assessor isn't what you'd likely get if you put your house on the market today. Real estate agents will look at "comps," which gauge the price paid for nearby "comparable" properties in recent months.
The Federal Housing Finance Agency has a calculator that will help you determine what estimated market values are for your house right now. But the FHFA HPI Calculator only uses the rise in property values for your area to make this assessment. You can also find an estimated market value of your home on various real estate sites and keep an eye on property sales in your area.
That said, when you put your house up for sale someday, first impressions are everything. The market may say a house with your square footage at your address will fetch $400,000, for instance, but those calculators won't know that you have a kitchen that wows visitors or upgraded landscaping that enhances your curb appeal.
How to Do Home Upgrades
Upgrading a home can be serious work, but if you have the skills and energy to tackle the job yourself, it can save you some money. Every dollar you can save is a dollar you won't have to recoup when you later sell your house. Some projects, like installing flooring or new toilets, can be done fairly easily on your own.
But poorly done work won't help the resale value at all. Prospective buyers may note the unprofessional construction and pass on the house. Even worse, doing some home upgrades yourself can pose a safety hazard.
Projects you might want to outsource to a professional include electrical work, shower installation and driveway pouring. Professional plumbers and electricians are trained to make these repairs without danger to themselves. They'll also ensure the work is done correctly so you don't have later problems.
Getting Approval for Home Upgrades
Before you make big improvements to your home, make sure you don't need a building permit. Failure to get a permit first could cost you down the road. If you're making small changes like a new front door or backsplash, you won't need a permit. Typically, local governments are interested in changes that affect the structure or use of a building, such as adding a new room or changing your home's pipes.
More than half of all U.S. homes are part of a homeowners association. In some cases, HOAs require approval before you can make changes to your home. This typically applies to exterior changes, but check your HOA's bylaws to avoid being told you have to undo unapproved upgrades after you've already paid for them.
Most Valuable Home Upgrades
When deciding on home upgrades, having a home you enjoy is likely a top priority. But it's also important to make sure you'll get a decent return on investment. If you spend $10,000 on upgrades, only to find it upped your house's value by $2,000, you'll understandably be disappointed.
Small changes like painting and landscaping pay off well, mostly because they require a comparatively low investment. But if you're ready to spend serious money, focus on kitchen and bathroom remodels, which tend to appeal to homebuyers who look for modern design in these areas. That said, there's a difference between buying new appliances and ripping out old cabinetry and countertops.
Upgrading Your Home's Kitchen
Before you do anything to your kitchen, look at new homes for sale, paying close attention to the latest styles. Are white cabinets more prevalent than walnut? Also, note details like paint color and flooring type to make sure the changes you're planning will make your kitchen modern.
One easy home improvement you can make in the kitchen is to update your appliances to the newest stainless steel. That alone will increase your home's value without having to tear out your kitchen cabinets - although you might consider refinishing them. A new backsplash, faucet or flooring can also add value for less.
Upgrading Your Home's Bathroom
Bathrooms are another great area for home upgrades. Even something as simple as updating your light fixtures can make a difference. Countertops can also add to a home's value but replacing them can be pricey and involved.
It's important to resist the temptation to add high-end fixtures or replace your bathtub. Often the cost of upgrading a shower or tub won't impress people enough to make or break your home sale. Focus on more obvious changes like replacing the flooring or painting the walls.
Boosting Curb Appeal
The first thing someone sees when considering your home is the exterior. In fact, on many real estate sites, the primary picture is the front of the house. That's why curb appeal is so important.
Landscaping is, of course, a great investment. A fresh coat of mulch can go a long way toward making your front lawn look neat and tidy. Also make sure your shrubs and trees are trimmed up.
It may seem like a small thing, but your front door is important. Make sure the paint isn't chipped and the color blends well with the rest of the house. If you have a garage door that faces the street, take a look at it to make sure it's eye-pleasing before you put your home on the market.
Updating Your Flooring
Another item to compare to what's currently selling is your flooring. As you look around at new homes for sale in your area, note the flooring in each room. Hardwood floors are still popular, and if you're DIY-inclined, you can replace it yourself.
For resale value, consider the durability of the flooring type you choose. You can go with laminate or waterproof vinyl with a wood design, both of which look more like the real thing than ever before. For households with children or pets, these options can be a more durable option than wood, which can warp or become discolored with exposure to water.
Decks and Swimming Pools
A backyard oasis can go a long way toward attracting potential buyers. If you build a new deck or create landscaping that gives your patio privacy, it could help you win over homebuyers looking for those things. If you plan to live in your home for a while before selling, the enjoyment you get out of your backyard may make it well worth the expense.
If you're thinking about adding a swimming pool, though, pay close attention to the popularity of pools in your area. In warmer states like Florida and Texas, a swimming pool can add value in a way that makes the cost worth it. In states where "swimming season" makes up less of the year, though, homebuyers will sometimes steer clear of homes with pools due to the maintenance required.
Insulation and Weatherproofing
You can increase the home in small ways by making it as weather-tight as possible. Energy-efficient windows or extra insulation can cut the electric bill. Keep in mind, though, that some homebuyers will request a copy of the last year's utility bills on a property, so you may want to start thinking about energy-saving improvements well before you move.
The first thing to do if you're trying to make your home more energy efficient is to check all the areas of the home where air is freely entering. Insulate your attic or basement and look for leaks around doors and windows. If you can seal those up, you can save time and trouble while still accomplishing the same results.
Lose the Draperies
In case you missed the memo on this, draperies are no longer in style. In fact, if you pay attention to most of the newer homes on the market, you'll notice there are no curtains. Instead, windows simply have vertical blinds.
One of the easiest home upgrades to do is to install plantation blinds on all your windows. Eliminating curtains can make it look as though your home has more square footage than it does, opening areas and letting in light.
Finding a Good Contractor
One of the biggest challenges in home improvement project is finding a good contractor. Referrals can be a great way to narrow down the pool of candidates, but still do independent research. You can also save money by getting bids from multiple contractors for any project.
Most contractors will require a down payment before they get started on a job. Study up on the laws on contracting in your area. Most states limit the amount of down payment a contractor can require. You can also ask about this during the bidding process and include the required down payment as one of the factors you consider.
Get an Expert
Before you put your home on the market, ask a real estate agent or interior designer to take a look at your house and offer expertise. An agent can provide a value report and let you know how much you can expect to get. Together, you can walk through which additions will make the most sense.
Since a real estate agent is typically in charge of publishing photos of your home online, that person will instantly be able to tell you where your home falls short. This can start with curb appeal, which is attached to that all-too-important exterior photo of the front of the house. Make a list of suggestions and get pricing for each, deciding which upgrades do and don't make sense considering what you'll get out of the home when you sell it.
As nice as home improvements can be, it's important to keep resale value in mind. Whether you're selling your home in the next couple of years or couple of decades, when you keep an eye out for return on investment, you can reduce the risk of losing money. But there's also value in upgrades that improve your quality of life during your time in your house.
References
Resources
Writer Bio
Stephanie Faris has written about finance for entrepreneurs and marketing firms since 2013. She spent nearly a year as a ghostwriter for a credit card processing service and has ghostwritten about finance for numerous marketing firms and entrepreneurs. Her work has appeared on The Motley Fool, MoneyGeek, Ecommerce Insiders, GoBankingRates, and ThriveBy30.