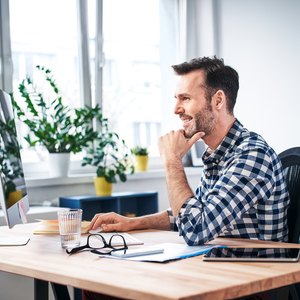 •••
BartekSzewczyk/iStock/GettyImages
While some truly tiny businesses may be able to prepare for sending and receiving payments and handling their taxes with a few well-organized spreadsheets, most small businesses really benefit from organizing their accounts using small business accounting software. These products have become very streamlined lately, in no small part due to factors like being able to pay a small monthly fee to use a cloud-based product rather than a larger fee for a long-term license. Other technology, like the ability to take a picture of a receipt and have it automatically record the amounts and other information in your account, makes accounting easier and faster.
There are a few major companies offering small business accounting software that caters to the needs of the small business owner. Having a robust software can make it easier to do your own taxes, if you are a very small business, or to share all the needed information with an accountant when you are ready to file.
Understanding Small Business Accounting Software
At its heart, accounting software is a way to stay organized while keeping track of the money you spend on your business, expenses/accounts payable, and the payments you receive for your services through transactions or invoices, accounts receivable.
An online shop that sells hand-knitted sweaters would need to make note of every new shipment of yarn as well as documenting each sweater that is sold, which can easily be done in small business accounting software.
Other features might include inventory tracking, where the sweater business could track how many sweaters of each kind are still available and modify the online offerings when something sells out. If you hire someone else to help make sweaters or to handle communication with customers, you can use small business accounting software's payroll options to issue paychecks and paystubs while withholding the correct tax amounts.
Many modern software products will also integrate with other software you use, or can sync with your bank or credit card to give you up-to-date information about your cash flow into and out of your account. If you are in industries with special reporting or tax forms, these software products often help you produce those reports from templates rather than having to muddle through them on your own.
Best Small Business Accounting Software Options
While a few major companies dominate the accounting software world, there are actually quite a few options within any one company that could be your best accounting software. Make sure you find the right level of software, be it a scaled-down version for a part-time freelancer or a robust advanced version for a multi-employee company that is growing quickly.
While most software will work on any modern laptop computer, dig into the latest information on software requirements if you know you'll want to use the software on a Mac or with a mobile Android app, for instance. All these softwares will also talk about integrations they have, from CRM integrations to integrations with Amazon, PayPal, and more.
1. QuickBooks
Powered by the tax software heavy-hitter Intuit, QuickBooks Online is a suite of different services, from QuickBooks Self-Employed for freelancers to Quickbooks Advanced for larger businesses with more accounting needs. Because they are owned by the makers of TurboTax, there are also bundles that combine your tax software with your accounting software, and seamless integration can save you time. Trying a QuickBooks Online Free Trial is probably a great place to start if you aren't sure where to go with your account; once you explore the features, you'll have a better idea of what you personally will use.
2. Wave
If you're looking for a small business accounting software that offers some valuable tools and is free to use, Wave is helpful for things like invoicing, receipt scanning, and financial report generation. They make money through their ACH fees and credit card fees, so be aware that your customers may experience higher-than-usual fees, but if it works out to be a good deal for your business rather than a subscription fee model, Wave can be an excellent option for small business accounting and expense tracking.
3. Xero
Xero is praised for being an affordable option whether you're a very small business or a growing one, as long as you have fairly simple bookkeeping needs. The interface makes it easy even for business owners who are a little queasy at handling all the numbers, and the rates are reasonable. Rather than having a native payroll function, they work through an integration with popular payroll service Gusto if you have that need.
4. Zoho books
If you aren't focused on payroll as the main need for your small business accounting software, Zoho books shines in the ease-of-use, good-price, and customer support departments. For on-the-go small business owners who need accounting information in the moment, the mobile app integrates and syncs back to your main computer and lets you access much of the same functionality for accounting even when you're out with only a smartphone.
5. Kashoo
If you are particularly interested in managing books for a very small business and don't want to have to wade through tools you don't need, Kashoo is a streamlined choice. Their income and expense management and free support via chat and phone make it an attractive choice for sole proprietors who want to stay organized but don't need advanced inventory and payroll features.
6. Zipbooks
For a lean software that is particularly well-suited to the United States accounting landscape, Zipbooks delivers a high-value experience for a lower price than some of the other more well-known names in small business accounting software. It's not the strongest on reporting, but customers give it high marks when they don't have any accounting experience. It makes the experience easy.
7. Sage 50cloud
Rather than relying fully on the cloud, Sage 50cloud is more familiar to those who prefer hard-drive-based accounting software, while still integrating well with cloud based software like Microsoft 365. It's well known for being a solid choice for small and medium sized businesses and has a particularly useful inventory tracking software.
There are other bookkeeping software options out there, but these are some of the most popular, from basic balance sheet, cash flow management, and budgeting, to payment processing, payroll services, and project management, these user-friendly applications will help even a novice accountant prepare their books carefully for their CPA or tax preparer. QuickBooks Pro or another QuickBooks Online Free Trial can be a good place to start, if you want to learn the most wide-ranging features, but once you know what you like and dislike, you may explore other options as well.
References
Writer Bio
Laura Leavitt is a personal finance writer in the Midwest, focusing on saving strategies, simplifying your life, and money mindsets.