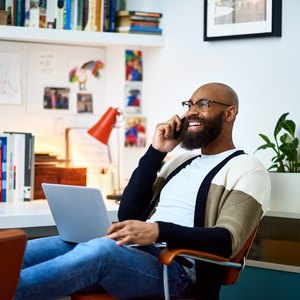 •••
10'000 Hours/DigitalVision/GettyImages
While the ultimate choice for the software you use for your business comes down to preferences, there are certainly elements of a given small or medium sized business that will make some software products a better fit than others.
After all, this is why so many small business accounting software products come with tiered plans, allowing you to pay less if you need fewer features and more if you need all that they have to offer. It just depends on what and how much you want.
Ask Yourself Which Features You Need
Consider the features of your business carefully as you work to narrow down your options. For instance, does your business fall into a regulated industry where your bookkeeping needs to be shared in the form of specific reports? Maybe you only need a way to compile your receipts for tax-deductible expenses and keep track of all the invoices and payments you've received as a service provider who is self-employed. Other small businesses look to their accounting software to provide a one-stop shop, integrating tax preparation, cash flow management, inventory, and payroll.
Once you've written down the basics of what you want a small business accounting software to do for you, from time tracking to accounts payable, you can start evaluating each of the top small business accounting software products for their suitability for you.
Do You Need Payroll?
If you are a "solo-preneur," you can probably manage your own taxes and pay yourself without a dedicated payroll option. Most cloud-based systems allow you to integrate a separate payroll software like Gusto in the future if you're interested in adding that down the line.
Do You Need Time Tracking?
Some businesses rely on careful documentation of billable hours, including what every unit of time is used to accomplish. If you are in this kind of service-based industry, look at accounting software like Quickbooks Online Free Trial, FreshBooks, and Sage that include a time tracking component, and test out that feature. It should be easy to use, since you don't want to have to allot time just for using the time tracker!
Do You Need Inventory?
For retail and other product-based businesses, you'll need a way to track how much product you have and when restocking is needed. Some small businesses choose to use a separate inventory and point-of-sale system, but if you are considering Zoho Books and Xero, they have inventory components built right into your accounting product, which might be attractive as a whole-business solution.
Ease of Use Versus Feature Overload
Many software programs have a variety of features, but you'd be surprised how cleaner interfaces may help you complete basic freelancer or self-employment accounting if you don't need many of the other features. Applications like Wave and Kashoo have affordable or free versions that don't bombard you with features your smaller business might not need.
Deciding About Cloud-Based Versus Desktop
Desktop accounting software is losing its appeal due to the many ways that cloud-based systems can sync across platforms, letting you take a picture of a receipt on your phone away from the office, for instance, and access it automatically on your computer when you return. However, some businesses, either because of expectations of their industry or security concerns, prefer to host all their accounting software locally, on their own CPUs. Choose a desktop-based product, like the Sage line of products, if you know that not being able to access your software for even the very, very low downtime of cloud-based software.
Be aware that, if you use legacy computer systems or other technology that has challenges running modern websites at a good speed, you'll want to test any product, cloud-based or desktop, before committing to it.
License and User Needs
When looking at cost as a major factor, make sure you're comparing apples to apples. For instance, the biggest or most complex licenses for Quickbooks Pro might seem too expensive for your needs, but if you look at your actual amount of users and license features you'll need, the Quickbooks Self-Employed or Quickbooks Online options might actually be your best price. Look into what every package offers, since some of the companies have a cap on number of users for even their best plans, while others (like the Zipbooks Sophisticated plan) say "unlimited," which could give you a good deal on a large number of user accounts.
Industry-Specific Modules
Many of the small business accounting software frontrunners balance the need for a streamlined product with an endless selection of integrations and add-ons. Rather than buying a separate product, you can add modules to some software (Quickbooks and Sage are popular for this) that let you more effectively manage the specific needs of, say, a construction company. Manufacturers and retail teams need inventory software, which may naturally fit as an addition to your accounting software. If your bookkeeping needs to have a particular level of security, such as security to comply with HIPAA in healthcare, you might want a healthcare-based add-on. When talking with a sales person about a free trial, ask if you can trial their industry-specific module as well.
The Right Fit vs. Best Overall Product
Part of why there are such a wide range of options available to small business owners when it comes to small business accounting software is that each product really does offer a different experience, from the pared-down, no-user-costs models of free online accounting software, to the many add-on modules for industries with complex regulations that benefit from additional accounting steps and oversight.
As you make your final decision, ask yourself these questions to help narrow down from your top two or three options:
Do you have an outside-the-company accountant who works on your taxes? Does the program you are considering seamlessly integrate with their system so you can share the accounting numbers easily?
Do you have a networking group or an industry association contact? Discuss with people in similar industries to get real-life, unbiased reviews of the programs they use.
Can you spare the budget for the top-dollar option in your list right now? If you need to pare down, try a fiscal year with the cheapest of your top options and re-evaluate after. Also consider a lower-tier option within your favorite company, such as a smaller number of licenses or customer accounts, to get a better deal.
Finally, for your final two or three options, arrange for a free trial where you put the programs through their paces for at least a couple of dedicated hours before making your long-term choice. In particular, look at whether features that technically function are actually intuitive and useful to you and your team. Usability, after all, ends up being a very important part of keeping the accounting software 100% up to date, and it's hard to pin down what will be usable for your small business until you try it out.
References
Writer Bio
Laura Leavitt is a personal finance writer in the Midwest, focusing on saving strategies, simplifying your life, and money mindsets.