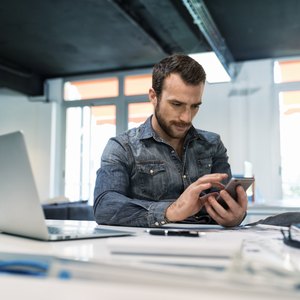 •••
LDProd/iStock/GettyImages
Checking accounts may not be the first thing that comes to mind when consumers think of Nationwide, but many customers have come to rely on their banking services over the years. When they decided to shutter their banking operations in 2018, many of these customers were left wondering where to take their business.
Thankfully, they didn't have to wonder for very long. Later that year, Nationwide partnered with Axos Bank to continue offering banking services to current and future customers.
While the transition process for current customers has been relatively seamless, the account options have changed a bit. Here's a look at the checking accounts offered by Nationwide through Axos.
What All Nationwide Axos Bank Checking Customers Receive
All Nationwide Axos Bank checking accounts come with free mobile banking and an app you can use to deposit checks, check your balance and transfer money. The Axos Bank for Nationwide app has a ​4.7​ rating on the App Store and a ​3.7​ rating on the Google Play Store.
Axos Bank also provides two-step authentication and SSL encryption to prevent hackers from accessing your account.
All account holders get a free debit card.
There are more than ​91,000​ ATMs in the Nationwide Axos Bank network. To find the closest one near you, you'll have to log on to your account and click on the ATM locator tool.
Our Rating Methodology
We rated all five Nationwide Axos Bank checking accounts and compared them to other online-only checking accounts at similar institutions. We compared fees, minimum balance requirements, interest rates, opening deposit requirements and more.
Direct Checking
The Nationwide Direct Checking account is best for customers who frequently use ATMs. Axos Bank will refund ​up to $30​ in out-of-network ATM fees per month, so you don't have to constantly check to see if an ATM is in-network.
The account has no minimum opening deposit requirement and no minimum balance requirement. There is a ​$5 monthly​ maintenance fee, but it will be waived for customers who set up direct deposit.
Direct Checking account holders can also receive free access to Direct Deposit Express, which pays direct deposit up to two days ahead of schedule. This is a huge boost for consumers, especially those living paycheck-to-paycheck.
The daily withdrawal limit for both ATM and debit cards is ​$310​, and the point-of-sale transaction limit is ​$500​.
Advantage Checking
The Nationwide Advantage Checking account is the only high-yield checking option available from Axos Bank. There is a ​$50​ requirement to open an account and no minimum balance requirements.
Customers can earn ​up to 0.90% APY​ when they complete the following:
Have direct deposits of $​1,000 or more​ every month
Have ​10 or more​ point-of-sale transactions o​f $3 or more​ every month
If you only fulfill one of these stipulations, you'll still earn ​0.45% APY​ on the balance. If you don't complete either of them, the account won't earn any interest. This interest rate isn't as high as other high-yield checking accounts, but it does have looser restrictions compared to other accounts.
This interest rate is available on all balances. Interest will be compounded daily and paid out monthly.
There are no monthly maintenance, overdraft or non-sufficient funds fees.
Interest Checking
There is a ​$100 deposit​ required to open the account. There are no monthly maintenance fees, and Axos Bank will repay ​up to $30​ in out-of-network ATM fees
Customers can get a free box of checks when they open the account. They will also be enrolled in Direct Deposit Express, which means they'll receive their paycheck two days early.
My Checking
Axos Bank will reimburse an unlimited number of out-of-network ATM fees with this account.
There is a ​$100 deposit​ required to open the account, but no minimum balance requirement. There are no monthly maintenance fees.
Customers with a My Checking account who also open a My Savings account will receive a higher interest rate than customers with just a My Savings account.
First Checking
The Nationwide First Checking account is available to teens between ages 13 and 17, or up to 18 in Alabama. It's one of the best teen checking accounts available, and pays ​0.25% APY​ on all balances. That's one of the highest rates on the market.
It has no monthly maintenance fees, no non-sufficient funds fees and no overdraft fees. This is a great starter account that lets teens use a checking account without accidentally racking up fees. Axos Bank will also refund ​up to $12​ in out-of-network ATM fees.
The account has a ​$100 daily​ cash withdrawal limit and a ​$500 daily​ debit card transaction limit.
An adult must be a co-owner on the account, which is standard for all minor checking accounts.
Nationwide Axos Bank Interest Checking Account

| | |
| --- | --- |
| ​Balance​ | ​APY​ |
| $0 to $2,499.99 | 0.10% |
| $2,500 to $9,999.99 | 0.20% |
| $10,000 to $24,999.99 | 0.30% |
| More than $25,000 | 0.40% |
Nationwide via Axos Bank
References
Writer Bio
Zina Kumok is a freelance writer specializing in personal finance. A former reporter, she has covered murder trials, the Final Four and everything in between. She has been featured in Lifehacker, DailyWorth and Time. Read about how she paid off $28,000 worth of student loans in three years at Conscious Coins.