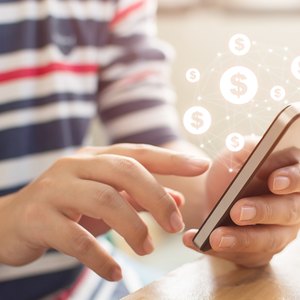 •••
marchmeena29/iStock/GettyImages
In 2019, student loan debt reached a staggering 1.41 trillion dollars, reports financial website, Investopedia. With an average student loan debt of around $35,359 per borrower, it's easy to see why graduates are eager to pay off these crippling loans fast. Simply saving and investing wisely may not be enough to repay student loans. Fortunately, there are a wide range of tools available, such as apps for paying off student loans, that you can utilize to help you realize your student loan repayment goals.
1. Pillar
Pillar touts itself as the "app designed to smash your student loans," and who wouldn't want their student loans smashed? According to Pillar's website, the average app user saves approximately $6,200 on their student loans. But, just how does Pillar help you accomplish this? With Pillar, you can track and pay all of your student loans directly from the app, which reduces your risk of missed payments and late fees. If the app detects a chance for you to better manage your finances and loan, you'll be notified.
The app is completely free to use, there are no hidden costs or fees and it is available for both Android and Apple iOS. It's also synced with top student loan providers including Sallie Mae. Your information is safe with Pillar as well. Its website states that, "the app secures all of your data with the same 256-bit encryption that banks use."
2. ChangEd
If you have student loan debt you need to get off your back, then ChangEd might be for you. ChangEd works a little differently than debt tracking or other repayment apps. The app rounds up your purchases to the next nearest dollar after you link a main spending account. When you have accumulated at least $5 in rounded-up transactions, ChangEd will then transfer this money to an FDIC-insured account.
For example, if you purchase a cup of coffee, and it costs $5.01, the app will round your purchase up by $0.99, and your primary spending account will be charged $6. The $0.99 is added to existing roundups until you reach at least $5, at which point the roundups will be transferred to your FDIC account with ChangEd. Also, if you go on a shopping spree or make a lot of transactions in a short period of time, the app will round up no more than $10 in a single day. When you accumulate $100 in roundups, ChangEd will send a payment to your student loan.
It costs $12 per year to maintain your account. However, ChangEd's website states the average user saves $30 to $50 a month in roundups, and the app is available for both Android and Apple iOS. You only need to make an account and enter the debt and associated information about the debt into the app; this can be student loans, credit cards or other debt.
3. Digit
Digit's website states that the app, "will help you save for and pay off your student loan debt when you set up a goal and connect with your loan servicer." Each month the app will automatically make a payment using the money in the goal as a supplementary payment. Digit payments on your student loans are extra payments, and are not meant as a replacement for your monthly student loan payment. With Digit, funds are withdrawn from your checking account and put towards your goal on a date you set,
And, if for some reason you find yourself in a pinch one month, you can withdraw some or all of your goal money from your Digit account before the date of your next payment. Digit costs $5 per month after a 30-day free trial, and according to the website, the average borrower saves $2,200 per year. You can also set multiple goals beyond student loans such as vacations or an emergency fund; the app is available on both Android and Apple iOS.
4. Sallie Mae Mobile App
If you have a Sallie Mae student loan, you should consider downloading Sallie Mae's mobile app that allows you to make payments, check loan details and view payment history amongst a host of other features. The app was the winner of the 2017 AVA Digital Gold Award and is a good way to stay on top of your student loan obligations. You can also link your Sallie Mae mobile app to one of three Sallie Mae credit cards.
The Sallie Mae Ignite, Accelerate and Evolve cards all offer cash back rewards that can be used towards paying down any federal or private student loan. You will earn up to 1.25 percent cash back on all purchases depending on the card, but if you use the rewards towards repayment of a student loan, you can earn a 25 percent bonus. However, certain restrictions and requirements apply in order for you to take advantage of the extra 25 percent cash back reward.
5. Undebt.it
Although Undebt.it isn't a student debt repayment app, it has a lot of features that will help you keep track of not only your student loans, but also all of your other debt, which can give you a better picture of your overall debt load and financial situation. You cannot repay your student loan directly via Undebt.it, however it is designed to help you track your debt as well as identify when and where you can pay down a loan faster by assisting you in optimizing your payments.
Undebt.it's website details that "Undebt.it is a free, mobile-friendly debt snowball calculator that generates an easy-to-follow payment plan - so you can finally eliminate your debt." The two most popular plans for paying off student loans involve paying off the lowest balance first, also known as the debt snowball, or paying down accounts that have the highest interest rate first, or debt avalanche.