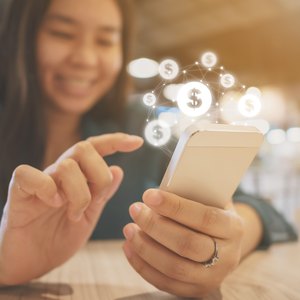 •••
marchmeena29/iStock/GettyImages
Everyone knows the importance of saving money. Putting that knowledge into practice, however, is another story. Between a seemingly never-ending cycle of bills and debt, coupled with stagnant wages, there is no wonder many Americans find themselves having an increasingly difficult time building a nest egg. The good news is, there are automatic savings apps to help you attain your savings goals a little more effortlessly.
1. Qapital
Qapital is a popular money management and personal finance app designed to help you gain more control of your money and spending habits. The hardest part of savings – actually doing it – is automatic and fun with the Qapital app. Users can save money in nearly a dozen different ways as they go about their usual daily spending, and the app is available for both Apple iOS and Android devices. Saving money incrementally, and in small amounts, lets you save money easily as you go about your daily spending.
To use Qapital, you will need to download the app then connect a bank account and a debit card. With Qapital, you have two different accounts available to help you save – Goals and Spending. Once you connect your Goals account to your primary funding source, you set rules that determine what will trigger a transfer to your Goals. The funds kept in your Qapital Goals account are FDIC-insured with one of Qapital's partner banks, while the money that accrues in your Spending account links to a Qapital Visa® Debit Card for a checking account held in your name with a partner bank.
You can also choose the Qapital Invest account which helps you invest in an ETF, or exchange-trade fund, portfolio that's based on your individual risk level. Qapital reports average users savings between $1,500 and $5,000 per year depending upon which plan they select. Qapital plans vary from $3 monthly for the Basic plan up to $12 monthly for the Master plan.
2. Acorns
Acorns is another savings and investment app that helps users squirrel away for a rainy day by rounding up purchases to the nearest dollar. It's free to open an account, but to start investing you need a minimum investment of $5.
Depending on the type of account you choose, you can expect to pay between $1 a month for a taxable investment account to $3 a month for a checking account plus retirement and investment accounts. You can connect as many cards as you'd like and can control whether the transfers are triggered automatically, or by selecting recent transaction roundups you'd like to transfer.
You can also elect to manually transfer lump sums or set up recurring transfers at daily, weekly or monthly intervals starting with as little as $5. Aside from the money management tools and educational resources, Acorns also helps you grow your money through what's known as Found Money. With Found Money, you can earn cash-back rewards through one of Acorns' more than 350 partners including Airbnb, Nike and Sephora.
3. Digit
If you have multiple goals, such as saving for an emergency fund or travel plans that you'd like to contribute to seamlessly, then the Digit app could fit the bill. In fact, Digit can help you save to pay down your bills. Digit works by evaluating your spending habits and uses complex algorithms to determine when it's a good time to transfer money from your linked bank account to your Digit account.
Also, when you save using the Digit app, you can earn a 1 percent annualized savings bonus for every three months you use the service. After your free 30-day trial, your Digit subscription will cost you $5 per month and there is no minimum you must save.
However, according to Digit, their average customer is able to save $2,200 per year through the app. Users can pay down their credit card debt by linking a card to their Digit account as well as use the app to help pay down student loans. Digit is available for both Apple iOS and Android devices.
4. Chime
Chime is a mobile banking app that touts itself as "Banking Made Awesome." And with fee-free overdrafts up to $100 on debit purchases, no hidden fees and automatic savings, it seems as if the more than 150,000 5-star app reviewers agree. Your deposits with Chime are FDIC-insured up to $250,00 and you have the peace of mind of zero-liability on all unauthorized purchases.
Chime helps you save money by automatically rounding up everyday purchases to the nearest dollar and then transferring these funds to its optional savings account. Chime is available for Apple iOS and Android devices.
5. Simple
The Simple mobile banking app offers a free checking account with no overdraft fees and no minimum monthly maintenance fees or balances. Users have access to approximately 40,000 domestic ATMs and a Visa debit card, as well as tools that can help you budget and save towards goals. Simple also offers high-yield accounts to help you grow your money faster. All funds are held in an FDIC-insured partner bank and users are also covered by the Visa Zero Liability policy which protects against unauthorized purchases.
With Simple, all tiers and Protected Goals Account balances will earn 1.75 percent APY to help you reach your savings goals faster. In order to open a Protected Goals Account, you must first have a Simple Account. The app is available for Apple and Android users, but the company's website states that you are able to use a web browser to access the same features as you would with the app, however, you will need a smartphone in order to make photo check deposits.
References
Writer Bio
Tara Thomas is a Los Angeles-based writer and avid world traveler. Her articles appear in various online publications, including Sapling, PocketSense, Zacks, Livestrong, Modern Mom and SF Gate. Thomas has a Bachelor of Science in marine biology from California State University, Long Beach and spent 10 years as a mortgage consultant.