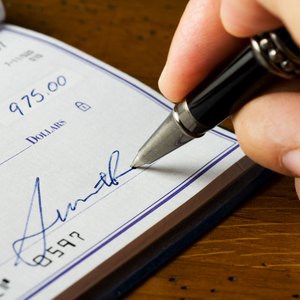 •••
bluestocking/E+/GettyImages
Start With the Date
Fill Out the "Pay To" Field
Add the Amount of the Check
Use the Memo Section
Sign the Check
References
Tips
To cash the check, take it to your bank and sign the back of the check to endorse it. The bank may require identification before cashing it for you.
A more secure option is to write your own first and last name on the "Pay to the Order of" line, advises certified credit union financial counselor Susan Tiffany, writing for Abri Credit Union. With your name as the payee, no one else can cash the check.
Warnings
A check for cash is virtually identical to cash. Theoretically, anyone who possesses the check can endorse and cash it.
Writer Bio
Alicia Bodine is a New Jersey-based writer specializing in finance. With more than 13 years of experience, her work has appeared in LendingTree, GoBankingRates, Sapling, Zacks and budgeting.thenest.com.