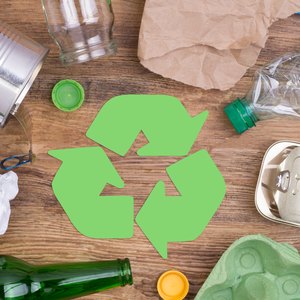 •••
photka/iStock/GettyImages
Having a little extra cash on hand never hurt anyone. In fact, with many of the micro-savings apps on the market today, you can even invest these spare funds towards your future. Every little bit helps. Whether you're strapped for cash or just want to recycle to do your part in helping the planet, there are some surprising ways you can make extra cash by recycling. And, chances are, you have at least one of these things already around your house.
Cash in Those Cans and Bottles
Bottles and cans are the obvious go-to recyclables for scoring some extra cash. Although this tried-and-true quick cash standby is by no means a surprise, it is pretty easy to do. In fact, you likely have some bottles and cans lying around just waiting to become extra cash right now. What may be surprising, however, is just how much extra money you can make.
The price of aluminum scrap metal does vary nationwide, so it's best to check the average price – which at time of publication is $0.28 per pound – before you go. And, in case you're wondering, yes, there's an app for that. The iScrap App shows users where to recycle their cans and how much they can expect to be paid for them. Also, keep in mind that you can haggle a bit on the rate you're paid depending where you live, so it doesn't hurt to try.
But, if you reside in one of the 10 U.S. states (and Guam) that currently have container deposit legislation, also known as bottle bills, you will earn a whole lot more. These 10 states, including California, New York, Hawaii and Michigan, have a minimum redemption value on your cans and bottles. For example, in California you can get $0.05 per for glass, aluminum or plastic containers under 24 oz and $0.10 per container for those over 24 oz.
Clean out Your Closet
True, you can donate your unwanted clothing, but you won't get any extra pocket money out of the deal. However, you could take those same unwanted clothes and make a quick buck by selling them. Selling your used clothing is a form of recycling that gives the clothes new life and keeps these items out of the landfill. You can use apps and websites like Poshmark or eBay and Etsy; but you may not be so tech savvy or have the time to wait for someone to decide to buy something from you.
In that case, you can try selling your clothing to a consignment shop or having a garage sale. A yard or garage sale is the fastest way to get your used clothes out of the closet and get some cash in your wallet, although a consignment store may not pay you until the items sell. You can also take your clothes to retail second-hand stores such as Buffalo Exchange ,which has locations in 19 states and the District of Columbia, or Uptown Cheapskate, with more than 40 locations in 17 states.
Popping Bottles for Spare Cash
If you enjoy a bottle of wine from time to time, you may be surprised to find out that there is a demand for used wine corks. Wine corks have a lot of uses for crafting and you can sell them on eBay or Etsy. You can even toss in the bottles or sell them separately to maximize your profit as people use the bottles for craft projects, too. Search similar listings to determine the average selling price and package the cleaned bottles in lots of 10 or 12 and cork lots usually start as small as 20 corks.
Sell Your Used Boxes
Cardboard boxes are another thing you can recycle for money. You can often recycle cardboard boxes at centers that accept aluminum cans or glass bottles. You can also check Earth911 for recycling centers near you. However, if you want to potentially make a little more off your surplus cardboard boxes, then you should consider offering them up for sale on BoxCycle.
BoxCycle is a way to connect people who need boxes with those who have boxes to sell – as long as they're in good condition and meet BoxCycle's quality standards. This option should give you more than you'd make at a recycling center.
Save Used Cooking Oil
This suggestion for recycling to make a little extra cash isn't necessarily as easy as some of the other options on the list, but you can still make some spare cash. Used cooking oil can be converted into biodiesel and there is a whole industry that needs it. At up to $0.75 per gallon, you can try looking for buyers on places like Craigslist or reach out to biodiesel firms directly. You could save up your oil and slide a few extra bucks into your account.
Junk Your Old Car
If you have an old clunker taking up space in the garage, why not junk it and get some extra spending money? Online services, like Junk My Car, will give you an instant quote for your vehicle and offer free towing as well as on the spot payment. The amount you are offered depends on several factors, so be sure to shop around for the best offer to ensure you have the most hassle-free experience.
Recycle Old Tech for Cash
Nearly everyone has an old cell phone or electronic device hiding in a forgotten corner of a drawer somewhere, but did you know that you may be able to turn your outdated tech into money? Gazelle lets people cash in their used electronics and then inspects and refurbishes these devices for resell. Gazelle is convenient and, according to the company's website, it is the "nation's leading consumer electronics trade-in site for buying and selling certified preowned devices."
References
Writer Bio
Tara Thomas is a Los Angeles-based writer and avid world traveler. Her articles appear in various online publications, including Sapling, PocketSense, Zacks, Livestrong, Modern Mom and SF Gate. Thomas has a Bachelor of Science in marine biology from California State University, Long Beach and spent 10 years as a mortgage consultant.