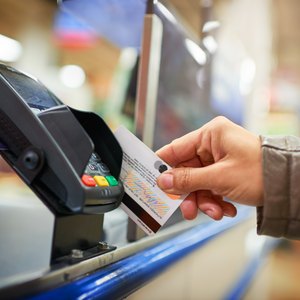 •••
PeopleImages/iStock/GettyImages
Money Network is a cash service and mobile cash app that lets you send money, set it aside, transfer money to a U.S. bank account, write yourself checks and more. A key distinguishing feature of Money Network is that you don't need to have a traditional bank account in order to use it. On top of that, Money Network accounts are FDIC-insured, just like a regular bank account. If you are a Walmart employee, creating a Money Network account can be a great option for you to receive direct deposits from your Walmart paychecks without needing to open a checking account. Money Network also provides the exclusive EXCEED card only for Walmart employees.
What Is Money Network?
Money Network is a wholly-owned subsidiary of First Data Corporation. It's a csh service that includes a mobile cash app that enables you to send money and put money aside into savings using your smartphone. If you don't have a U.S. bank account, Money Network can help you get by without needing to open one, including depositing your paychecks. However, if you do have a bank account and simply want to use Money Network to make your life easier, you can even use it to transfer money to your bank account.
Use a Money Network Prepaid Visa card at all stores that accept Visa debit cards, as well as online and at ATMs
Use Money Network Checks to pay bills or write yourself a check each time you're paid, as well as cash them at over 10,000 free check-cashing stations
Access over 43,000 surcharge-free Allpoint Network ATMs and merchant locations nationwide
Help with online bill payment to over 7,000 billers
Buy digital gift cards for yourself or others
To sign up for Money Network, first complete enrollment with your employer, receive your Money Network Welcome Packet that includes your Money Network Visa Prepaid Card and activate your service by calling the phone number on the back of your card. Once activated, you'll get to assign your own 4-digit PIN.
The Walmart Money Network EXCEED Card
Money Network provides the EXCEED card exclusively for Walmart employees. The EXCEED card offers Walmart associates easy access to their cash and is a viable option for employees without traditional bank accounts. If you do have one, though, you can sign up for direct deposit.
Some pluses and features of the Walmart EXCEED card include:
Fast access to your pay
Cardholder promotions and offers
Surcharge-free access to your cash
Insurance by the FDIC
Financial tips
Setting Up Walmart Direct Deposit
If you're a Walmart employee without a bank account, you can still use direct deposit by having some or all of your paycheck transferred to a Money Network Paycard. This card acts like a debit card and can be used wherever MasterCard is accepted. One unique feature with a use direct deposit is that you can use it to withdraw cash from a Walmart cash register to take out some or all of the money on your card.
To sign up for Walmart direct deposit, go to the OneWALMART website, then navigate from the "Me" tab to the "My Money" and then "Direct Deposit" tabs. You can choose how much to deposit from each paycheck into up to two accounts, or instead choose the Walmart paycard option. Once you've signed up and chosen the deposit amounts, money will automatically be deducted from your next paychecks.
Reloading Your Money Network Card at Walmart
You can load more cash onto your Walmart prepaid card by going to the cash register at participating Walmart stores. The cashier will swipe your card and add cash directly to your card, up to $1,000. There will be a $3.74 service fee for this.
Or, you can reload money with a check. Bring your card and a pre-printed check to a Walmart register at a participating Walmart (not available in New Jersey, New York, Rhode Island or Vermont). The cashier will cash your check and load your card with money, up to $1,000. There is also a $3.74 service fee for this reloading method.