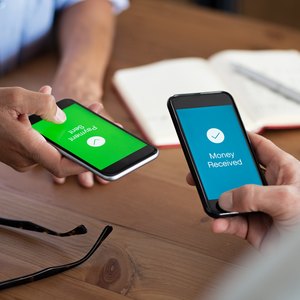 •••
Ridofranz/iStock/GettyImages
Money orders are a great way to send money to someone without having to send cash or write a personal check. Similar to a cashier's check, a money order is considered a safer and more secure form of payment than using a personal check. While a cashier's check is even more secure than a money order, money orders are generally more convenient and available in more locations, including the U.S. Post Office and convenience stores like CVS. Many people think that Walgreens would, too, but they actually don't sell money orders. They do, however, offer money transfers through Western Union.
How Do Walgreens Money Transfers Work?
Beginning in 2014, Walgreens and Duane Reed started offering customers to transfer money domestically through a Western Union stage-and-pay kiosk model in over 8,000 of their stores in 49 states. Using a photo touch screen, customers can serve themselves in a single session or even return later to finish the session, making the process highly convenient.
While you can't actually buy money orders at Walgreens, you can send money transfers using Western Union kiosks located in most of their stores.
Money Orders vs. Money Transfers
While some people hoping to purchase money orders from Walgreens may be disappointed to learn that they don't actually sell them, there isn't a huge difference between money orders and money transfers. The main difference is where you can purchase them and how much money you are allowed to move at once. Money transfers refer to "electronic funds transfers," or EFTs for short.
Most money order issuers like Western Union or MoneyGram have limits of $500 or $1,000 per money order, meaning if you need to send more than the upper limit amount, you have to buy multiple, even if it's just $5 over the limit. Money transfers usually have higher limits for sending money, allowing you to send more than you could with a single money order.
Both money orders and money transfers require payment upfront, along with the amount you want to send, and any other applicable fees. The payment is secure for both options and still guaranteed to the recipient, and both are considered some of the safest ways to transfer money. Both payment methods also can work when banks are closed.
Understanding Walgreens Money Transfers
Through Western Union, Walgreens allows you to send money transfers of up to $6,000 and receive up to $300 per transaction. MoneyGram, a similar service, offers online money transfers with a limit of nearly $10,000 per month, for comparison.
Walgreens money transfers are fast, typically taking just one or two business days to process. Like money orders, money transfers remove the risk of your check bouncing due to insufficient funds in your account because the money transfer service (in this case, Western Union) acts as a third party that insures the delivery of funds and takes on the financial responsibility after you've made your purchase and made the transfer. This makes money transfers an attractive option for many people, on top of the fact that money transfers through Western Union and MoneyGram are typically less costly than if you made a money transfer at a bank, which may charge relatively steep fees.
How Much Do Walgreens Money Transfers Cost?
While Western Union money transfers made online are subject to constantly changing rates, which you can check at Western Union's online fee estimator, Western Union money transfers made in-person and paid for in cash charge a standard fee. So, if you use a Western Union money kiosk at a Walgreens store and pay in cash, you can expect to be charged $11, regardless of the amount you send.
To speed up the process and make the transfer available for the receiver to pick up at an agent location immediately instead of after one business day, the fee is $12.50. For money transfers made in-person, Walgreens only accepts cash equivalent forms of payment, so be prepared for that.
Sending a Walgreens Money Transfer
You can use this Walgreens/Western Union locator tool to find out which Walgreens stores near you have Western Union kiosks, because not every location has them, but most do. Once you've done that, you can go to a Walgreens store to make the transfer in-person or make the transfer using Western Union's mobile app.
In the store, go up to a Western Union kiosk, select the money transfer button on the screen and follow the prompts. Here's what you'll need to do:
Gather Your Form of Payment. Western Union money transfers allow you to pay with cash, credit or debit cards, but paying with your card will usually result in a higher fee than if you pay in cash. The fee depends on your own bank's money transfer fees. If you want to spend a little less, cash is the way to go.
Get Your Information Ready. To send a money transfer, you'll need some key pieces of information: Your name, address, phone number and state-issued ID. You'll also need to provide the full name, address and phone number of the recipient of the money transfer.
Double-Check Everything. One great feature the kiosk provides is a pre-receipt with the information you've entered, so you have a chance to review everything before finalizing the transfer.
Make the Payment. If everything looks correct on your pre-receipt, pay upfront using cash, credit or debit card. One you've paid, you'll receive a final receipt containing a 10-digit tracking number. Keep this number, because your recipient will need it to collect the transfer.
Receiving a Walgreens Money Transfer
To collect their money transfer, your recipient will need to have the following:
Recipient's address
Recipient's phone number
Recipient's state-issued ID
10-digit tracking number
Answer to a security question, in some cases