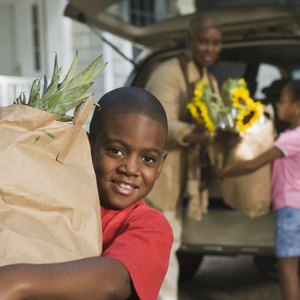 •••
Comstock Images/Stockbyte/Getty Images
If you belong to a low-income family, you may qualify for the Supplemental Nutrition Assistance Program (SNAP), also known as food stamps. And your Texas benefits EDG number will determine on which day you receive the benefits.
The Texas Health and Human Services Commission (HHSC) is responsible for administering the program on behalf of the state government. Once you get into the program, you could purchase the food items you and your loved ones need from authorized food stores across Texas.
Qualifications for SNAP Benefits
To qualify for SNAP benefits in Texas, you must meet certain criteria in addition to residing in the state.
Your maximum income per year should range from ​$16,744 to $58,058​ for a household with one to eight people. If your household has more than that, you can have an additional ​$5,902​ per additional person and still qualify for food stamps.
Your current bank balance should be less than ​$2,001​. But that limit could rise to ​$3,001​ if your household also includes a person aged 60 years or older or someone with a disability.
How SNAP Works in Texas
When you qualify for SNAP, the Texas Electronic Benefit Transfer (EBT) system will send your benefits via a Lone Star Card. The card works in the state like a debit card does. Typically, the HHSC gives these cards to qualified SNAP applicants in person at their benefits offices or by mail.
When you purchase the permitted food items from an authorized store, you will swipe the card, provide the PIN and the food costs are deducted from your benefit amount. However, you cannot use the card to pay for unauthorized purchases of products such as tobacco, alcohol and non-food items.
Remember, the date on which you receive your benefits will be different from when other people receive theirs. Everything depends on the EDG number SNAP recipients are assigned.
Your Texas Benefits EDG Number
When you apply for a benefits program, such as SNAP, TANF or a health care program, a 10-digit number is assigned to each of them.
The number is known as an Eligibility Determination Group (EDG) number. And you can find it on your online benefits account or on the form that you receive when you are considered eligible for SNAP benefits. If you have questions about it, call ​800-777-7328​ for help from Texas' EBT helpline.
It is impossible for everyone to receive their assistance in one day. So, food stamps are provided over the course of ​15 days​, from day one to day 15 of each month. And the last digit within your EDG SNAP number will determine when you receive your food stamps in Texas.
Generally, those with zero as the last digit will receive their SNAP benefits on the first day of the month. On the other hand, those with nine as the last digit will receive their benefits on the 15th of every month. So, those whose EDG numbers range from one to eight will receive their food stamp benefits from the third to the 13th of the month.
Therefore, it is important that you understand how your Lone Star Card works and what your EDG number is. That way, you can plan accurately for your food shopping needs and manage your expectations concerning when you will be receiving the assistance you need. And remember, there is only so much help you will receive. So, plan accordingly to ensure your food can stretch through the entire month.
References
Writer Bio
I hold a BS in Computer Science and have been a freelance writer since 2011. When I am not writing, I enjoy reading, watching cooking and lifestyle shows, and fantasizing about world travels.