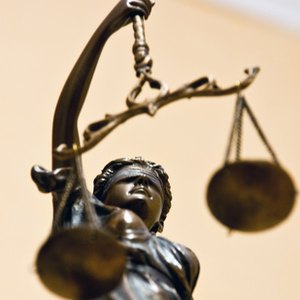 Law school is usually expensive, but if a student is accepted into a prestigious law school, he probably won't want to pass up the opportunity to study law because of financial issues. A lawyer's salary will make up for the initial costs down the road, but a student might not have the funds necessary to make it through three to four years of law school. There are sources that realize the financial need of law students and offer grants to help them realize their law school dreams.
Pell Grants
The Federal Pell Grant Program provides financial aid through the United States Department of Education for students in undergraduate and graduate programs across the country. The Pell Grant is entirely need-based, so the amount varies depending on the school attended and specific field of study. Pell Grant funds can be used at one of 5,400 schools nationwide, including several notable law schools. A full list of participating schools can be found at ed.gov/programs/fpg/index.html.
U.S. Department of Education 400 Maryland Avenue, SW Washington, DC 20202 800-437-0833 ed.gov
Legal Opportunity Scholarship Fund
The American Bar Association is dedicated to helping individuals earn law degrees. According to its website, the Legal Opportunity Scholarship offers $15,000 to each of 20 law students over the course of their time in law school. Since the scholarship's creation, 200 students have received the grant, which was created to encourage racially and ethnically diverse candidates to gain access to law schools.
American Bar Association 740 15th Street, NW Washington, DC 20005-1019 202-662-1000 abanet.org
Equal Justice Works Fellowship Program
The Equal Justice Works Fellowships Program was created in 1992 with the goal of bringing additional attorneys into traditionally under-served populations to deal with often-overlooked issues. The program provides successful applicants with financial aid and technical resources (including computers), for research projects to help them get through law school and begin practicing in target areas. The two-year fellowships offer a salary, as well as loan repayment assistance for previous loans for law school.
Equal Justice Works 2120 L Street NW, Suite 450 Washington, DC 20037-1541 202-466-3686 equaljusticeworks.org
References
Writer Bio
Chris Waller began writing in 2004. Chris has written for the "Fulton Sun" and eHow, focusing on technology and sports. Chris has won multiple awards for his writing including a second place award in the Missouri Press Association's Better Newspaper Contest. Chris earned Bachelor of Arts degrees in journalism and English from Truman State University.