College Grants for Students Over 50 Years Old
by Patti Richards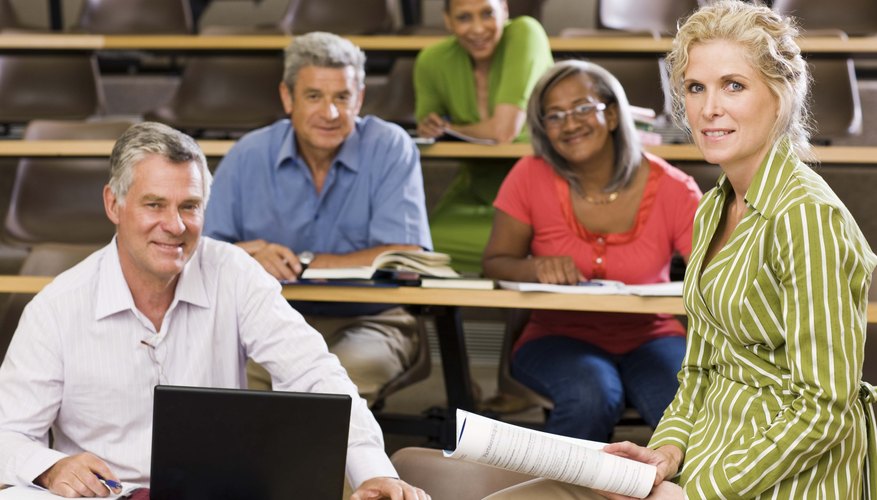 Adults ages 50 and older, who are considering going back to college, possess several options when it comes to financing their education. One the best ways to pay for college when you're 50 or older is to find grant and scholarship money. These awards do not have to be paid back over time like loans, and there are many grants and scholarships available for older adults heading back to school. Awards of this type have certain criteria, but award descriptions and application instructions are usually clear about whether you would qualify.
BPW Foundation Career Advancement Scholarship Program
For women who are 35 years of age or older who have been accepted at an accredited American college, university or community college, consider the BPW Foundation Career Advancement Scholarship. This scholarship is based on need, and any money received from the program must go to pay for an associate, bachelor's or graduate degree. The amount of the award is determined by the applicant's need.
New Horizons Scholarship
The New Horizon's Scholarships is designed to benefit women older than 35 who are members of the Royal Neighbors of America. The Royal Neighbors is an organization that provides women and their families with insurance products, financial education, services and opportunities to volunteer in their communities. This organization offers $5,000 to nontraditional students, both full and part time, at an accredited college based on financial need.
Pell Grants
Pell Grants are available through the federal government for any-age student and are awarded on the basis of need. You must demonstrate that you have a low household income and apply for federal aid by filling out the Free Application for Student Aid to be eligible. Older students can use these grants to complete undergraduate degrees from colleges that support the FAFSA program. By filling out the FAFSA and qualifying for a Pell Grant, you may also be eligible to receive grant money from programs in your state.
AARP Scholarship Program
The AARP foundation offers scholarships to women older than 50 to return to college to complete their degrees. These awards range from $500 to $5,000 and are available to low-income women who have been out of work for over a year. Other eligibility areas include women who are veterans and those with dependents. Applications are due by March 30 each year, as of publication.
Photo Credits
Jupiterimages/BananaStock/Getty Images