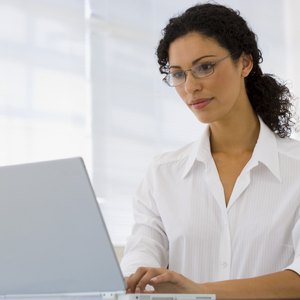 •••
Jupiterimages/Pixland/Getty Images
Online transactions carry inherent risk, no matter what the method of payment. Using a method such as PayPal can add a degree of protection and provide a means for buyers and sellers to resolve transaction disputes. If disputing parties cannot come to a satisfactory resolution, PayPal will act as an arbitrator. Arbitration involves reviewing documentation such as tracking numbers or delivery receipts and then issuing a binding decision. Appealing a decision is possible if you can provide new evidence or documentation to support your claim. PayPal will not consider previously submitted documentation or evidence as part of an appeal.
Buyer Appeal Process
Log into your PayPal account and select "Contact Us" from the options along the bottom of the screen. Select "Speak to Us" to open a window that contains contact information and a Web PIN number you will need to provide the agent.
Call PayPal customer service at 888-221-1161. Provide the Web PIN number and bypass remaining automated options by speaking the word "agent" to initiate the call transfer or wait for the automated agent to finish and then initiate the transfer.
Inform the PayPal representative that you want to file an appeal. Provide your dispute Case ID number and reason for requesting an appeal. Follow instructions for submitting new supporting evidence by fax or postal mail.
Seller Appeal Process
Log into your PayPal account, select the "Resolution" tab at the top of the screen, then choose "Closed Cases" from the drop down menu and select the case you want to appeal and click the "Appeal" button to open a new window.
Enter required information in the online appeal form, which includes the reason for the appeal and a statement of supporting evidence. Submit the online form, and a PayPal representative will contact you by phone or postal mail with additional instructions.
Provide documentation requested by PayPal. This can include the returned merchandise or the empty box, and comply with requests to complete an affidavit or file a police report.
Buyers do have the option to file an appeal online.

For buyers, new supporting evidence is evidence that, if presented during the original dispute, would have had an effect on the outcome. An example of this is a shipment tracking number that contained typographical errors. For sellers, dispute claims decided against you require the buyer to return the item. You may file an appeal if the merchandise returned is in poor condition beyond normal wear and tear, no item returned, or return of the wrong item. The appeal process can take up to 45 days from the day you file an appeal.
References
Writer Bio
Based in Green Bay, Wisc., Jackie Lohrey has been writing professionally since 2009. In addition to writing web content and training manuals for small business clients and nonprofit organizations, including ERA Realtors and the Bay Area Humane Society, Lohrey also works as a finance data analyst for a global business outsourcing company.