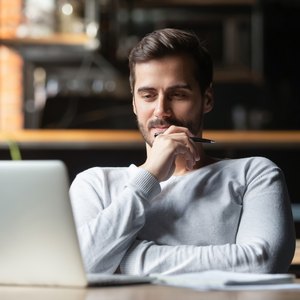 •••
fizkes/iStock/GettyImages
There's no limit to what you can buy online. From toothpaste and books to $40 million business jets, if you have money and an internet connection, you can make it happen. But buying a large purchase like your new home online can be tricky. Before you start that journey, there are some things you should know.
Buying a Home
A house is a huge purchase. Typically, you're spending hundreds of thousands of dollars on a place you will stay in for at least a few years. For that reason, home buyers will go through a long search process to make sure they're getting exactly the place they want.
But things get even more complicated once you find the house you want. Unless you have the money to pay in cash, you'll need to find a lender and line up a home loan. You'll also set up a closing date, usually in a location chosen by your real estate agent.
Why Buy a Home Online?
It used to be that future homeowners would run from place to place. But, it's easier than ever to buy a home online. In fact, chances are, even if you tour homes and attend your closing in person, you'll at least search for houses on your own. If you have a professional real estate agent involved in the process, that agent may even send you links to listings that might interest you.
But there are times when keeping the home-buying process entirely online is the best option. You could be moving to a new state, for instance, and hitting open houses and closings in person simply isn't an option. Or maybe you are limited by health issues, making it easier to buy things from the comfort of your home.
How Online Homebuying Works
If you plan to buy a home online, it's important to find a real estate agent who can serve as your partner in the process. This person is even more essential if you're unfamiliar with the market in which you're buying. Here's how the online home buying process will work.
You'll first track down a real estate agent to help you find a home. Ask for lender recommendations if you don't already have one in mind. Get preapproved so you'll know how much of a home you can afford.
You'll start on your home search. Combine looking on your own with reviewing any properties your agent sends over. Your agent should be willing to go to properties and do video tours for you to help you see any details you can't find online.
Thanks to e-sign technology, you can sign paperwork remotely. This starts with the contract you place on a house. You'll also need to transfer earnest money of at least several hundred dollars to your agent when you put a contract on a property.
The attorneys may still require you to sign the paperwork in person. In that case, the paperwork can be sent to you for you to mail back to the real estate agent to present at closing. But the industry has been gradually shifting toward all-online closings in recent years.
Searching for Real Estate Online
It's never been easier to look for a home online. Thanks to virtual walk-through options, you can take a video tour of a place from the comfort of your couch. These can be video tours or 3-D views of certain rooms. There's no replacement for seeing a place in person, but this is second best.
The best first step is to look for a real estate agent who specializes in the market where you're searching. But you can also start looking at properties in the area online and send anything you like to your agent. Here are some useful sites to help you get started.
Zillow: If you're looking for a home anywhere in the U.S., Zillow is probably the first place you should start. With more than 100 million property listings, you can filter by price, size and special features to get only the homes that fit your needs. Listings will usually include multiple photos, and you can see what the estimated monthly mortgage payment will be with each home.
Realtor.com: This site is associated with the National Association of Realtors, so you'll get up-to-date listings for your area. The number of listings isn't as comprehensive, but in a competitive marketplace, by the time homes are listed on other sites, they may already have contracts on them.
Trulia: Trulia excels when it comes to mobile searches. You can set alerts to let you know when homes matching your criteria come on the market, and the user experience is ideal for smaller screens. But there's also a website for those who prefer to search that way.
FSBO.com: In 2018, 8 percent of all home sales were for sale by owner. Of that market, 46 percent never actively marketed the home at all. FSBO can help you track down some of those houses, possibly getting you the dream house you're not seeing on other sites.
Facebook Marketplace: Facebook Marketplace is gradually becoming an important resource for locals interested in buying and selling items. You can search for homes for sale in your neighborhood. This can be another way to track down FSBO homes you might not see listed anywhere else.
Finding a Lender Online
If you're buying a home sight unseen, you may still want to work with a local lender. But there's no reason you have to. You can easily line up a mortgage loan online.
The best thing about shopping for a loan online is that you can compare multiple lenders. Most lenders will give you a rate quote without hitting your credit. Compare the quotes you're given for a loan and get a preapproval letter from the one that's best.
If you're a first-time homebuyer, you'll probably want to check into an FHA loan. You'll get these through the same lenders that offer conventional loans. FHA loans typically offer lower down payments and have more lenient credit score requirements than conventional loans.
Requesting Virtual Tours
Once you've found a property you're considering buying, ask your real estate agent to provide a detailed video tour of the property. This includes approaching the property from the outside and peeking inside every single closet and cabinet. A good agent will narrate the tour throughout, pointing out features like scratches on the wall and cracks in the flooring.
Ideally, the virtual walk-through will be a two-way conversation where you can ask questions or have the agent show you specific details. Make sure you get a feel for the size of each room and ask the agent to discuss the smells and textures of various surfaces. Have your agent turn on faucets and showerheads, as well as overhead lights, if the water and electricity are still active.
Home Inspections and Appraisals
Mortgage lenders will typically require an appraisal before they'll provide funding for your home purchase. This is especially important when you're buying a home sight unseen. An appraiser conducts research to determine whether the amount you're paying for the house matches its value.
A home inspector looks for issues with the house. If you have specific concerns, at this point, it's a good time to alert your real estate agent, who can ask the inspector questions about it. As part of the virtual tours you'll need of your property, ask the agent to shoot videos of the inspector highlighting any issues.
Caveats of Buying Homes Online
The biggest disappointment home buyers face when buying a house sight unseen is that "sight" is only one sense. You can't touch or smell the house, and you'd be surprised how much you miss through a camera. If the house reeks of cigarette smoke or mildew, for instance, or the hardwood floors don't have enough cushioning, you won't know about it through just a video tour.
If you have to make a home purchase remotely, it's essential to have a real estate agent you can trust. If at all possible, try to schedule a week or so in the area so that you can do some in-person walk-throughs. It's also important to ensure that your chosen real estate agent shares your preferred method of communication since you'll be relying on phone, email, text or video chat throughout the process.
Touring the Neighborhood
When you're shopping for an online home, you'll be missing another important decider: being able to see the neighborhood. If the next-door neighbor has a front yard piled with junk or a loud sporting venue is located across the street, you won't have the advantage of seeing that. This is where Google Street View can come in handy.
To search for real estate on Google Street View, look for the address in Google Maps. Click the photo labeled Street View. You'll then be able to navigate around on the ground in front of that house. You can also swivel around to look at the area immediately surrounding that house.
Research the Area
Maybe you're already familiar with the area you want to move. But if not, Zillow and Trulia can only go so far in letting you know where you'll be moving. It's important to do thorough research into the safety of the community, the shops and restaurants nearby and the area schools and other amenities.
In addition to basic online research, locals can tell you quite a bit about the area. Look for community groups and feel free to introduce yourself and ask all the questions you have. You'll typically find Facebook groups specific to cities and even neighborhoods, although the neighborhood ones might not allow you to join unless you live there. The NextDoor app is also very useful for learning about various neighborhoods.
Combining Local and Online
The growth of online options has made it easier to shop for a home even when you're looking locally. A real estate agent can still be a huge partner in your search, rounding up great homes and helping you make an offer. But you can also do a lot of the search online.
As valuable as video tours are when you're shopping remotely, they can save you serious time when you're looking locally. You can get a close look at multiple properties from wherever you are. If you like what you see, you can ask for an in-person tour, but online shopping will at least save you some time in walking through properties that don't fit the bill.
Buying a home online is getting easier as the real estate industry shifts more toward virtual showings and closings. But there are some benefits to seeing a place in person. If you can combine virtual with at least one site visit before closing, that's ideal, but if you have to purchase a place remotely, with the right resources lined up, it's definitely doable.
References
Resources
Writer Bio
Stephanie Faris has written about finance for entrepreneurs and marketing firms since 2013. She spent nearly a year as a ghostwriter for a credit card processing service and has ghostwritten about finance for numerous marketing firms and entrepreneurs. Her work has appeared on The Motley Fool, MoneyGeek, Ecommerce Insiders, GoBankingRates, and ThriveBy30.