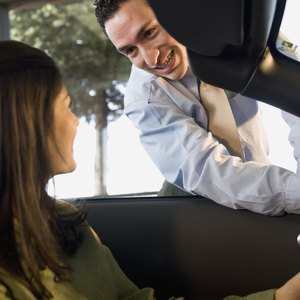 •••
John Lund/Marc Romanelli/Blend Images/Getty Images
Buy here pay here financing means that you apply for and make loan payments to a merchant instead of using external third party like a bank or a finance company. Unlike with furniture stores that more often use a "rent-to-own" agreement, buy here pay here financing arrangements, which apply almost exclusively to car dealerships, are an actual loan option.
Loan Application and Approval
Purchasing a vehicle at a dealership that also acts as a finance company usually limits your choices and options. According to AutoTrader.com, most BHPH and "We Finance" dealers will qualify you first, then establish a price range and show you which vehicles are available based on the numbers. While many dealerships guarantee approval to anyone with an address, a steady income and the required down payment, the vehicle you drive away in may not have been your first choice when you walked into the showroom.
Loan Payments
A BHPH loan usually has a repayment period of 2 to 3 years. Payments often work differently than with traditional auto financing. For example, instead of paying monthly, many BHPH lenders require that you make weekly or bi-weekly payments based on your payday. If having a bank account was a requirement, the dealership may insist that you set up a recurring direct debit and make payments electronically. Otherwise, you may need to make each payment in cash and in person.
Interest Rates
BHPH loans are for a last resort for many high-risk borrowers. As a borrower with no previous credit, a low credit or a recent bankruptcy, you can expect to pay a higher interest rate than you would with a traditional loan. In fact, Auto Trader reports that most BHPH dealers profit as much or more on interest earned from in-house financing as they do on the vehicle.
Government Oversight
State consumer protection laws, which vary widely between states, govern BHPH dealers. In some states, such as California, strict laws govern both the vehicles and financing arrangements. The Consumer Financial Protection Bureau also plays a role when companies' debt collection practices violate federal consumer financial laws. The CFPB recommends that you retain all documents, voice mails and records of your dealings with a BHPH dealer. If you have problems with the dealer, you can file a complaint with the CFPB and your state attorney general.
References
Writer Bio
Based in Green Bay, Wisc., Jackie Lohrey has been writing professionally since 2009. In addition to writing web content and training manuals for small business clients and nonprofit organizations, including ERA Realtors and the Bay Area Humane Society, Lohrey also works as a finance data analyst for a global business outsourcing company.