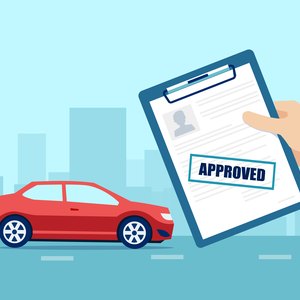 •••
Feodora Chiosea/iStock/GettyImages
If you're in the market for a car in 2020, it's imperative that you shop around and make sure you get the best rate possible. Bankrate chief financial analyst, Greg McBride, CFA, anticipates rates on 60-month auto loans to reach a nationwide average of 4.75 percent in 2020. Obtaining financing for your purchase before heading to the dealership lets you know how much you can afford to spend on a car and helps you avoid any surprises.
Best Loan for Excellent Credit: Bank of America
When you have great credit, you deserve the best available interest rate for auto loans. But, you can't expect the best rate to be automatically offered to you. Knowing your credit score gives you leverage when you go to obtain financing because lenders know you're more likely to repay the loan in a timely manner than a borrower with poor credit. And, as a result, they will offer you the best rate possible to get your business. You have a lot of options when you're looking for a vehicle and you have excellent credit, but be sure to stay up on auto loan interest rates as they fluctuate often.
Bank of America, for example, is an industry leader when it comes to low-interest auto loan rates, and is listed as the "Best Auto Loan Overall" by finance website, Business Insider. There is no prepayment penalty if you're able to repay the loan early. You can also refinance an existing auto loan or use the loan to buy out your current lease. For more details, or to apply online, visit BankofAmerica.com.
Minimum Credit Score: Although Bank of America does not specify a minimum credit score, your interest rate is dependent upon your creditworthiness. The better your score, the lower the rate you can expect to receive.
Interest Rate: At the time of publication, fixed rates are as low as 2.99 percent APR for a new car from a dealer, 3.49 percent APR for a used car from a dealership and refinance rates are as low as 3.99 percent APR.
Availability: Bank of America auto loans are available in all 50 states.
Best Loan for Poor Credit: Capital One
The reality is, less-than-stellar credit makes things like qualifying for an auto or home loan that much more difficult. Consumers need to be wary of predatory lending practices and excessively high rates. Interest rates for bad credit can vary wildly, but there are reputable lenders willing to give you a second chance. You can definitely expect to pay more than someone with excellent credit, but some lenders will take other factors heavily into account such as your job history and any recent attempts you've made at repairing your credit.
One such lender is Capital One. Capital One offers reasonable auto loan rates and terms for borrowers with poor credit. There is no hard inquiry upfront to pre-qualify, so you're able to check rates without impacting your credit. There are, however, some restrictions on the type of vehicle you can purchase that may apply. For more information, and useful tools such as a loan calculator, visit Capital One's loan center.
Minimum Credit Score: Capital One has a minimum credit score requirement of 500, however, you will get a better rate if you have a higher score.
Interest Rate: Borrowers with bad credit can expect to pay in the 8.2 percent APR range for new cars and 11.2 percent APR for used cars. This rate may seem high, but, according to Experian, borrowers with a poor credit score often receive loan offers with a 16.78 percent average APR. Keep in mind, rates for refinancing a vehicle through Capital One can be as high as 24.99 percent APR.
Availability: Capital One auto loans are available in 48 states, excluding Hawaii and Alaska.
Best Auto Loan Aggregator: LendingTree
Loan aggregators, or lending marketplaces, let you shop various lenders for the best rates possible for everything from student or personal loans to mortgages and credit cards. Consumers can also find a great deal on car loans by using these aggregator sites. Aggregator loan sites take your information and work as a third-party service to submit it to various lenders or finance institutions in its network. The better your credit, the better rate you'll receive, but, these sites will also submit your application to multiple lenders even if you have poor credit.
LendingTree is an extremely popular loan aggregator site where you can search for the best interest rates on your auto loan. LendingTree does not conduct a hard pull on your credit report in order to submit your query to lenders. But, if you decide to go with a specific lender, then you will likely receive a hard inquiry. Visit LendingTree directly for more details.
Minimum Credit Score: LendingTree is not a direct lender and does not set a minimum requirement. Lenders in its network set their own credit score requirements, however, LendingTree recommends borrowers with poor credit to "clean up" their credit before embarking on the car-buying process to increase chances of approval.
Interest Rate: Varies depending upon the lender as well as the loan's purpose such as if it is for a new or used vehicle or if you're looking to refinance and existing car loan.
Availability: LenderTree operates in all 50 states.
Best Auto Loan for Refinancing: LightStream
Sometimes you love your car, but you hate the loan you're locked into; perhaps your situation has changed and now you can qualify for a better rate. Refinancing your car can be worth it – if you get a good rate – which will lower your monthly payment. Many lenders have restrictions on auto refinance loans like how many miles the vehicle can have, the age of the car or how much you have remaining on the current loan, and these restrictions can make it difficult to get out of your existing loan into one with more favorable terms.
LightStream, a division of SunTrust Bank, does not have such restrictions – there is no vehicle appraisal, mileage restriction or limit to the car's age. LightStream can also fund your loan the same day you apply. Would-be borrowers should take notice, however, that LightStream is better suited for applicants with solid credit scores and a history of paying their debt on time.
Minimum Credit Score: LightStream's minimum credit score requirement is 660, but at that score, don't expect to get the best rate available. According to Todd Nelson, LightStream's business development officer, "We look closely at an applicant's credit history, assets, savings and other information that indicate a strong background of solid financial management."
Interest Rate: Varies depending upon your credit score and other factors, but interest rates are as low as 3.99 percent APR for those with excellent credit who also enroll in AutoPay.
Availability: LightStream is available in all 50 states.

References
Writer Bio
Tara Thomas is a Los Angeles-based writer and avid world traveler. Her articles appear in various online publications, including Sapling, PocketSense, Zacks, Livestrong, Modern Mom and SF Gate. Thomas has a Bachelor of Science in marine biology from California State University, Long Beach and spent 10 years as a mortgage consultant.