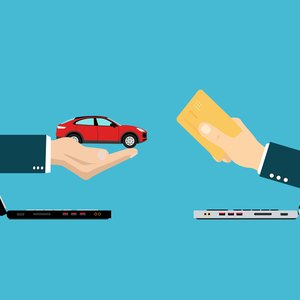 •••
Feodora Chiosea/iStock/GettyImages
According to German database company, Statista, there were 204 billion mobile app downloads worldwide in 2019. Nowadays you can accomplish most of life's pressing tasks such as vetting a babysitter, shopping for groceries and even finding a new home or buying a car with the use of apps. Apps are designed to make aspects of our life easier, and it's not a secret that the car buying experience isn't necessarily an easy one. But, this is what America's fastest-growing used car dealer, Carvana, aims to change.
How Does Carvana Work?
Carvana is an Arizona-based online used car dealership launched in 2013 that is quickly revolutionizing the way used cars are bought and sold. With Carvana, those in the market for a used car can browse the company's selection of vehicles, obtain financing and even have the car delivered to them – and all at the tip of their fingers. There is no negotiating or haggling over price, and Carvana's vehicles are guaranteed to have never been in an accident as well as undergo a 150-point inspection.
The company promotes itself as "the first end-to-end online vehicle retailer" on Apple's App Store preview. According to Carvana CEO, Ernie Garcia, Carvana sales comprised four in every 1,000 cars sold in the U.S. during the second quarter of 2019. Carvana's free app is available on both the App store and Google Play or you can browse for cars and set up an account online using your browser.
Finding Used Cars on Carvana
Finding a used car on Carvana is easy: simply use one of nine search filters to browse Carvana's inventory of more than 20,000 vehicles online or via the app. Once you find a car you like, use Carvana's patented 360-degree photo viewing technology to thoroughly inspect it.
The details tab will have all of the vehicle's specs as well as a free vehicle history report. If you want to "favorite" a particular car, compare the prices of various vehicles or review your available financing options, then you will need to make an account.
Carvana Vehicle Pricing
One thing car buyers may not be used to when buying a car is Carvana's no-haggle policy. The cost of the vehicles in Carvana's inventory is non-negotiable. This means that whatever price you see for the car is what it will cost (plus any applicable taxes and fees). However, a recent Nerdwallet review of the online car dealer states that the prices are on par "with Kelley Blue Book prices for certified pre-owned cars in very good condition."
Financing Your Purchase
Another way that Carvana is changing the car-buying process is by streamlining the financing stage and giving buyers several options for purchasing their vehicle. You can purchase the car with cash, obtain your own financing from an institution of your choosing or get your auto loan through Carvana directly. Regardless of the payment method you choose, you can see all of your options and complete the process entirely online. And, Carvana does accept trade-ins in some local markets.
Should you decide to have Carvana finance your purchase, pre-qualifying will not result in a hard pull on your credit report. Although, you should expect a hard inquiry for final approval. Carvana also does not have a minimum credit score requirement, however, you will need an annual income of at least $10,000, and the average interest rates range from 3.90 percent to 27.90 percent.
Ryan Keeton, Carvana co-founder and chief brand officer, says that Carvana "extends credit to customers with a broad range of credit profiles." This means that Carvana could be able to help those with poor credit who may have been turned down by other dealerships or traditional lenders such as banks and credit unions.
How Do You Get the Vehicle?
Once you have obtained your financing, then it's time to arrange for picking up the car. You have a couple options for taking possession of the car. Carvana will deliver your vehicle for free if you live in one of their local markets, or you will have to pay a non-refundable transport fee that varies depending on your location. If you live near one of Carvana's vending machines in cities including Miami, Atlanta, Orlando and Oklahoma City, you can go and pick up your vehicle where a Carvana Customer Advocate will assist you.
And, should you need to fly to a different city to get your car, Carvana will subsidize up to $200 of your one-way airfare as well as provide transportation from the airport to the vending machine. It's important to note that deliveries to locations outside of Carvana's local market zones can take between five and 15 business days from the time your purchase is verified and your down payment received.
Carvana Return Policy and Warranties
When you go to pick up your car, you can take it for a test drive to see if you really want to commit to it. Carvana prides itself on a no-pressure process. But, if you find yourself needing a little more time to get a feel for the car, the company also offers a no questions asked, seven-day return policy after you sign your registration paperwork in addition to a 100-Day or 4,189-mile limited warranty on all purchases.
During this seven-day period, you can drive the car and determine if it's really right for you. Just be sure to return the vehicle before this period ends for a refund on your down payment and a dissolution of your car loan. Bear in mind, however, that any transport fees you paid to have the vehicle delivered are non-refundable.
References
Writer Bio
Tara Thomas is a Los Angeles-based writer and avid world traveler. Her articles appear in various online publications, including Sapling, PocketSense, Zacks, Livestrong, Modern Mom and SF Gate. Thomas has a Bachelor of Science in marine biology from California State University, Long Beach and spent 10 years as a mortgage consultant.