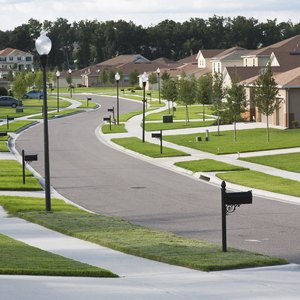 •••
Juan Silva/The Image Bank/GettyImages
You have some options when you're looking for your dream home. You can buy an existing home or go with a new build. If you go with a new home, you can have one custom-built or go with a new home builder. A builder home, also known as a production home, can get you into a new house without the higher purchase price you'd pay for a custom build.
1. The Model Home Isn't Standard
The first thing you'll typically see when you look at a new construction property is the model home. Model homes can be tempting with their up-to-date countertops and top-of-the-line appliances. It's easy to assume that any home you buy will feature these amenities. You should also visit the design center to see what choices and upgrades are available that are not in the model home.
Unfortunately, that's not the way it works. Builders usually put all the available upgrades into the model home, along with having it professionally decorated. If you like a feature while touring a production home, make sure you ask if that feature is standard or an upgrade. Often the builder will sell the model home, but because it's upgraded, it will be at a higher price than the other homes in the subdivision.
2. Options May Be Limited
If you're buying new real estate, you probably are attracted to the idea of having everything brand new. Builders know exactly what the current trends are, and they create floor plans and choose materials that are the latest and greatest. Unlike a custom home, though, you won't be able to specify exactly the build you want.
With a builder home, there is usually a design center where you'll be able to see and select from a small selection of options. You'll choose a lot from those that are still available and decide between a few similar, but slightly different, floor plans. Items like paint colors, countertops and flooring are typically presented as swatches, with you given the option to choose from a limited number.
Then there are the upgrades. This is where a production home can get pricey. You can request that certain items be upgraded, but there will be an additional fee for choosing each of these. Upgrades that add value to a home value of a builder home include wood floors, appliances and lighting.
3. You Need an Agent
When you tour a builder home, you'll likely meet someone who acts as an agent. This is the builder's agent, and this person works in the interest of one person: the builder. This is why you need your own real estate agent or realtor to represent you in the deal.
Buying a builder home is actually a good deal for your own agent, since the seller pays your agent's commission. For that reason, though, it's important to make sure your agent accompanies you when you visit the model home the first time. You need to establish, from the start, that your agent will be representing you.
That said, your real estate agent will probably be aware that there's little wiggle room when it comes to the cost of a builder home. Builders don't usually like to lower the price on individual homes because it reduces the appraisal value of other homes in the neighborhood. There is room to negotiate when it comes to upgrades, though, and that's where your real estate agent can help.
4. Bad Builders Exist
It can be tempting to look at the fancy model home and friendly builder's agent and assume all is well with the developer. But there are bad builders. If you're considering making a new home purchase, take the time to research the builder. Know the questions to ask, speak to existing homeowners and search online for any complaints.
If some homes have already been completed in the subdivision, take the time to survey existing homeowners. Many newer subdivisions have a homeowners association. Ask for contact information and get in touch with someone on the board. Chances are, the builder has properties elsewhere. Contact the HOAs of some of those communities and ask questions about any issues.
5. Builders Use Subcontractors
Home builders hire a team of subcontractors to handle construction on their properties. Sometimes multiple homes are even being built at once. But that means that the builder you're choosing may not do all the work, potentially leading to issues that can't be predicted by researching the builder in advance.
Since much of the work is subcontracted, that means you could see progress stall while the builder waits for the roofing or drywall professionals to come in and do multiple homes at once. Certain aspects could also be impacted by a labor shortage, which is particularly common in specialties like framing and carpenting.
6. Builder Financing Is Optional
Another benefit of going with a builder home over a custom home is that you can more easily get financing. If you're having a home custom built, you may need to get a construction loan, which comes with higher interest rates. Production builders will often refer you to a lender, but you can get the best rates and terms by shopping around and comparing.
Here are some tips for getting the best deal on financing your builder home.
Get preapproved. When you walk into a builder home, having your financing already lined up can put you at an advantage if you want to negotiate. It will also let you know in advance whether you can afford any upgrades.
An earnest deposit is required whenever you're putting an offer on a house. This is typically ​1​ to ​2 percent​, which will be ​$3,000​ to ​$6,000​ on a ​$300,000​ house. But if demand for available lots is high, you could be required to put down as much as ​5 percent​.
Lenders will usually require a down payment of at least ​3 percent​ to be approved for a mortgage. You'll also have to pay closing costs. Your real estate agent may be able to negotiate to have the builder pay some or all of the closing costs.
If you're a first-time homebuyer, an FHA loan could give you the best deal. FHA loans come with lower down payment requirements and let you in with a lower credit score than conventional loans.
7. The Timeline Usually Isn't Flexible
For home buyers interested in getting into a home quickly, new builder homes may not be the best option. In fast-growing areas, lots can be snatched up almost as soon as the model home is set up. You may find that current lots are already sold and you have to wait ​six months​ or longer for an available lot.
But when compared to a custom builder, you can often get your production home built faster. The builder has a fixed schedule, as well as a group of subcontractors lined up to do the work. Although delays are always possible, many production homes can be built in a matter of a couple of months if a lot is immediately available. You may even be able to stumble upon a community where homes are built but not bought yet.
8. Construction May Be Ongoing
Life in a new home community can be exciting, especially if you're in a neighborhood with homeowners around the same age. Young parents may find other young families live nearby, making playdates easy to arrange.
But there is one downside to living in a new community. Unless yours is the last home being built, construction is inevitable. Here are a few things to consider before you go this route.
​Noise:​ Just as crews worked hard to finish your home, they'll be working hard on homes all around you until the last one is finished. That means your days could be filled with the not-so-pleasant sounds of bulldozers, hammers and drills.
​Dust:​ Construction inevitably stirs up some dust, and that dust can make its way into your home. The roads leading in and out of your subdivision may also be covered in dirt that's stirred up from all the land leveling and excavation that's happening. That means you could be driving around in a dirt-covered vehicle for a few years.
​Nails and hazards:​ Dirt isn't the only thing you'll have to be concerned with if you're living in a construction zone. Nails, screws and glass can end up in the street, where you drive over it and puncture your tire. If you have kids who play outside, those hazards can pose an even bigger problem.
​Poor aesthetic:​ In addition to the noise and debris, there's also the visual aspect of living in a neighborhood under construction. Your house may be surrounded by piles of dirt and wooden frames for a while. It could be a year or longer before the landscaping is complete and you're ready to invite all your friends over.
​Slower services:​ The earliest members of a new community have to deal with the fact that their neighborhood doesn't, technically, exist yet. You may find packages and mail have a tough time making their way to your door. Services like water and the internet may also be challenging to line up if you're the first person on your block.
9. Inspections Are Still Necessary
Homeowners sometimes think they can skip the inspection phase if they're buying a builder home. But even with new construction, it's important to have an inspection completed. Inspectors look at everything from the framing to the electrical setup and can typically identify mistakes made by the builder or subcontractors.
To stay on the safe side, don't go with an inspector recommended by the builder. Instead, get recommendations from friends or your real estate agent. As with your agent, you'll want a property inspector who is acting solely in your own best interests.
10. Things Will Break
The biggest issue with a newly constructed home is that you're the first person to live there. If something was installed or built incorrectly, you'll be the one to discover it. In fact, there are some issues that won't show up until the weather turns cold or warm, or you have a particularly rainy period.
A builder should offer some sort of guarantee on the workmanship of the house. Ask about this before you put a contract on the house. A builder's warranty will likely cover the materials used to build the home, mechanical defects and structural defects. Builder's warranties usually won't extend to small cracks or any items in the home that are covered under a manufacturer's warranty, like appliances.
It's important to note that as with any warranty, a builder's warranty only offers coverage for a limited time. Some components may only be covered for a year, while others may have up to ​10 years​ of coverage. As long as you understand what you're getting, you won't have to worry about unpleasant surprises.
A builder home can be a great way to get into a new home without the high expense of a custom build. But there are some things to know before you put down an offer. A skilled real estate agent can help ensure your interests are protected, as well as negotiate upgrades with the builder's agent.
References
Writer Bio
Stephanie Faris has written about finance for entrepreneurs and marketing firms since 2013. She spent nearly a year as a ghostwriter for a credit card processing service and has ghostwritten about finance for numerous marketing firms and entrepreneurs. Her work has appeared on The Motley Fool, MoneyGeek, Ecommerce Insiders, GoBankingRates, and ThriveBy30.