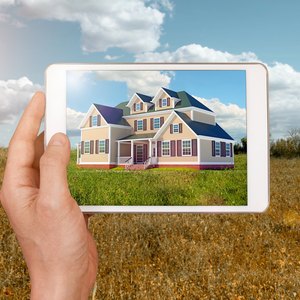 •••
Maxiphoto/iStock/GettyImages
Buying a new home from a major home builder is a different process than buying an existing home or fully custom home. A large home builder gives you the choice of several model homes and floor plans, kitchen counters and appliances, bathroom fixtures and even paint colors for every room in the house. You can personalize a new house to become your custom home that fits your budget.
Here's what you need to look for if you're thinking about buying a new home from a builder with a reputation for building quality homes.
Check the Builder's Reputation
As long as you're looking at homes built by the major homebuilders - such as Pulte, Lennar, KB Homes, Centex and Hovnanian - the craftsmanship of the homes will not likely be a problem. Nevertheless, a good idea is to visit a development by the home builder you're considering over a weekend, like a Saturday. This is when you might catch homeowners outside, and you can stop and ask them about their experiences with their house and the builder. Their insights will be more useful than the customer reviews and testimonials the builder provides.
You want to feel confident that the developer has sufficient homebuilding experience to consistently put out a good high-quality product - especially for your dream home.
Hire Your Own Real Estate Agent
You want someone working in your interest, not the builder's, so hire your own real estate agent. Most builders are willing to work with agents and will pay the selling commission so it won't cost you anything. A local agent will likely be familiar with the builders and can give you lots of useful information about the community. They might also have some knowledge of the subcontractors working at your homesite.
Is the Home Builder Offering Financing?
Custom home builders frequently make arrangements with a specific lender to offer special financing for their projects. They might offer to pay for points on a mortgage, cover part of the closing costs or buy down the interest rate. This can affect the pricing of the home, however, you should also get proposals from several other outside lenders to get comparisons and find the best deal. Also, find out if lenders will finance ​100 percent​ of the options and upgrades you've selected or if you have to pay for them yourself.
What Are the Options and Upgrades?
Before you begin to choose your model home options and upgrades, pick your floor plan. Try to see yourself and your family living in your new house. Will this layout work for you?
After settling on your floor plan, ask the builder these questions:
How many other houses in the development will have the same floor plan?
How many houses will there be that are the same model as yours?
Will any of the houses with the same model and floor plan be built next to each other or close by?
How will your house be different from the others?
You don't want to invite guests over for dinner and have them tell you they had difficulty finding your house because it looked like all the rest.
There are a number of question you should ask about the options and upgrades that will make your home unique. First, you ask about what's available and the prices, and then you choose the options and upgrades you want that will increase your home's value.
Ask about basic things. For example, how long is the building process? Does the house come with landscaping? What about light fixtures? Which appliances are included? Make a list of your must-have options and upgrades. Then decide which ones you could purchase and install yourself after closing the sale and possibly save a lot of money.
If there's a homeowners association, be sure to read the rules to see what you're responsible for having done in a certain way, such as landscaping.
What Are the Warranties?
New homes typically come with warranties that cover any short-term problems and long-term structural issues. A typical warranty might be ​one year​ for workmanship, ​two years​ for mechanical and electrical equipment, ​five years​ for water leaks and ​10 years​ on the structure.
Make sure you're clear on what is covered and what isn't, and you understand the process to follow if you need to get something fixed.
Warranties come in two types: implied and express. Implied warranties are typically vaguely worded and cover defects in workmanship. Disputes over these types of problems are usually subjective and difficult to resolve. Express warranties have more precise wording about what is covered and the specific length of coverage. Your real estate agent or lawyer can help you interpret the contract so you understand what type of warranty you have.
Builder warranties will not cover:
Items with a manufacturer's warranty, such as appliances;
Defects that result from the homeowner's neglect or poor maintenance;
Damages resulting from ordinary wear and tear;
Defects in items installed by the homeowner or contractors not employed by the builder;
Damage from natural disasters.
Make a Budget for Yourself
It's easy to go overboard with the abundance of options and upgrades offered by the builder. After all, these are high-profit items for the builder, so they're going to encourage you to buy them. You want improvement and upgrades, but you don't want to do so much that your home becomes the most expensive house on the block. One rule of thumb for homebuyers is to separate the options into the things that are best done now and the things that can be done later.
You need to make a budget and stick to it. You may have additional out-of-pocket costs, such as landscaping if it's not included, which can add up to several thousand dollars in addition to your down payment and closing costs. Also, keep in mind that most new homes don't come with window coverings, so figure in those costs.
Speaking of budgets, if you have a homeowners association fee to pay on top of your monthly mortgage payment, figure that in along with your property taxes when you're thinking about your overall monthly expenses.
Hire Your Own Lawyer
Have your own lawyer review the contract before you sign. The home builders' contracts used by the building industry aren't necessarily written to protect the buyer.
Make sure you have the right to cancel the contract if something happens that is not in your favor. The contract should also give you the right to hire your own independent inspector.
Find out if the contract has a cost escalation clause. You don't want to find out at closing that you owe more money than you thought because of price increases you didn't know were coming.
What is the timing for construction and completion? What recourse do you have if you're not able to move into your new house on time? These are all issues that your lawyer will be aware of and make sure they're covered in the contract to your benefit, not the builder's.
Hire Your Own Inspector
While you may think you don't need to have a home inspector for a new home, it's still a good idea. New homes can have problems just like old homes, and you want to know about them before you sign the contract and the builder's warranties expire.
Ideally, you could have two inspections. The first inspection would be for the electrical wiring, plumbing, ethernet and security wiring before the walls go up. The second inspection would take place at the final walk-through and before you sign the closing documents.
An inspection could cost anywhere from ​$300 to $1,000​ and is well worth the money for your peace of mind when buying what you consider to be "our home."
References
Writer Bio
James Woodruff has been a management consultant to more than 1,000 small businesses. As a senior management consultant and owner, he used his technical expertise to conduct an analysis of a company's operational, financial and business management issues. James has been writing business and finance related topics for work.chron, bizfluent.com, smallbusiness.chron.com and e-commerce websites since 2007. He graduated from Georgia Tech with a Bachelor of Mechanical Engineering and received an MBA from Columbia University.