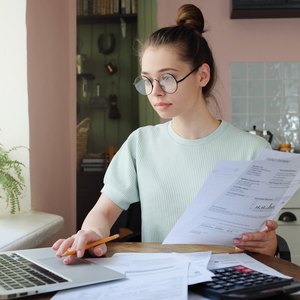 •••
Damir Khabirov/iStock/GettyImages
If you're looking into opening a checking or savings account at PNC Bank, you'll find that the Virtual Wallet product appears as the most popular choice for both general consumers and students. Rather than providing you with just one account, this product comes in different versions where you can get a checking account only or both checking and savings accounts. Virtual Wallet also features tools that can help you set and work toward certain financial goals. Read on to learn more about how PNC Virtual Wallet works, which package options are available and the features, pros and cons involved with this financial product.
How PNC Virtual Wallet Works
You can think of the PNC Virtual Wallet product as an account package that comes with special tools through the bank's website and app to help you keep track of all your bills, make budgets, receive account alerts when you've reached certain goals and quickly know when your bank account is running low so that you can avoid overdrafts. Although it has "virtual" in the name, your bank accounts are still regular ones where you can deposit and withdraw money at ATMs and bank branches. This differs from an online-only bank account you'd find through places like Ally Bank.
PNC mentions that the fully-featured packages for Virtual Wallet have tools to help you spend, reserve and grow your money. This involves a primary checking account for daily spending, a secondary checking account as reserve funds and overdraft protection and a long-term savings account for growing your money. However, most Virtual Wallet products offered will give you the option to only get a primary checking account to keep things simple. Even with this option, though, you'd still get the online planning, budgeting and tracking tools.
With the full Virtual Wallet packages, customers would usually have their upcoming bills and deposits added to an online calendar, put money aside in the reserve account for emergencies and upcoming purchases and set up automated transfers both for bills and savings. PNC offers account alerts that keep you informed of your progress toward savings goals and your success budgeting. You also get other important alerts so that you can take action before you miss an upcoming bill or risk overdrawing your account.
Main PNC Virtual Wallet Features
Although there are several Virtual Wallet options to choose from, most of them share some common features when it comes to digital banking and conveniences. These include:
​Account linking​: Alongside the checking and/or savings accounts included with Virtual Wallet, you can link other PNC Bank products like your PNC credit card, debit card, investment account or existing checking/savings account to easily manage all accounts in one place.

​Special interest rates as a reward​: When you opt for certain Virtual Wallet products, you can get access to a higher interest rate as you save more money and perform specific account actions. For example, you might get a higher rate for using direct deposit or using your PNC card at least five times during the month. This higher rate usually applies to a specific portion of your savings, so you'll need to check your account terms.
​Calendar​: This is a key money management feature for Virtual Wallet and consists of an actual calendar that shows past, present and future transactions so you can see when money is coming in and going out of your PNC accounts. It uses this color-coding system for easy identification: green transactions refer to deposits, orange transactions refer to account withdrawals, blue transactions refer to reserve items, gray transactions refer to uncashed checks and red dates refer to "danger days" where you risk overdrawing your account.

​Money Bar​: Rather than simply showing your account balances in numbers, PNC Virtual Wallet uses a color-coded bar with details about scheduled withdrawals, your free funds and your reserve balance. This Money Bar also lets you adjust your reserve funds easily.
​Spending Zone​: This tool gives a ​12-month​ overview of your PNC Bank account transactions and totals them by category so you can see where your money goes and where you may cut expenses. You can also search past transactions and further filter them by category.

​ATM features​: Along with being able to use any PNC ATM without a fee, your Virtual Wallet often comes with two to four reimbursements per statement for fees related to other ATMs, and one product level doesn't charge you ATM transaction fees and waives some surcharges too.
​Overdraft protection​: While the Virtual Wallet products with only one checking account don't come with this benefit, the others feature overdraft protection both through the secondary checking account and the savings account.

​Budgeting tools​: Not only does Virtual Wallet let you budget your money for specific categories, but it also issues warnings when you're about to exceed your budget. You'll see graphical indicators too such as a yellow spending bar when you're close to reaching your budget for a category. You'll also see a progress bar for your overall budget.
​Savings tools​: PNC Bank recommends that you set up scheduled transfers to your savings account in Virtual Wallet and also prompts you to move more funds to savings as you pay your bills. You can also arrange to have part of your paycheck put in the reserve or growth account and closely monitor your savings growth using a graph
​Minimum deposit and fee waiver​: As long as you open your Virtual Wallet online, you don't have to worry about a minimum deposit for checking or savings accounts. Two versions have no monthly fee, but you could waive the monthly fees for other versions by being ​at least 62,​ having a certain balance in your accounts or getting significant direct deposits regularly.
​Account alerts​: Along with alerts about budgeting and savings goals and issues, you'll get alerted about large transactions or those that seem suspicious.
Virtual Wallet Product Options
In many locations, PNC Bank has a student version alongside three tiers for regular consumers. However, other places such as the West Coast only offer the student version alongside a product named Virtual Wallet Checking Pro. These all differ in terms of fees and some benefits, so take a look at them below to learn more:
​Virtual Wallet Student​: Designed for active college students at approved institutions, this comes with the spend, reserve and growth accounts and waives the monthly fee for ​six years.​ PNC Bank forgives you for one overdraft or returned check and waives the fee for a wire transfer once each statement. Along with two ATM transaction fee reimbursements per statement, you get ​$5​ in ATM surcharge fees reimbursed.
​Virtual Wallet Basic​: This is the basic option for general customers in many locations and comes with a ​$7​ monthly service fee that can be waived along with a ​$25​ minimum deposit for your primary checking account if you don't open the account online. It comes with the same ATM benefits as the student version but is also available with just the primary checking account. As of publication, PNC Bank gives new account holders a ​$50​ reward if they have ​$500​ directly deposited into the spending account.
​Virtual Wallet With Performance Spend​: Designed for bigger spenders who hold more money in their primary checking account, this mid-tier Virtual Wallet comes with a ​$15​ per month service charge with potential waivers as well as a ​$25​ minimum deposit for primary checking unless you open online. You get interest on all three accounts alongside ​four​ ATM fee reimbursements and ​$10​ reimbursed for ATM surcharges per statement along with free domestic wire transfers. You can opt for only a spending account with this option. As of publication, a ​$200​ reward is available for new account holders who get at least ​$2,000​ directly deposited.
​Virtual Wallet With Performance Select​: Featuring no ATM transaction fees along with ​$20​ in surcharges reimbursed each statement, this high-tier Virtual Wallet option comes with a ​$25​ per month fee (waived under certain conditions) alongside a ​$25​ minimum deposit for primary checking for people who don't open the account online. You earn interest on all checking and savings products, and you can make and receive free domestic wire transfers. You can opt to just get the spending account if you'd like. This version currently comes with a ​$400​ reward if you get ​$5,000​ directly deposited as a new account holder.
​Virtual Wallet Checking Pro​: Offered in places like California and Washington in lieu of the three tiers shown above for general consumers, this version has no monthly service charge or minimum deposit but doesn't bear interest for the reserve or spend accounts. Each statement comes with a ​$20​ reimbursement for ATM surcharges. Further, you can get a top interest rate of ​0.65​ percent as well as a ​$200​ reward for opening your Virtual Wallet account and having at least ​$2,000​ in direct deposits. You can opt just for a checking account with this version too.

PNC Virtual Wallet Benefits
Convenience is the main appeal of the PNC Virtual Wallet since you can easily get checking and savings accounts packaged with one application and less hassle. The online and mobile money management tools appeal to those who want to track their money and transfer funds without needing to rely on third-party apps or websites. The overdraft protection available with the secondary checking account and savings account offers some peace of mind along with warnings that can help you avoid declined transactions and overdraft fees.
PNC also makes this product accessible to customers with different versions that can fit their needs. You can open your account online and avoid needing to worry about an opening deposit at all, and your account terms offer multiple ways to avoid the monthly service fee, which you can have waived for ​six years​ as long as you're a student. The ATM fee reimbursements included with all Virtual Wallet products along with the free wire transfers for certain products can make banking more affordable to more people.
PNC Virtual Wallet Disadvantages
Despite the benefits, some customers may feel frustrated with the account fees and the inability to open just a savings account with the Virtual Wallet product options available. Unless your account waives it, the monthly service fee can range from ​$7 to $25​ where there are other banks that have fee-free checking and savings accounts that appeal to frugal customers. Plus, there are ATM fees that you might incur beyond the monthly waivers and allowances. While you can opt just for a Virtual Wallet checking account, you'd need to look into other PNC products simply for savings and miss out on some of the Virtual Wallet benefits in the process.
My BankTracker also mentions that the interest rates you get for most Virtual Wallet options are typically less than what you can find at other places, particularly online-only banks. Exact interest rates can depend on market conditions and location along with account type. For example, PNC Bank reports a top growth account interest rate of ​0.10​ percent in Chicago, and student accounts only get a top rate of ​0.03​ percent in interest. In that case, you can find much higher rates of ​0.60 percent​ or higher through alternatives like Citibank and Ally Bank.
Applying for PNC Virtual Wallet
The easiest way to open a PNC Virtual Wallet account is to do it on the PNC website where you can compare the different products available. You'll find an "Apply Online" or "Apply Now" button on the Virtual Wallet Student, Virtual Wallet Checking Pro and general Virtual Wallet pages that will take you to the online application. You can expect to provide personal and financial details and go through an identity check, but having an existing PNC online account and logging in can speed things up. You can usually begin managing the accounts and transferring money immediately after approval.
You also have the option to bring identification and apply for your Virtual Wallet at a local PNC Bank branch. You may find an "Email Me a Coupon" button when browsing the Virtual Wallet options, and you can show this to the bank representative so that you can take advantage of the current special offers.
References
Writer Bio
Ashley Donohoe has written about business and technology topics since 2010. Having a Master of Business Administration degree, bookkeeping certification and experience running a small business and doing tax returns, she is knowledgeable about the tax issues individuals and businesses face. Other places featuring her business writing include Zacks, JobHero, LoveToKnow, Bizfluent, Chron and Study.com.