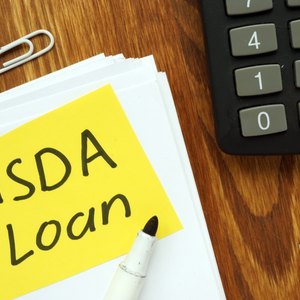 •••
Andrii Dodonov/iStock/GettyImages
If you're more comfortable living in the rolling meadows of a rural countryside rather than the concrete canyons of a bustling city, then a USDA loan can help you get there. The United States Department of Agriculture has several mortgage loan programs that will enable low- and very low-income borrowers to purchase a home in designated rural areas with very little down payment.
What Is a USDA Home Loan Guarantee?
The most popular USDA mortgage program is the Section 502 home loan guarantee. This USDA loan program gives low- and moderate-income households the chance to own a primary residence in eligible rural areas. Eligibility requirements for applicants include that they must be a US citizen, US non-citizen national or qualified alien and unable to obtain a conventional loan without private mortgage insurance (PMI).
Household income for qualifying applicants cannot exceed ​115 percen​t of the median income for the area. The USDA includes the income of all the inhabitants of the residence in determining household income, not just the borrower's income. If the borrower is not self-employed, only a one-year history of employment is required. Self-employed applicants will need to provide documents for a two-year income history.
These loans are obtained through a network of lenders approved by the USDA Rural Development Loan program and are of the guaranteed loan program by the USDA.
The program does not require a down payment by the homebuyers, and sellers are allowed to contribute up to ​6 percent​ of the purchase price to cover closing costs. There is no limit on gifted funds.
Unlike conventional loans, USDA loans do not carry a private mortgage insurance premium, but they do charge an annual fee of ​0.35 percent​. The end result is that it's possible to home ownership with very little out-of-pocket funds with a USDA housing loan.
If you already have a USDA guaranteed loan and have been current with your payments for the past ​12 months,​ you can refinance your loan to get more affordable payment terms. The loan refinancing program does not require a new appraisal, home inspection, credit review or any recalculation of debt ratios.
How to Qualify for a USDA Loan?
USDA requires that your monthly payment – which includes principal, interest, insurance and taxes – must be ​29 percent​ or less of your gross monthly income. Your total monthly debt payments cannot exceed ​41 percent​ of your monthly income. However, if your credit score is above ​680​, the USDA will consider higher debt ratios.
Applicants must show a stable income for at least ​24 months​ and show a willingness and ability to repay their debts.
Applicants with credit scores higher than ​640​ receive streamlined processing. If you have a credit score lower than ​640​, USDA requires more stringent underwriting of the loan application. USDA also allows applicants to qualify with a non-traditional credit history. This can include using credit history from rent and utility payments.
What Are Eligible Properties?
The property must be single-family housing located in an eligible rural area. These could include attached, detached, condo, manufactured and modular dwellings.
The property must be in good condition and meet the minimum standards required by ​HUD 4000.1​. Generally, this means the property cannot have cracked window glass, minor plumbing leaks, soiled carpet, leaking roof, frayed electrical wiring or attics full of trash.
There is no fixed maximum purchase price and no limit on acreage. The loan amount is based solely on the borrower's repayment potential - their ability to cover the mortgage payment.
What Areas Are Eligible?
The USDA defines eligible areas as those having a population under ​35,000.​ Major metropolitan areas – such as Atlanta, Dallas, Chicago and Sacramento – are excluded. However, if you look at the USDA eligibility map, you will find there are many eligible rural areas close to large cities and suburban areas.
What Is the USDA Direct Home Loan Program?
In this program, the USDA actually funds the loan instead of issuing a guarantee. The Direct Home Loan program is designed to help low- and very low-income applicants secure decent, safe and sanitary housing in eligible rural areas. For income eligibility, applicants must have an income that is equal to or below the low-income limit set by the USDA for the area where the property is located.
Applicants must meet the following qualifications:
Not currently living in decent and safe housing
Unable to obtain a mortgage from a local lender or other sources
Will occupy the property as their primary residence
Is a US citizen or eligible non-citizen
Have a market value below the area loan limit
Be modest in size relative to the area
Not have an in-ground swimming pool
Not be designed for activities that produce income
Unlike the USDA loan guarantee program, the Direct Loan program has maximum loan limitations that vary by county across the United States. No down payment is required, and loans can have terms up to ​33 years​, or even ​38 years​ if the applicant can't afford payments for a ​33-year​ loan. Mortgage rates can be as low as ​1 percent.​
Depending on the applicant's financial condition, the USDA may provide payment assistance for a short time.
What Is a USDA Home Improvement Loan?
The USDA can also provide loans and grants to help very low-income and elderly homeowners repair or improve their homes. Depending on their financial condition, they may not have to pay back any of the grant funds.
For this loan type, applicants must be at least ​62 years​ of age or older and have an income less than ​50 percent​ of the area's median income. Loans are available up to ​$20,000​ and grants available up to ​$7,500​, for a total of ​$27,500.​ Applicants must be unable to obtain financing at affordable rates from any other source. Loans have a fixed interest rate of ​1 percent​ and can be repaid over ​20 years.​
At first glance, you might think a loan program from the US Department of Agriculture may require you to be a farmer. Nothing could be further from the truth. The USDA created its Rural Development program to "improve the economy and quality of life in rural America." The loan program with no down payment required and low mortgage interest rates make owning a home in the country affordable to those families with low and moderate incomes, and you don't need an exceptionally high credit score to qualify.
References
Writer Bio
James Woodruff has been a management consultant to more than 1,000 small businesses. As a senior management consultant and owner, he used his technical expertise to conduct an analysis of a company's operational, financial and business management issues. James has been writing business and finance related topics for work.chron, bizfluent.com, smallbusiness.chron.com and e-commerce websites since 2007. He graduated from Georgia Tech with a Bachelor of Mechanical Engineering and received an MBA from Columbia University.