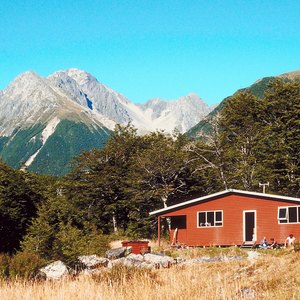 •••
Jupiterimages/Photos.com/Getty Images
The Department of Agriculture's Rural Development guaranteed loan program offers 100 percent mortgage financing with relaxed qualifying terms, minimal mortgage insurance and no loan limits. While it might seem to be too good to be true, USDA mortgage loans come with some stringent requirements. However, if you and your home meet the USDA's income and location criteria, the loan could be a good option for you.
Location Limits
The key limitation for the USDA program is that the house has to be in what the USDA considers a rural area. The USDA's definition of rural is relatively broad, however. Generally speaking, if you aren't in the middle of a metropolitan area or if you are in a smaller community, there's a good chance that your property will be eligible. Areas of western and central New Jersey are eligible. So is much of California, including ski and vineyard communities. Much of Hawaii is rural, as are the areas surrounding many Midwestern college towns.
Price Limits
The USDA doesn't impose any official price limits on the home that you buy. On the other hand, the USDA's income rules do impose a de facto limit for most buyers. Given that the USDA usually applies a 29 percent front-end debt-to-income ratio to determine how large your mortgage payment can be, a family making $6,500 per month ($78,000 per year) would be limited to a monthly payment of around $1,885, which is $6,500 per month multiplied by the 29 percent payment cap. As your income goes up or down, your maximum payment can also fluctuate up or down. Then again, the program also has the flexibility to allow higher monthly payments for otherwise well-qualified buyers.
USDA Exclusions
The USDA limits the features that your property can have. You aren't allowed to use a USDA loan to purchase a property with additional units or with any additional structures that you might use for income. For instance, a barn or a legal (and rentable) in-law unit could invalidate your property while a small storage shed probably wouldn't. In addition, if you have an in-ground swimming pool, the appraiser will have to subtract its estimated value from your home's price. This renders a property with a pool technically ineligible for 100 percent financing, although it would still be financed for 100 percent of its value excluding the pool.
Property Condition and Quality
The USDA limits the properties that you can buy based on their condition and quality. The property has to have adequate mechanical systems and be termite-free. It also has to meet the USDA's standards for being "decent, safe and sanitary." To qualify for a USDA loan, a home must have a hard or all-weather road leading to it as well.
Income Limits and Locations
The home the USDA will approve for you varies based on your income and its location. The USDA imposes income limitations that vary by area and your household income can be no more than 115 percent of the area's median income. In areas with a $50,000 median income, a household income over $57,500 will disqualify you, since $57,501 is more than 115 percent of $50,000. On the other hand, in an area with a median income of $95,000, you can qualify to take out a USDA loan as long as your household income is $109,250 or less ($95,000 multiplied by 115 percent equals $109,250).
References
Writer Bio
Steve Lander has been a writer since 1996, with experience in the fields of financial services, real estate and technology. His work has appeared in trade publications such as the "Minnesota Real Estate Journal" and "Minnesota Multi-Housing Association Advocate." Lander holds a Bachelor of Arts in political science from Columbia University.