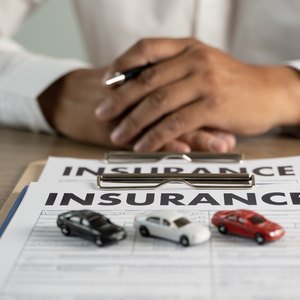 •••
juststock/iStock/GettyImages
Shopping for a car insurance policy isn't fun. You need to find out which type of insurance coverage will meet your insurance need depending on your state's minimum requirements and get insurance quotes from several companies to get the best price. The search can take a lot of time and may be confusing.
But you can make the process easier by using an auto insurance broker. Here's what a car insurance broker does, and the advantages and disadvantages of using one.
What Is a Car Insurance Broker?
Car insurance brokers are independent professionals who represent multiple insurance companies. These brokers meet with clients, like you, to identify your specific needs, discuss coverage options and present applications to the insurance companies most likely to have the coverage you want.
Independent brokers do not work for a single insurance carrier. They're paid on a commission basis for the policies they bring to the insurance companies. Their commissions can range from ​10 to 25 percent​ of the premium amount of your policy. These commissions don't cost you anything directly since they're paid by the insurance company.
Brokers solicit quotes from multiple insurance companies. However, when the customer is ready to buy, the broker must go directly to the insurance company or its agent to obtain a binder for the policy. A broker does not have the authority to commit coverage on behalf of the insurance company.
Car insurance brokers represent and work on behalf of their clients. They can help individuals purchase personal car insurance, but they also work with businesses to provide coverage for commercial vehicles, fleets, limousines and delivery trucks.
How Are Car Insurance Brokers Regulated?
Car insurance brokers are not regulated on a federal level. Each state has its own specific requirements to license car insurance brokers.
The National Association of Insurance Commissioners (NAIC) offers oversight for the insurance industry and provides states with regulatory support.
What Are Auto Insurance Agents?
An auto insurance agent is different from a broker. An agent works as a representative of insurance companies, while brokers work on behalf of the consumer.
Agents have the authority to provide temporary coverage, complete an insurance contract and bind a policy, which brokers cannot do. However, agents may have contracts with specific insurers that limit them to selling only certain policies. Brokers do not have these restrictions.
Car insurance agents are independent contractors who can represent multiple insurance carriers or be employed by one insurer.
What Are Captive Agents?
Unlike independent car insurance brokers, captive agents only represent one insurance company and are paid by the insurance company they represent.
Captive agents are very knowledgeable about the company they represent and its products. A captive agent helps you qualify with as many discounts from their company as possible, but they won't provide quotes from competing carriers.
If you have a specific insurance carrier that you want to use, you can contact one of their agents directly.
What Are the Advantages of Using a Car Insurance Broker?
Although you don't have to use an insurance broker to get a car insurance policy, there are several reasons that you may want to.
Using an auto insurance broker is like having your own personal shopper for insurance. They determine the coverage you need and find the insurance carriers to provide that coverage at the lowest cost.
Insurance brokers understand the industry terms. For example, what exactly is "uninsured motorist bodily injury coverage," and how much coverage do you need for it? An insurance broker can explain industry jargon in terms you understand. They can also give you advice on the best policy that meets your needs.
Insurance brokers obtain quotes from several companies. They shop around for special deals and negotiate with the insurance companies on your behalf. Then they explain the details of the coverage, the premiums and the limitations.
If you need particular types of coverage, insurance brokers have wide industry knowledge and know which carriers offer those specific types of coverage.
If you have bad credit, an auto insurance broker knows where to find insurance companies that accept people with poor credit histories. The same process applies if you have a poor driving record or if you're a new driver. Insurance brokers know which companies are more likely to accept your riskier profile.
What Are the Disadvantages of Using a Car Insurance Broker?
The biggest disadvantage of using a car insurance broker is that you may not need to go through one to get affordable coverage.
If you have good credit, a safe driving record, and are not looking for any special coverage above your state's minimum requirements, you can easily go online and get quotes from comparison websites or apply directly to a specific carrier. You don't necessarily need a car insurance broker to help you find a policy.
Since they're paid on commission, auto insurance brokers may have a tendency to offer you more expensive policies and coverage that you don't want or need.
How to Select a Broker
If you've decided that you don't want to do all the legwork yourself and would prefer to use a car insurance broker, there are certain traits you should look for. First, the broker should disclose all fees up front and make you aware of any affiliations that might represent a conflict of interest. State laws require independent agents to make you aware of these fees when you ask, but a good agent will do so unprompted.
A good auto insurance broker should also:
Maintain regular communications with you and work actively on your behalf to manage your policies.
Be willing to listen to your concerns, answer your questions and never try to sell you coverage or policies that you don't want, need or understand.
Make you feel comfortable that they have extensive industry experience and knowledge.
Have a website and social media presence that demonstrate their professionalism, experience and types of insurance services they offer.
The decision of whether to use an independent car insurance broker or go directly to a company agent depends on what type of coverage you need. It's a personal choice. Each type of broker or agent has its advantages and disadvantages. You have to decide which one is a better fit for your specific circumstances.
Whichever way you decide to go, you should always shop around with different brokers and agents and compare quotes from as many companies as you can.
References
Writer Bio
James Woodruff has been a management consultant to more than 1,000 small businesses. As a senior management consultant and owner, he used his technical expertise to conduct an analysis of a company's operational, financial and business management issues. James has been writing business and finance related topics for work.chron, bizfluent.com, smallbusiness.chron.com and e-commerce websites since 2007. He graduated from Georgia Tech with a Bachelor of Mechanical Engineering and received an MBA from Columbia University.