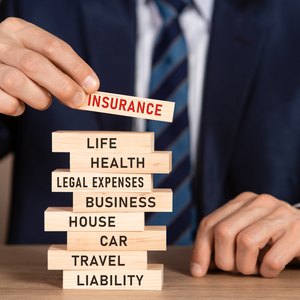 •••
Nikolai Mentuk/iStock/GettyImages
Insurance is essential to protect your family and belongings against loss. There are many different types of insurance. You'll likely want to protect your health, home and personal property, but there are also a few other types of insurance that could be important, depending on your unique circumstances and personal finances.
Home and Property Insurance
If you've purchased a home, you need some form of home insurance or property insurance to protect it. In fact, your mortgage company probably requires a homeowners insurance policy before you can close on the loan. Homeowners insurance protects the building and its contents if you suffer a big disaster like a tornado or fire. It can even help pay for smaller claims like storm damage to your roof and siding.
But homeowners insurance doesn't cover all incidents or natural disasters. It's important to look closely at what events your home is protected against and add on insurance options or policies for special events that aren't included.
Insurance for Disaster Protection
Some disasters aren't covered by your homeowners insurance. These require a separate policy.
​Flood insurance:​ This type of insurance is sold through the Federal Emergency Management Agency's National Flood Insurance Program. The risk of flooding is higher in some areas than others, known as flood zones. You can check where your home falls on FEMA's flood maps.
​Sinkhole insurance:​ Yes, some areas are prone to sinkholes, and homeowners insurance doesn't cover it. Your risk goes up if you live in one of the sinkhole-prone states, which include Texas, Alabama, Missouri, Kentucky, Tennessee, Pennsylvania and Florida. You can typically purchase sinkhole insurance through your insurance company.
​Earthquake insurance:​ If you live in a state where earthquakes are likely, an earthquake policy might be worth considering. Weigh the cost of the policy against potential out-of-pocket costs that go with being uninsured.
Renters Insurance for Personal Property
If you rent your home, your landlord will probably require you to provide proof of renters insurance. Since you don't own the structure, this type of coverage helps with property damages to replace the items inside the home in the event something happens. If your renters insurance includes liability coverage, you'll be protected up to the policy limit if someone is injured in your home and comes to you to pay the medical bills.
Renters insurance covers your furniture and everything else you brought into the unit with you when you moved in. Read the policy documents carefully, but you should be covered in the event of theft or fire. As with homeowners insurance, renters insurance won't cover your belongings if your property is damaged by a flood, earthquake or sinkhole unless you have separate coverage for that.
Health and Medical Care Insurance
Health insurance is one type of insurance many consumers can't skip. For some, access to a health insurance plan is provided by an employer. You sign up for a plan and agree to pay at least a portion of your monthly premium, if your employer doesn't cover all of it, as well as deductibles and copays.
Those who aren't covered by an employer can enroll in health care through the Health Insurance Marketplace®. You can sign up for a plan or change your existing coverage during the special enrollment period, held at a different time each year. You can apply at any time if you have a qualifying special event, which includes losing coverage, getting married, moving or having a baby.
Personal Vehicle Insurance
If you own a vehicle, you'll want to purchase an auto insurance policy to at least cover damage to another vehicle, person or piece of property in the event of a car accident. In fact, most states require you to at least have liability car insurance if you drive a vehicle.
​Liability insurance:​ This type of insurance covers any harm to others or damage to other people's property caused by the policyholder while driving an automobile.
​Property insurance:​ This optional coverage protects you against damage to your own vehicle and its contents due to accidents and theft.
​Medical insurance:​ This optional coverage takes care of medical costs associated with a vehicular accident.
Term and Whole Life Insurance
Life insurance is designed to protect your survivors and cover funeral expenses in the event of your death. It's optional and typically designed to replace the amount of money in lost wages for a time to ensure all of your dependents are taken care of.
​Term Life:​ This type of life insurance policy is simply designed to pay a benefit if you die. The policy is set up to last for a specific term, such as ​15 or 30 years​, and the benefit stays the same throughout. There's a rare type of term life insurance called decreasing term, which has the death benefit dropping slightly for each year you have the policy in place.
​Whole Life:​ Also called "permanent life insurance," this type of life insurance lasts for the remainder of your life. Over time, the policy can build a cash value, which means you can take funds out of it.
Professional Liability Insurance
Also known as errors and omissions insurance, professional liability insurance coverage protects your personal assets. If you work in a field that could put you at risk of legal action, professional liability insurance could give you the peace of mind you need. Many professionals that provide consulting services, such as attorneys, counselors, accounting and real estate professionals have liability protection in place.
In recent years, though, consumers have opted for umbrella insurance instead of liability insurance. An umbrella liability policy not only protects your assets against professional litigation, but it also kicks in to cover you when your other policies reach their limits. If your motorist coverage or homeowners insurance reaches its limit after a claim, your umbrella policy can kick in to handle the rest.
Other Insurance Types
There are a few other, smaller, types of insurance that might be worth investigating with your insurer.
​Other vehicles:​ Cars and trucks aren't the only types of vehicles you own. If you have a motorcycle, RV or boat, you need to purchase insurance coverage.
​Disability:​ Life insurance won't cover you if you suffer an incapacitating injury or illness. Disability insurance is designed to replace part of your income if you can't work for a qualifying reason.
​Long-term care:​ According to the Administration for Community Living, a ​65-year-old​ has a ​70 percent​ chance of needing long-term care at some point in the future. Long-term care insurance helps pay for long-term care for a specified period of time.
​Travel:​ Travel insurance has become increasingly popular as consumers are aware that unexpected events can derail a vacation. Travel insurance is a temporary type of insurance that helps pay for non-refundable trip costs like vacation rentals, hotels, flights and car rentals, as well as helping with uncovered medical expenses while you're on your trip.
An insurance policy can give you the peace of mind of knowing you and your belongings are protected. But it's important to look closely at premiums, deductibles and copays to ensure you aren't overpaying for benefits you're unlikely to use. Strike the balance between keeping premiums low and making sure you won't suffer a severe financial impact if something unexpected happens.
References
Writer Bio
Stephanie Faris has written about finance for entrepreneurs and marketing firms since 2013. She spent nearly a year as a ghostwriter for a credit card processing service and has ghostwritten about finance for numerous marketing firms and entrepreneurs. Her work has appeared on The Motley Fool, MoneyGeek, Ecommerce Insiders, GoBankingRates, and ThriveBy30.