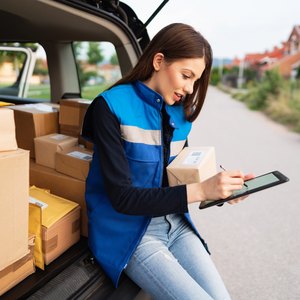 •••
SrdjanPav/E+/GettyImages
If you're a business owner, you probably use vehicles in your operations. You use vans to make deliveries, cars to visit clients and trucks to transport equipment. Any time these vehicles are on the road for business purposes, they are at risk of being in an accident, damaged by acts of nature or stolen.
To protect yourself and your investments in these vehicles, you need commercial auto insurance. Let's take a look at business auto insurance, see what it covers and how much it costs.
What Is Business Auto Insurance?
Business auto insurance is like your personal auto insurance policy, but it covers your company's vehicles and has higher limits. It provides coverage for vehicles such as trucks, trailers, vans, box trucks and cars.
Commercial auto insurance covers the vehicles that the company owns or leases and any other autos used in the business, including personal vehicles being used for business activities. You can have each vehicle listed separately on your policy with different coverages based on the type of vehicle and how it is used in normal operations. You don't have to provide the same insurance coverage for all your vehicles.
Who Needs Commercial Vehicle Insurance?
If your business owns and operates any vehicles, you must have business vehicle insurance. Most states have laws that require individuals and businesses to have minimum levels of liability insurance for bodily injury and property damage coverage to other parties when you or your employees are at fault in an accident. In addition, some states also require you to have uninsured/underinsured motorist coverage and Personal Injury Protection (PIP) to cover medical payments.
Even if you use your own vehicle in your business and have personal auto insurance, its limits of coverage may not be enough to cover injury and property damage claims in the event you're at fault for an accident while conducting company activities. The policy will cover you personally up to its limits, but a personal policy will not pay damages on behalf of your business.
In addition, while you may think you have enough coverage if you have a $1 million personal umbrella policy, you do not. Typically, personal umbrella policies do not cover claims resulting from accidents while involved in business use.
The alternative is to purchase an umbrella policy specifically for your business. This type of policy would pay for any excess claims not covered under your normal liability, collision or comprehensive coverage.
What Does It Cover?
Business vehicle insurance covers any liability claims that result from an accident where you or one of your employees is at fault. This insurance will pay for any medical injuries incurred by other parties as a result of the accident and any physical damages to their vehicle.
Comprehensive commercial auto coverage will cover physical damages to your vehicles caused by theft, vandalism or natural disasters. Commercial auto insurance also covers damages to your vehicles involved in an accident caused by an uninsured/underinsured driver.
However, the amount that your commercial auto insurance policy will pay for physical damages depends on the vehicle's market value. The insurer will pay the lesser of the actual value of the vehicle at the time of the accident or the repair cost. If the vehicle is classified as a total loss, the actual cash value will get adjusted downward for depreciation and the physical condition of the vehicle.
What Does It Not Cover?
Business vehicle insurance does not cover:
Damage to your office or warehouse buildings, fencing or signage
Bodily injury or damages resulting from the products or services you sell
Injuries that occur at your office or on your premises
Professional negligence
Property in transit from one location to another
What About Personal Use?
A common practice and benefit many small business owners provide is to let their employees use company vehicles for personal use on evenings and weekends. As long as you designate these vehicles in the policy's schedules and indicate that they may sometimes be used by employees, then you will have coverage if your employees drive these autos home. Normally, an employee's own personal auto policy will not cover their use of company vehicles.
Occasionally, company executives and employees may not own their own vehicle and only drive a car supplied by the company. In this situation, these individuals would not have a personal automobile insurance policy, and your business insurance policy would not cover their personal use of these vehicles. To cover this situation, you would need to add an endorsement to your business policy that specifically names the individuals allowed to drive company vehicles for personal use and specifies the coverage to be provided.
Who Is Authorized to Drive Company Vehicles?
When you allow one of your employees to drive a company vehicle, you are taking responsibility and vouching for that person's qualifications to drive. If you fail to take reasonable precautions to ensure an employee is qualified to drive or if you allow a person to drive when you know they have a poor driving record, you could be liable for negligence. A court could award damages for negligent entrustment in addition to the liability that resulted from the accident itself.
You have a responsibility to verify a driver's qualifications before allowing them to operate one of your company vehicles.
How Much Coverage Do You Need?
For most businesses, the minimum level of liability coverage that you should get is $500,000. However, it's better to have at least $1 million in coverage. Businesses tend to have more assets than individuals and, therefore, have more to lose. Also, people believe that businesses have large insurance policies and will sue for higher amounts of money.
If your business has more than a few million dollars in assets or capital investment, you should add additional liability coverage. The incremental cost in premiums for adding another million dollars or two to your coverage is low.
How Much Does Commercial Vehicle Insurance Cost?
According to Insureon, the median cost of commercial vehicle insurance is a little over ​$1,700 per year​ or ​$142 a month.​ Around ​44 percent​ of small businesses pay less than ​$1,500 per year​.
The cost of commercial auto insurance is determined by the industry you're in, the value of the vehicles, the types of vehicles, who owns them (the business or the employees) and the number of miles they are on the road.
How to Get Business Auto Insurance
Most of the major insurance carriers, such as Allstate, Progressive, Farmers and Nationwide offer commercial vehicle insurance. You can contact their agents directly, or you could use any of the online websites to get multiple quotes from several carriers so you can make a comparison.
References
Writer Bio
James Woodruff has been a management consultant to more than 1,000 small businesses. As a senior management consultant and owner, he used his technical expertise to conduct an analysis of a company's operational, financial and business management issues. James has been writing business and finance related topics for work.chron, bizfluent.com, smallbusiness.chron.com and e-commerce websites since 2007. He graduated from Georgia Tech with a Bachelor of Mechanical Engineering and received an MBA from Columbia University.