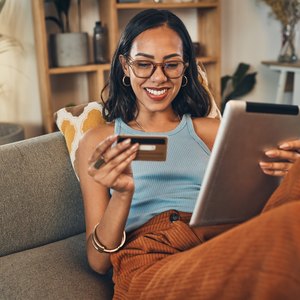 •••
PeopleImages/iStock/GettyImages
You may know Visa® as a giant in the credit card market, but its name also appears on millions of debit cards in circulation, both bank-linked and prepaid. You fund the prepaid variety directly with cash, and they can be reloadable or disposable (i.e., a gift card).
A virtual prepaid Visa card is electronic, not physical. It allows you to make card-not-present purchases over the phone, online and in mobile apps without a plastic card.
Visa Debit Card Anatomy
Visa, like Mastercard®, is a payment processor, not a card issuer. Its familiar logo appears on cards that belong to its payment network, which is responsible for moving money from card owners making purchases to merchants and other recipients. Visa makes money by collecting fees from participating merchants.
Most bank accounts come with a free debit card that you can use to purchase goods and services, pay bills and withdraw money. As with checks, debit cards do not rely on the owner's credit, just the money in the funding account.
Purchasing a Prepaid Card
Visa prepaid debit cards, like other prepaid debit cards, are not connected to the owner's bank account, and indeed many cardholders are unbanked. Instead, you fund a prepaid debit card through initial purchase and, if reloadable, subsequent reloads. You can only spend the amount you load onto the card, minus an initial purchase fee (usually waived for online purchases), monthly or pay-as-you-go program fees, withdrawal fees and miscellaneous charges.
You can buy prepaid debit cards online, over the phone, in financial centers and in retail establishments (e.g., grocery stores, gas stations, big box stores, etc.). Visa gift cards require nothing more than the purchase amount, which includes the value of the card and the fee for buying it. Issuers of reloadable debit cards must collect basic information: your name, address and Social Security number.
You initially fund a reloadable Visa debit card at the time of purchase. You can then use the card as if it were a credit card as long as there is money in your card account. You can add funds online or in-person at financial service centers and select stores.
Going Virtual
You usually receive a plastic card in about a week when you buy a prepaid reloadable debit card online or over the phone. If you purchase one in person, you receive a temporary card with limited features that you can use until you receive the permanent card. If you buy the card online or over the phone, you may receive a virtual card number to use until the card arrives.
But if you purchase a virtual Visa card, the physical card never arrives. Instead, you use the card details (account number, expiration date and CVV security code) to make card-not-present purchases (online, over the phone and in apps). You can also load the virtual debit card information into a digital wallet such as Apple Pay or Google Pay to make contactless in-store purchases on the checkout line.
Opting for a virtual prepaid card eliminates the risk of losing a physical card or having it stolen. You can register and use a virtual card immediately without waiting for card delivery. However, you can't use the card for point-of-sale transactions unless you load the card into a mobile wallet.
Many businesses issue and fund virtual prepaid debit cards to employees to cover expenses, make business purchases and to distribute wages and salaries. Government agencies also distribute virtual prepaid cards to recipients of cash assistance.
Impact on Personal Finances
Physical or virtual, prepaid debit cards can replace credit cards for everyday spending, and you do not need a bank account to own one. Therefore, you don't need a good credit score or clean banking record to hold a prepaid debit card. Using one doesn't accumulate debt, impose interest charges or risk overdraft fees. Many folks use reloadable debit cards to discipline their spending. The one thing these cards can't do is help you build credit – for that, you'll need a credit card (digital or physical) or a loan.
References
Tips
Use the virtual prepaid Visa card when you do not have a reliable source of credit. This type of Visa card is also convenient to use when you want to keep online shopping separate from your debit or credit card to maintain a balanced checking or savings account. Contact the telephone number provided to check the balance on your card before you make purchases. Do not go over the amount available or the card will be declined.
Warnings
You cannot use the cardboard or plastic version of the virtual prepaid Visa in an ATM. You also cannot use this card in shops that do not have an online store. Use this card only for online or telephone purchases.
Writer Bio
Eric Bank is a senior business, finance and real estate writer, freelancing since 2002. He has written thousands of articles about business, finance, insurance, real estate, investing, annuities, taxes, credit repair, accounting and student loans. Eric writes articles, blogs and SEO-friendly website content for dozens of clients worldwide, including get.com, badcredit.org and valuepenguin.com. Eric holds two Master's Degrees -- in Business Administration and in Finance. His website is ericbank.com.