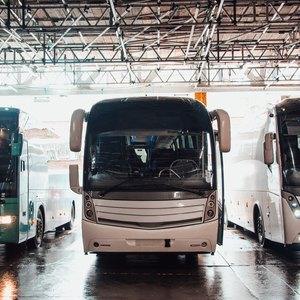 •••
MarioGuti/E+/GettyImages
If you want to travel across America, transportation is the first detail to square away. Flying can get you from place to place quickly, but you can't stop along the way. Bus travel can be a very affordable alternative to flying or driving yourself, but there are some things you'll need to know before you hit the road.
Types of Buses
Before you start planning your trip, it's important to think about the experience you're hoping to get. If you want to go from New York to Washington, D.C., you can just hop a city-to-city bus and be there in a few hours. But if your goal is to travel from coast to coast, exploring various destinations along the way, sleeping arrangements will come into play.
Businesses and high-dollar private clients can charter sleeper buses that include beds. But for most of the population, comfortable, reclining seats will have to suffice. Also pay attention to the legroom on the bus you're booking to make sure you'll be able to sleep comfortably.
Major American Bus Companies
Nationwide, Greyhound dominates the market. But there are many competing bus companies that operate regionally. Here are the top bus companies in the U.S.
Taking a Tour Bus
If touring attractions is your goal, you might be better off planning your bus trip through a tour group. Coach USA offers guided tours throughout North America, as well as overseas. Their tours only depart from a handful of cities, but you can drive to the closest one. Just choose a city from the drop-down box and view the currently available tours.
You don't have to go through a tour bus company to book a tour, though. Tour groups charter buses and charge each participant a fixed rate. Often these tours line up stays at hotels and inns, with meals included and an expert tour guide to lead everyone.
Shopping for Low Fares
A little flexibility and advanced planning will help you get the best deal on your trip. If you plan well in advance and shop multiple options, including tour groups and budget bus lines, you'll likely be able to compare rates to get the best deal. Flexibility in your bus routes can also help, since it will allow you to price multiple options against each other.
If you're ready for a road trip, here are some tips to help you get the best rates:
​Look for deals:​ Before you get too far into planning, check out Greyhound's Deals and Discounts page and Trailways' Current Offers and Discounts page. Also look for special discounts that apply to your demographic and memberships. For instance, Greyhound offers special discounts to students, military members, veterans and seniors.
​Drive and park:​ You'll reduce your rate and increase your options if you're willing to drive part or all of the way. If you want to tour the East Coast, for instance, but you live in the Midwest, driving to the bus station can help.
​Travel off season:​ As with any travel business, bus companies have peak times. Students and families are most likely to travel in the summer and during spring and fall breaks. Bus companies also get a lot of action in the days surrounding major holidays. If you can travel in the off-season, you can save while also avoiding the crowds.
​Travel mid-week:​ Travelers tend to depart and leave on certain days of the week. Thursdays through Mondays are particularly popular travel days. If you can plan your trip for a Tuesday or Wednesday, you might be able to land a better deal while also having plenty of room to spread out on your trip.
Consider Your Destinations
Buses might not be the best transportation mode for everyone. If you're making a long-distance trip, keep in mind that many bus lines make stops, which could extend your long-distance bus trip far beyond what you'd get by flying or even driving. Also, not all bus companies are designed to take you from one hot spot to another, so you could find the stops aren't close to any attractions you'd want to see.
It's also important to consider how you'll get around once you arrive at your destination. Most bus companies specialize in taking you from one major city to another, which means when you arrive, you'll need to be able to take public transportation, walk between destinations or use rideshare services or taxis. For that reason, a bus might also be less than ideal for more remote locations like national parks.
If your plans include a visit to family or friends, or just to sightsee in a major city where transportation upon arrival is not a concern, travel by bus may be just the thing. Boston, Chicago, New York City, Philadelphia, Atlanta, Houston, New Orleans, Las Vegas, Dallas, Phoenix, San Diego, Portland, Seattle and more are literally a bus ride - or two - away.
Plan Your Route
You can tour distinct areas of the U.S. by bus, but you could also plan out your route for a cross-country trip. It might require switching up bus lines occasionally, though. If you start with a bus line that only serves the West Coast, for instance, you could still hop a Greyhound or Trailways in Los Angeles or San Francisco to take you on the next leg of your tour.
Most major bus companies will provide their routes on their website. As you're shopping for tickets, look at the various stops each bus makes and, if you want to exit the bus and spend a few days in a particular city, make sure you can pick your trip back up when you're ready.
Rules and Regulations for Buses
When you buy a ticket for any bus service, you'll be presented with a list of rules and regulations. It's important to familiarize yourself with these rules before you go, especially since some relate to how much luggage you can bring onboard.
Once the bus is in motion, you'll likely be expected to remain in your seat unless you're in transit to and from the bathroom. Most bus companies expect passengers to behave in a way that doesn't disturb other patrons, which includes no loud talking or blaring of music. If you smoke, you'll need to wait until the bus stops and exit the bus.
Some national bus companies provide full North American service, which may include crossing into Canada or Mexico. If your trip takes you outside the U.S., you'll probably need to have your passport or other applicable ID on you to board. Your luggage might also be subject to customs inspection, and you may be asked to provide a reason for crossing the border.
Refundability of Tickets
When you plan a trip, you expect to be able to go. But sometimes life has other plans. Bus travel, like other forms of transportation, can be subject to non-refundable tickets, although some may have a deadline. Greyhound has both refundable and non-refundable tickets, while Megabus lets you trade in any reservation for another, as long as you do so three hours or more before departure.
If bus travel is only part of your travel expenses, trip insurance might be a better alternative. You'll pay a fixed fee that will cover any losses you suffer if you have to cancel your trip. These policies have restrictions, though, so make sure you know which cancelation reasons are covered and which aren't.
Safety While Vacationing
Traveling by bus can be fun, affordable and eco-friendly. However, there are some safety considerations. Here are some things to look out for if you're planning to travel by bus.
​Note the stops:​ Not all bus stops are located in the center of the action. Familiarize yourself with the area of each town where you'll be exiting the bus and make sure you can get transportation to where you want to go.
​Don't stray:​ When you get off at a stop, stay there until you can get a ride or return to the bus. Wandering to nearby shops and restaurants alone can put you at risk, especially if it's in a questionable part of town.
​Watch your bags:​ If you're traveling a significant distance and plan to get off at stops, you may want to check your bags. If you have personal items on board with you, make sure you keep them on you at all times. That means if you get off at a stop, you need to pack everything up and take it.
​Do your research:​ You can find plenty of information about a bus's attention to safety by reading reviews from other travelers. Also look for news of recent accidents, noting any buses that have a history of crashes.
Pros of Bus Travel
One of the best things about traveling through bus lines is flexibility. If you're open to switching bus lines, you can tour North America. You can even travel overnight, letting the driver do all the work while you catch some zzzs.
Another benefit is the price. If you take advantage of discounts and special deals, you can often buy a ticket for a fraction of the price of a plane or train ticket. You may even make a new friend or two along the way.
Cons of Bus Travel
There are also a few drawbacks to entrusting your road trip to a bus company. This type of travel is generally much slower than driving or flying. But for longer trips, it can help knock out those overnight driving hours while you sleep.
The biggest con, though, is the risk of a bad experience. Going through reviews of the most popular services, there are plenty of reports of uncomfortable seating, spotty Wi-Fi and travel delays. This is a risk you take with any mode of transport, but you can reduce that risk by factoring reviews into your comparison of bus companies.
References
Resources
Writer Bio
Stephanie Faris has written about finance for entrepreneurs and marketing firms since 2013. She spent nearly a year as a ghostwriter for a credit card processing service and has ghostwritten about finance for numerous marketing firms and entrepreneurs. Her work has appeared on The Motley Fool, MoneyGeek, Ecommerce Insiders, GoBankingRates, and ThriveBy30.