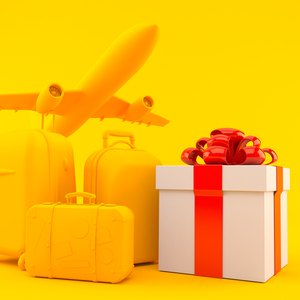 •••
Talaj/iStock/GettyImages
Whether you're traveling across the country to visit family or want a nice holiday vacation in a sunny place, the busy season from Thanksgiving through New Years' Day can come with some of the year's highest flight prices. But the good news is that you can find cheap holiday flights if you're flexible with when and how you fly and if you can start planning your travels several months earlier. Even if you do need a last-minute flight though, you still have options to both get a cheaper flight ticket and save on airline fees. Use these seven tips to fly with less strain on your wallet this holiday season.
1. Be Flexible With Travel Dates
When you schedule flights to arrive or depart right before and after major holidays, you not only get to deal with more crowds but also delays. SmarterTravel lists Thanksgiving, Christmas and New Year's (and the days around them) as some of the worst days to fly when you want to save money. So when you're looking for Thanksgiving flights, for example, fly out at the beginning of the week rather than on the Wednesday before. You can try experimenting with departure and arrival dates when you look at holiday flights online to see what works best for your situation.
2. Know When to Book Flights
Generally, the sooner you can book your holiday flights, the more you can expect to save. So, it helps to be proactive if you can plan your trip ahead of time. For example, Skyscanner suggests October and the first few weeks of November as the best times to buy Christmas flights. Consumer Reports also suggests early September as the best time to buy Thanksgiving flights. While you might feel insecure booking so early in advance, you can always consider travelers insurance to reduce any risk.
3. Use Any Credit Card Benefits
You might not know that some of your credit cards could come with benefits that can cut airline fees or even give you free or reduced flights. Many cards allow you to earn points for purchases that you can later redeem toward flights and hotels online. Other travel credit cards can offer perks like free companion tickets, free checked bags, travel and baggage insurance, travel agent service and annual airline credit to use as you choose. So, be sure to check your card's benefits before you book a flight this holiday season.
4. Check Flight Search Sites
You might feel tempted to just book with your usual airline's website since it can take a long time to enter flight information and compare prices across multiple sites. But, with fare comparison sites like Skyscanner and Priceline, you can now easily see multiple flight prices in one place and maybe even negotiate your own rate. You simply fill in your flight details once and can see the cheapest options immediately. These tools also make it easy to take advantage of early or late flight times or options with at least one stop, both of which can save you money.
5. Explore Flight and Hotel Packages
You can further maximize your savings this holiday season if you pair cheap flights with lodging. Using a site like Hotwire, you can find all-inclusive holiday vacation packages that give you a cheap flight and discount on top hotel options in major cities like Los Angeles and Miami. You can also sort packages and do some customization to take advantage of an economical hotel, rental car and flight combination that will maximize your savings this season.
6. Consider a Low-Cost Airline
Low-cost airlines like Allegiant Air, Frontier Airlines and Spirit Airlines can save you big with limited-time promotions as well as their low everyday rates. These sites sometimes advertise one-way and round-trip flights that can cost you under $100 if you order your holiday flights ahead. However, do note that these flights often won't have common amenities like in-flight meals. You'll also encounter extra charges for ticket processing, seating and baggage. But this can be a good fit if you travel lightly and don't mind an economical experience.
7. Seek Last-Minute Cheap Holiday Flights
If you missed out on the best window for cheap flights, all's not lost. Travelocity and Expedia are among the many sites that offer last-minute travel deals that can help you score cheaper Christmas and Thanksgiving flights even if you only have a few days' notice. For the best results, combine this tip with booking during off-peak days if possible. This will allow you to have the most variety of vacation packages available and get better savings when last-minute flights can run high.
With these tips, you're ready to find cheap holiday flights. For the best results, stay flexible and don't put off booking your Christmas or Thanksgiving flight too much longer. The sooner you take action, the more you'll save, so start planning today!
References
Writer Bio
Ashley Donohoe has written about business and technology topics since 2010. Having a Master of Business Administration degree, bookkeeping certification and experience running a small business and doing tax returns, she is knowledgeable about the tax issues individuals and businesses face. Other places featuring her business writing include Zacks, JobHero, LoveToKnow, Bizfluent, Chron and Study.com.