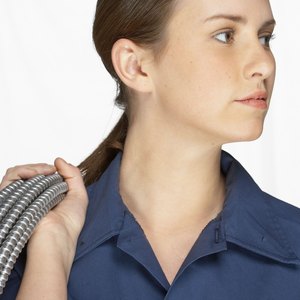 •••
Jupiterimages/Photos.com/Getty Images
Electricians have expenses for equipment and services used in the trade, and you can deduct expenses related to work in two ways. Subcontracting or self-employed electricians deduct expenses on Schedule C when determining business income, and employees deduct expenses on Schedule A, "Itemized Deductions." Job-related expenses made against electrician income include equipment, uniforms, home office, education, insurance, professional dues and communications services (these will not be available in 2018 due to tax reform rules). Special tax incentives might apply for making homes more energy efficient.
Claiming Home Office Expenses
If you use your home as an office for electrical services, you can deduct a percentage of your rent, utilities, repairs and home maintenance. The office must serve exclusively for conducting business (which generates an independent electrician salary) or managing administrative tasks and must be the only place where you do these tasks. Electricians also use lots of tools, safety gear and equipment, such as voltage meters, drywall saws, drills, ladders, wire-stripping machines and connectors. Using a garage, attic, basement or outdoor storage area qualifies for a deduction without meeting the principal place of business requirement. Base your deduction for a home office, workshop or storage based on the percentage of the home it occupies. If you are an employee, office work must be for your employer's convenience, and you can't receive any rent for the space.
Deducting Expenses and FindingTax Incentives for Electricians
You can benefit from government tax incentives for electricians that relate to activities for research or making homes more energy efficient. Incentives include building modeling technologies, electrical system design, green initiatives, value engineering and electrical insulation installations. Tax deductions depend on the accounting method you use if self-employed. The cash method deducts expenses when they're paid and income when it's received or available. Accrual-based electrical companies register expenses when they're billed and income when it's earned, whether or not it's been paid.
Keeping up with evolving technology is crucial for electricians in the digital age if they want to get work equipping smart homes and installing integrated systems with wireless technology. You can deduct the costs of classes, transportation, books and supplies. You can take deductions on educational expenses that aren't reimbursed during the tax year they're paid or incurred. You can also deduct legal fees, work-related travel expenses, job search expenses, costs of licenses, regulatory fees, passport expenses for business travel and research expenses involving electrical work.
Dues you pay for professional memberships, union dues and expenses, subscriptions to trade journals, liability insurance premiums and costs of safety equipment are deductible under Schedule C or Schedule A. Deduct any unreimbursed expenses for buying and maintaining uniforms that are not suitable for regular wear outside of work. Include any dues paid to civic organizations if they directly affect your ability to obtain work or advertise your business.
Electricians who are self-employed can expense or depreciate equipment directly on their business income returns with an itemized tax deductions checklist, but any electrician can deduct equipment that is used in the trade. Deduct the full cost of tools that wear out within a year, but depreciate longer-lasting equipment. Beginning in 2017, the IRS allows electricians to accelerate depreciation for new equipment up to $510,000 annually, or $545,000 for a qualified enterprise zone property. The IRS standard for a legitimate deduction is that the item has to be necessary, reasonable and customary in the trade.
Reporting Your Income
You can use IRS Form 1040 to report your income and claim qualifying deductions and expenses when available.
References
Writer Bio
Michael Elkins has worked in writing, advertising and publishing jobs for more than 40 years. Elkins has published several tabloid newspapers, sold advertising for metropolitan yellow page organizations and worked with state officials to promote tourism in Virginia. In addition to advertising experience, Elkins owned and operated a full-service restaurant for many years.