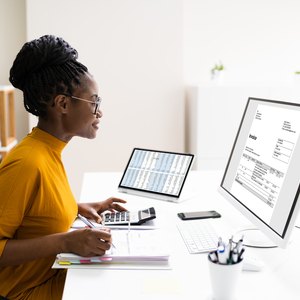 •••
AndreyPopov/iStock/GettyImages
If you've heard of small business accounting software, you are probably aware of QuickBooks Pro, as it is one of the leading products from the undisputed king of software accounting products. QuickBooks has undergone a variety of changes, however, as the rise of QuickBooks Online and cloud-based accounting software has transformed the marketplace and brought in a variety of new features and competitors. QuickBooks Pro is the desktop version of the QuickBooks line, specifically for small businesses. Let's look at how it helps small businesses stay organized and delve into the features that small business owners are looking for.
​At a Glance: QuickBooks Pro & Competitor Products​

| | ​QuickBooks Pro​ | ​QuickBooks Online​ | ​Sage 50cloud​ | ​FreshBooks​ | ​Zoho Books​ |
| --- | --- | --- | --- | --- | --- |
| ​Local Hosting​ | Yes | No | Yes | No | No |
| ​Batch/Bulk Invoicing​ | Yes | No | Yes | Yes | Yes |
| ​Time Tracking​ | Yes | Yes | No | Yes | Yes |
| ​Track Multiple Currencies​ | Yes | No | Yes | Yes | Yes |
| ​Invoicing​ | Yes | Yes | Yes | Yes | Yes |
| ​Track Expenses​ | Yes | Yes | Yes | Yes | Yes |
| ​Inventory​ | Yes | Yes | Yes | Yes | Yes |
| ​Mobile Access​ | Yes | Yes | Yes | Yes | Yes |
| ​Create Forms/Report​ | Yes | Yes | Yes | Limited | Yes |
| ​Price Model​ | Upfront | Subscription | Upfront/year | Subscription | Subscription |
QuickBooks Pro - https://quickbooks.intuit.com/desktop/pro/, QuickBooks Products - https://quickbooks.intuit.com/products/, PC Mag's Specs Comparison - https://www.pcmag.com/picks/the-best-small-business-accounting-software
How QuickBooks Pro Shines
For businesses with only one to three users who need access to the business' books, QuickBooks Pro combines a lot of useful features and a fairly sophisticated set of integrations with other software, all while hosting the software locally instead of in a monthly subscription in the cloud. It's created as the "every small business" product, meant to be flexible to your needs while still offering all the basics of expenses, invoicing, and tracking for tax purposes.
Features to Consider When Choosing QuickBooks Pro
Choosing QuickBooks Pro is a choice to get many of the most useful features of inventory, time tracking, payment and expense tracking, and batch invoicing all in one package designed for the small business owner. While QuickBooks Pro Plus and QuickBooks Enterprise offer a variety of additional features, much of their utility comes when a business is growing extensively and needs more complex accounting in response to becoming a medium or even large business.
You'll appreciate the ability to access your accounting information via the mobile application, which can be used even though your core product is installed on a single computer. You'll enjoy time-saving features like automated alerts to help you get paid faster when invoices aren't paid immediately. You'll be able to quickly generate tax reports, profit and loss statements, and balance sheets that help you make strong business decisions. You'll also have access to integrations that let you quickly pull your data from another program like Quicken or Microsoft Excel.
First and foremost, the QuickBooks Pro calling card is to be easy to use; they know you aren't an accountant yourself (most likely!), and you don't want this to take over your whole workday. Functioning quickly and with strong ease of use is one of QuickBooks' calling cards.
That being said, the price tag can be enough for some to balk, despite the ongoing popularity of this product: unlike some of the cloud-based software options, who usually range between $9-$15 a month for the basic tier, QuickBooks Pro's costs $399 for the software at the time of writing, no subscription necessary. If you use it longer than a year, this could equate to a lower cost over time, but some prefer the constant updates of the cloud-based subscription software.
QuickBooks Pro Direct Competitors
QuickBooks Pro directly competes with other desktop software providers, like Sage 50cloud. While Sage has an established reputation in the field, it doesn't command the market share of the QuickBooks family of products. Inexpensive cloud-based products like Zoho Books are also making inroads as more people grow willing to rely on the combination of cloud-based software with a secure backup option. Because so many products are aimed at the small business that has only one founder and perhaps one or two employees, we've compiled some of the best small business accounting software products, many of which offer the features that QuickBooks Pro offers, though with different interfaces and pricing.
Other QuickBooks Options
QuickBooks offers a variety of services, and at the time of writing, these were the main options. The best way to decide between them, especially if you are leaning away from the QuickBooks Pro option toward something cloud-based, is to try a QuickBooks Online Free Trial and see what works best for your needs.
QuickBooks Self-Employed – the most simple version of QuickBooks Online, this will be most relevant for self-employed or freelance workers who aren't looking to deal with payroll or other complexities like different business entities. It allows you to share your books with an accountant and focuses on expenses and invoicing functionality.
QuickBooks Online Essentials and QuickBooks Online Simple Start are both designed for small businesses that need a few different features that mean they are more complex than a single self-employed person. Essentials has additional features including managing multiple users, using multiple currencies, and a variety of advanced report templates.
QuickBooks Plus and QuickBooks Advanced add features like inventory tracking, additional reports, and financial prediction and analysis tools that the lower levels don't have. They tend to work best for small businesses that are growing in complexity and need more advanced support as they get into the range of mid-sized businesses instead of small ones.
For businesses with more than three users but who need the desktop version of the software, you can select between Premier, Enterprise, and Accountant-level packages with QuickBooks. Premier has modules for particular industries, like construction, and Enterprise adds more advanced inventory tracking, while Accountant really is most suitable for, as the name suggests, someone who is managing the books for multiple businesses.
Why QuickBooks Pro Endures
While there are many levels and varieties in the QuickBooks family, Quickbooks Pro remains a mainstay because so many small businesses like the feeling of security of a locally hosted product while getting many of the benefits of integration through the internet, when the internet is available. It focuses on the size that many small businesses are at, with only one or perhaps two or three people accessing expenses and invoicing, rather than a large accounting team.
While there will always be levels of complexity that QuickBooks Pro cannot handle as well, especially as your business grows or you enter highly-regulated fields with ultra-detailed reporting requirements, QuickBooks Pro has some best-in-class functionality, support add-ons, and a reasonable price tag compared to the higher-tier products in the Intuit QuickBooks family.
References
Writer Bio
Laura Leavitt is a personal finance writer in the Midwest, focusing on saving strategies, simplifying your life, and money mindsets.