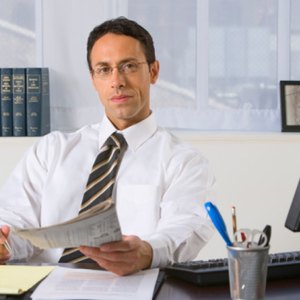 •••
Jupiterimages, Creatas Images/Creatas/Getty Images
A Series 7 broker is a stock broker. The financial services industry requires a prospective broker be sponsored by a stock brokerage firm and complete a series of steps to obtain her broker's license. The Series 7 license may be required for several types of jobs in the financial services.
Series 7 Description
The Series 7 exam is officially called the General Securities Representative Exam. Passing the exam is a requirement to become a full-service stock broker. The resulting Series 7 registration allows the broker to sell stocks, bonds, mutual funds, direct-participation programs and stock-option contracts. The Financial Industry Regulatory Authority administers the Series 7 test and is the regulatory agency that manages and disciplines stock brokers.
Series 7 Test
The big hurdle to becoming a Series 7 broker is passing the exam. The exam consists of 250 questions and an applicant is allowed six hours to complete the test. The exam questions cover identifying customer needs, investment product knowledge, order entry and follow-up and securities regulations. The Hedge Fund Career website states that the pass rate for individuals taking the test is 67 percent.
Series 7 Work
Passing the Series 7 exam and a background check allows an individual to work as a full-service investment adviser. Series 7 licensed representative can work with customers in a full-service brokerage firm or assist in the completion of orders in a discount brokerage. Series 7 broker work often requires sales skills as well as an understanding of different investments and the ability to help customers meet their financial goals.
Other FINRA Licenses
The Financial Industry Regulatory Authority offers a range of types of registration for the management of investment firms and the sale of securities. A Series 6 registration allows the representative to sell only mutual funds and variable insurance products. This license is often obtained by an insurance agent who wants to sell variable annuities and life insurance. A Series 3 exam is for someone to become a commodities and futures broker. The Series 7 does not include authorization for futures trading.
References
Writer Bio
Tim Plaehn has been writing financial, investment and trading articles and blogs since 2007. His work has appeared online at Seeking Alpha, Marketwatch.com and various other websites. Plaehn has a bachelor's degree in mathematics from the U.S. Air Force Academy.